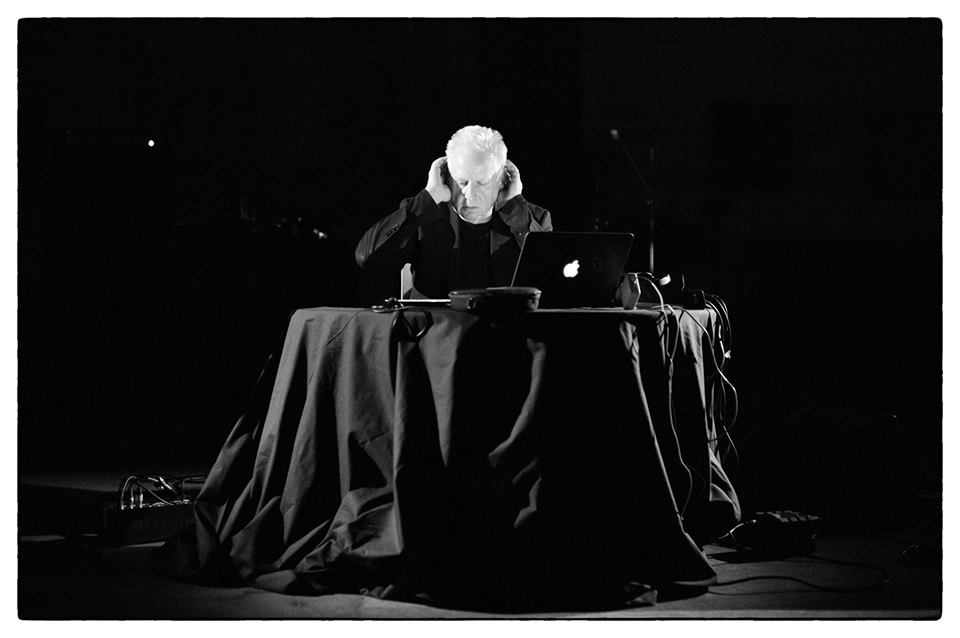 Arnold Dreyblatt
---
Tuesday - 8:00pm (ET)
March 21, 2017
University Lutheran
$12 – $15
NODAL EXCITEMENT for prepared Double Bass with Piano Wire
REPERTOIRE for prepared Double Bass with Piano Wire, Laptop
MAGNETOM for laptop
THE EVENT
Bowerbird is pleased to present a rare performance by composer-performer Arnold Dreyblatt (b. New York City, 1953). Dreyblatt studied music with Pauline Oliveros, La Monte Young, and Alvin Lucier and has been based in Berlin, Germany since 1984. Among the second generation of New York minimal composers, Dreyblatt developed a unique approach to composition and music performance. As he began his music in the late 1970's in New York, he invented a set of new and original instruments, performance techniques, and a system of tuning and has formed and led numerous ensembles under the title "The Orchestra of Excited Strings".
Dreyblatt has been composing music for his own and other ensembles for almost forty years. Often characterized as the most rock-oriented of American minimalists, Dreyblatt has cultivated a strong underground fan base for his transcendental and ecstatic music with his "Orchestra of Excited Strings". The New York native studied film and video at SUNY with Woody and Steina Vasulka, and earned his masters from the Institute for Media Studies at S.U.N.Y. Buffalo. In the mid-'70s, he studied composition with Pauline Oliveros and LaMonte Young, then with Alvin Lucier while completing his masters in composition, completed in 1982. By that time, Dreyblatt had already been directing his own music ensemble, the Orchestra of Excited Strings.
In 1984, he moved to Europe where, in addition to composing, he began to work in performance and the visual arts. He has received numerous grants, stipends and commissions including the Philip Morris Art Prize, Foundation for Contemporary Performance Art and from the Irish Arts Council. Musicians and Ensembles which have performed his music include the Bang On A Can All-Stars, the Pellegrini Quartet, Jim O'Rourke, Crash Ensemble (Dublin), The Great Learning Orchestra (Stockholm), and the American Indie-band Megafaun. In 1991, he created the contemporary opera Who's Who in Central and East Europe 1933 which toured European theatres until 1997.
Dreyblatt has recorded for such labels as Tzaddik, Hat Hut, Table of the Elements, Cantaloupe, Important, Northern Spy, Choose and Black Truffel. Dreyblatt has taught music workshops resulting in performed compositions with musicians at The Music Gallery, Toronto; MIT Boston, Serralves Foundation, SXSW Festival Porto, Portugal and many others. He has performed with and without his ensemble at the Whitney Museum, New York; the Maerz Music Festival, Berlin; the Angelika Festival, Bologna; The Lab in San Francisco, Jazz House, Copenhagen and countless other festivals and concert venues in Europe and in North America.
---