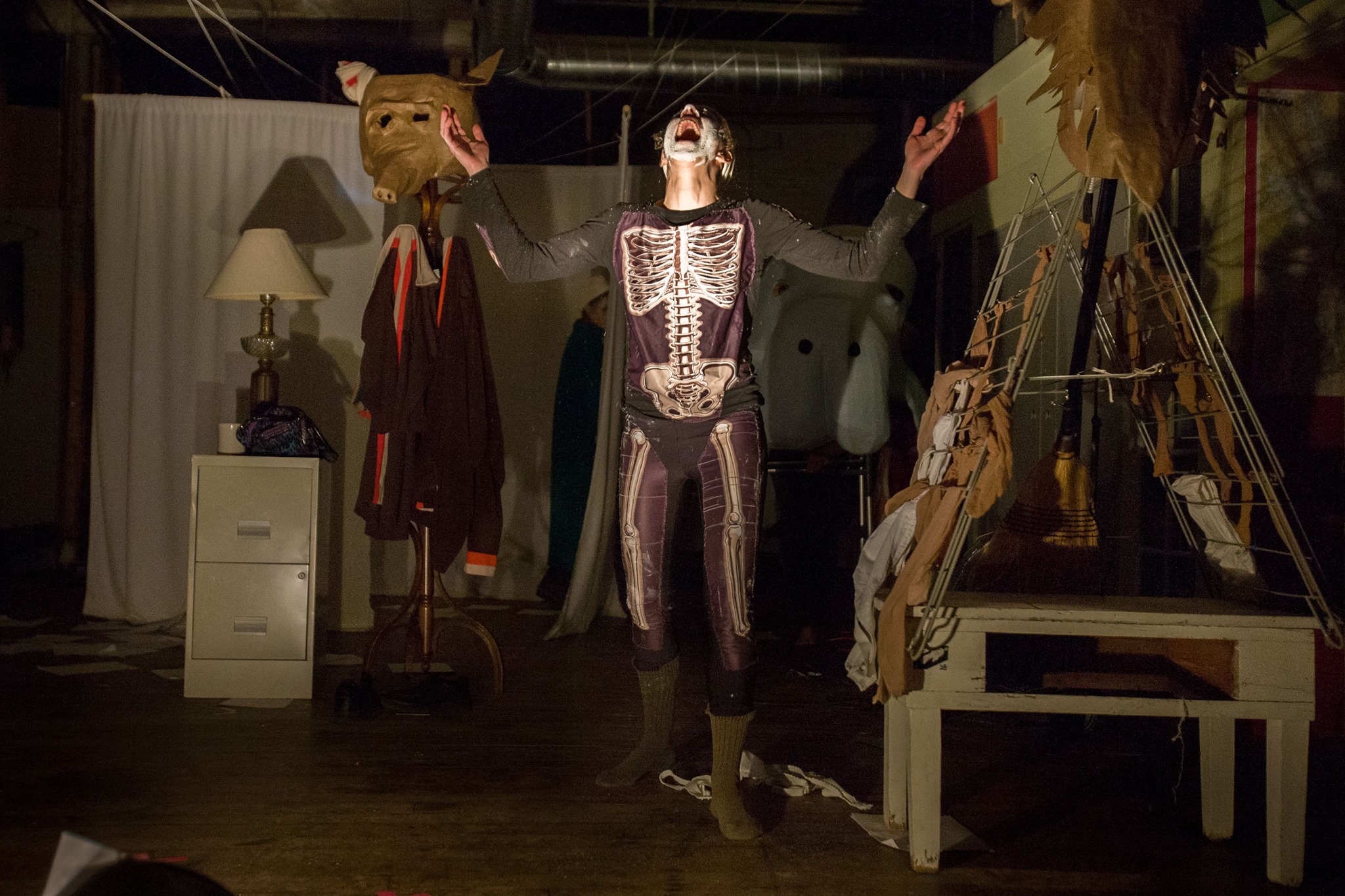 Commonwealth Dinner Theater 01
with Beth Nixon, Hidden Eye Theater, and Jupiter Blue
---
Sunday - 6:00pm (ET)
April 9, 2017
Maas Building
$20 – $50
ABOUT THE EVENT
Bowerbird is excited to launch a new series – Commonwealth Dinner Theater – a night of genre bending performances combined with a delicious meal. Perfect for the curious of mind and palate.
The night includes a vegetarian friendly meal served family style and three wonderful acts: Philly favorite Beth Nixon, a beautifully illustrated crankie- scrolling panoramic drawing- from Baltimore's Hidden Eye Theater (comics artist Eamon Espey & puppeteer Lisa Krause), and Jupiter Blue, a new musical duo featuring Sun Ra Arkestra's D.M. Hotep and Tara Middleton.
ABOUT THE ARTISTS
BETH NIXON is an interdisciplinary artist who works under the name Ramshackle Enterprises. Since 1998 Beth has been writing, building, performing, and touring her own solo clown and puppet shows, collaborating with other artists, and frequently facilitating the creation of puppet parades, pageants, and performances with groups of children and adults. Beth has worked with Pig Iron Theatre and Spiral Q (Philly), Red Moon Theater (Chicago), Bread and Puppet Theater (VT), and Big Nazo Puppets (RI). CAPSULE is a work-in-progress performance created by Beth Nixon is collaboration with Maggie Alvarez, Theodora Rodine, Madeline Shuron, and Emma Wells, directed by Jaclyn Pryor.
Baltimore-based HIDDEN EYE THEATER (Eamon Espey & Lisa Krause) presents the Nameless Gate, a moving panorama. It is a meditation on male/ female and animal/ plant relations and the journey to return to the source of all things. It is a poem about the light of darkness. The music was specifically written for the performance and was made using a keyboard, a shovel and a boombass.
Sun Ra Arkestra guitarist D.Hotep with Sun Ra Arkestra vocalist/lyricist/violinist Tara Middleton form the duo JUPITER BLUE, exploring differing genres of music — from composed to improvised to experimental, developing lyrical grooves & jazz-sourced vocal soundscapes.
---