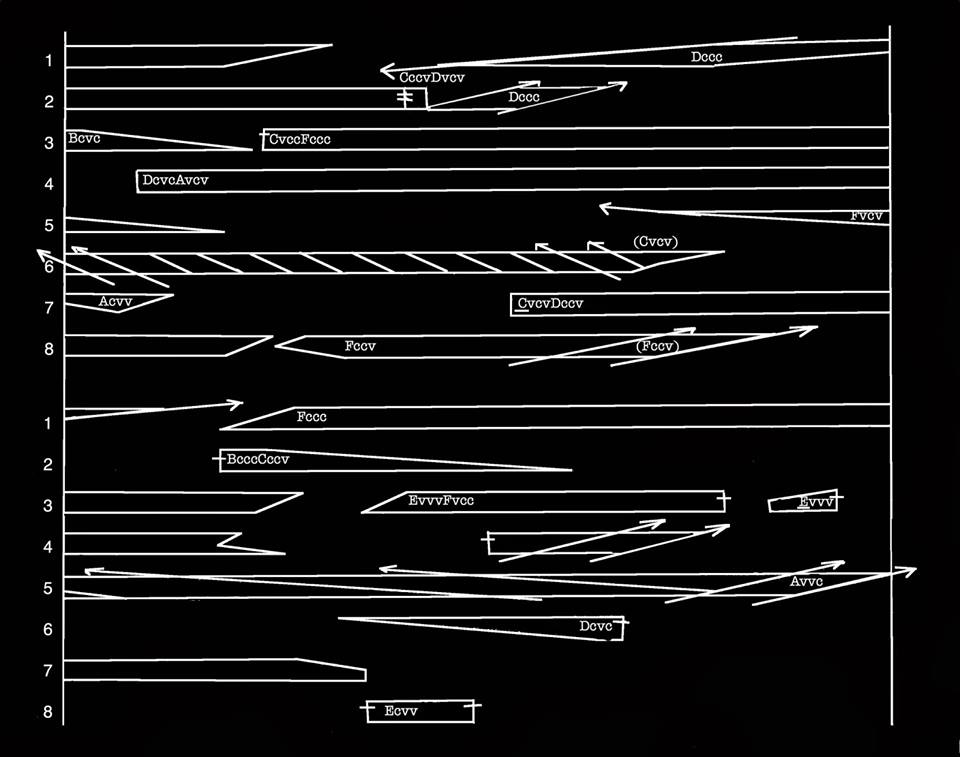 RADIGUE / CAGE / DUFOUR
---
Tuesday - 8:00pm (ET)
October 28, 2014
The Rotunda
Free
Carol Robinson & Nate Wooley:
Works of Eliane Radigue & Denis Dufour
Werner Dafeldecker & Valerio Tricoli:
Williams Mix Extended
ABOUT THE EVENT
Clarinetist Carol Robinson and trumpeter Nate Wooley give performances of new works by iconoclastic French composers Eliane Radigue and Denis Dufour. The program opens with Dufour's fascinating Cinq forms d'appel for bass clarinet and trumpet, and continues with Radigue's OCCAM XVI for solo bass clarinet, OCCAM X for solo trumpet, and OCCAM River III, an amazingly beautiful duet for trumpet and birbynÄ— (the keyless Lithuanian folk clarinet). The Occam pieces are part of a substantial set of new works composed in conjunction with a small group of the world's finest contemporary musical voices, this event offers Americans a rare opportunity to hear new French works played by the cutting edge performers they were made for.
Werner Dafeldecker and Valerio Tricoli present the Philadelphia premiere of Williams Mix Extended, a new interpretation of John Cage's Williams Mix. Approaching Cage's 1952 score from a contemporary perspective, this new version of Williams Mix contains a close analysis of the relationship between early tape music and current digital production, allowing for original parameters of the score to be realized within the context of recent audio technological practices and live instrumental performance.Williams Mix Extended has a duration of 32 minutes, expanding the original is 4'15" length, a difference generated by the transposition of the score's specifications from tape to digital audio software. To completeWilliams Mix Extended, a library of approximately 2000 different sounds is used, all recorded by Dafeldecker and Tricoli.
ABOUT THE ARTIST
Eliane Radigue is renowned for her electronic music, in particular, with the ARP Synthesizer. Her compositions are defined by micro-events due to subtle overtone shifts that dance above a seemingly static tone. The result is profoundly moving. In 2005, Radigue began composing for acoustic instruments, first Naldjorlak, her grand trio for two basset horns and cello, now the ever-expanding Occam Ocean series. These new works have been featured in important festivals: Festival d'Automne / Paris, Huddersfield Contemporary, Angelica / Bologna, CTM.12 Spectral / Berlin, Crossing the Line / NY, Sound and Music / London, ISEA2010 Ruhr, E-May / Vienna, [K] HEUTE / Hamburg, and Impact / Utrecht.
Denis Dufour, highly respected for his research in the fields of instrumental and electronic creation, is the author of more than 160 works. As one of the pioneers of the "morphological" and expressive approach to sonic writing, his works employ a vast spectrum of parameters in all sonic dimensions.
Franco-American clarinetist Carol Robinson is known for her eclectic approach to performing, composing and improvising. Equally at ease in the classical and experimental realms, she appears in festivals, concert halls, and alternative spaces the world over. Her recordings of Feldman, Nono, Berio, Scelsi, Niblock, and of her own compositions, are widely acclaimed. One of Eliane Radigue's most virtuosic and consistent collaborators, she has premiered Naldjorlak and numerous pieces from Occam Ocean.
New York based trumpeter Nate Wooley has performed on over 100 recordings. Increasingly acknowledged internationally, Wooley's specific style is part of a burgeoning revolution in experimental trumpet technique with the likes of improvisers Evan Parker, John Zorn, Anthony Braxton, and Thurston Moore. His own compositions expand conceptions of linguistic based embouchure manipulation and utilize the trumpet to control amplified feedback.
Werner Dafeldecker was born in Vienna in 1964 and studied the double bass. As a musician and composer, he moves between improvised and composed music and takes advantage of the manifold possibilities offered by electro-acoustics. His works often follow principles of reductive music, based on concentrated material, subjecting it to subtle modifications. His musical projects are inspired by and deduced from outside influences such as architecture, physics, photography and film. Werner Dafeldecker also focuses intensively on field recording, or capturing natural and environmental sounds on recording equipment. He has built up an extensive sound archive and realized several works for radio, film and media.
Valerio Tricoli is an Italian composer and performer of electro-acoustic music, currently residing in Munich. His main instruments for live presentations are the Revox B77 reel-to-reel tape recorder, used as a completely analogue / ergonomic device for live sampling and real-time transformation / editing / mixing of pre-recorded and made-on-the-spot sound sources. On a formal level his sets focus on the impromptu creation of narrative, taking into account the multiple relations intervening between reality, virtuality and memory during the acoustic event: sounds are always hovering between the "here and now" of the concert situation and the shady domain of memory, "distant but at the same time present like in a deja-vu experience". Privileging fracture over continuity and by the use of a dynamic range that could jump suddenly from near-silence to extreme blasts of sounds, an almost tactile feeling of brooding tension is often attained. His electro-acoustic studio compositions, documented on few records, are aligned to the tradition of Musique Concrete and explore themes of the internal, "represented both by the psychological and the physical" and of the occult, which together with the use of spoken text makes them often deeply existential works, self-investigations of the psychological, emotional and irrational horror within. He is a founding member of the Italian avant-rock group 3/4HadBeenEliminated and has worked extensively with Thomas Ankersmit, Antoine Chessex, Werner Dafeldecker, Anthony Pateras, Robert Piotrowicz, Fabio Selvafiorita.
---