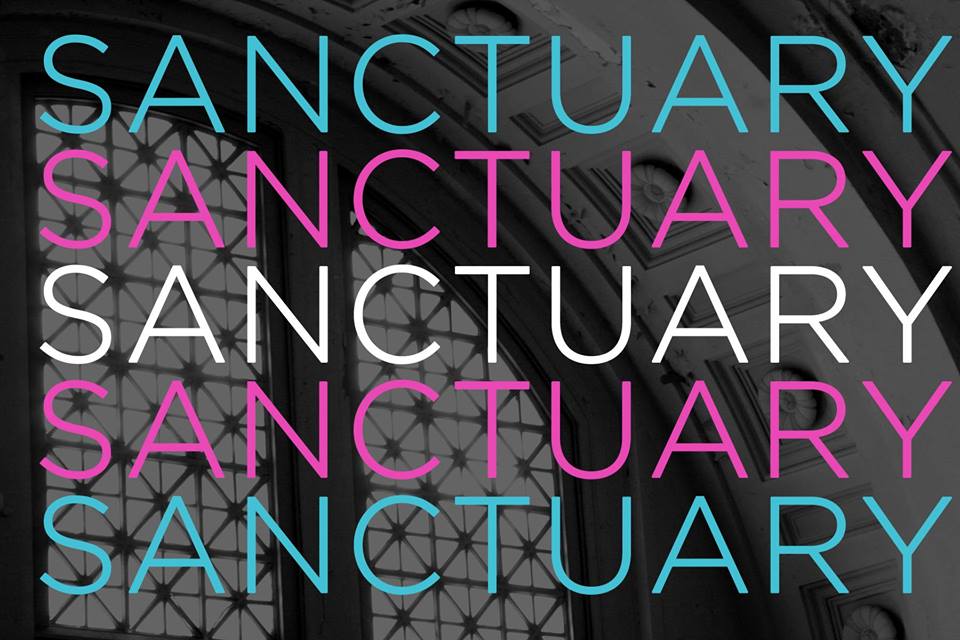 SANCTUARY: Showings and Performances
---
From Friday - 5:00pm (ET)
October 10, 2014
To Sunday - 10:00pm (ET)
October 12, 2014
The Rotunda
Free
ABOUT THE EVENT
The Rotunda and Bowerbird are proud to present SANCTUARY, a series of sound based & site specific works created for The Rotunda's rarely seen main sanctuary. This space – which is covered by a massive 4 story, 80-foot diameter dome – will house new works by seven Philadelphia based artists – John Phillips & Carolyn Healy, Michael & Linda Bullock, Jorge Cousineau, Tiona McClodden, and Daniel Fishkin. These works were created during a multi-month artist residency in the space and offer an opportunity for the public to reimagine the architectural, cultural, and historic context of The Rotunda from a variety of perspectives.
THE ARTISTS
John Phillips & Carolyn Healy
Michael & Linda Bullock
Jorge Cousineau
Tiona McClodden
Daniel Fishkin
EVENT SCHEDULE
Friday, October 10
• Open gallery hours – 5pm to 10pm
• Performance showings at 7pm, 8pm, 9pm
Saturday, October 11
• Open gallery hours – Noon to 10pm
• Performance showings at 7pm, 8pm, 9pm
Sunday, October 12
• Open gallery hours – Noon to 10pm
• Performance showings at 7pm, 8pm, 9pm
THE PROJECTS
RESIDUAL SIGNAL
by John Phillips & Carolyn Healy
Viewing: Partially on view (no video or sound) during gallery hours. Performed nightly at 9pm.
Statement: "Residual Signal" is a site-specific installation by Carolyn Healy, visual artist, and John JH Phillips, media artist, created in response to the architectural and acoustic character of the Sanctuary. The artists enjoyed looking, listening, measuring and exploring the Sanctuary from mid-July on. Healy was attracted to the high shelf running around the circumference and created a "frieze" of found objects, quietly illuminated. Phillips discovered that the space is a large parabolic dome with many intriguing acoustic features that he integrated into his score. Three ceiling video projections add dynamic counterpoint to the sound and sculpture.
Artist Bios: John Phillips and Carolyn Healy collaborate on site-specific installations. John works in sound and moving image while Carolyn creates the sculptural environment and designs the lighting. Their work has been seen in museums and university galleries, performance and alternative venues, as well as rough industrial and historic sites, including LaMama and Symphony Space, NYC; the Cini Foundation, Venice, Italy; Institute of Contemporary Art, Philadelphia; Eastern State Penitentiary; PAFA; International Computer Music Conference, Beijing, China; Suyama Space, Seattle; storefronts and warehouses in several Philadelphia Live Arts / Fringe Festivals; Disston Saw Works, as part of Hidden City; and Globe Dye, Philadelphia.
THE CHILLS
by Tiona McClodden
Viewing: Listening station and installation available during all gallery hours.
Statement: The project that I plan to conduct within the Sanctuary brings in the use of field recordings to serve as an examination of my family's relationship to music of the African Diaspora, from 1930 to present day. I am creating a series of binaural sound recordings using small mics that will be located within my ears, in order to achieve an immersive surround sound. I'm interested in bodily responses to specific sounds or musical compositions, also known as autonomous sensory meridian response (ASMR), described as a distinct, pleasurable tingling sensation in the body or "the chills".
I am recording within the 40th Sanctuary and on the street, sourcing Philadelphia-based members of the African-American community to sing songs from the genres of Negro Spirituals, Gospel, R&B, Soul, Hip Hop, Jazz, Orisha music, encouraging them to produce the "beat" of the music by utilizing only their bodies and/or the fixtures within the Sanctuary itself. I'm exploring how sound plays a part in how memory is constructed and recalled within the body. I'm also going to be re-recording and playing the "sweet spots" of songs that personally give me "the chills" in each genre above to play within the final mix.
The final presentation of this project involves installing the recordings with headphones on a series of pews located within the Sanctuary, providing visitors a chance to sit and listen with the goal of reproducing the feeling of being present wherever the sounds were recorded.
Artist bio: Tiona McClodden is a filmmaker and visual artist. Themes explored in McClodden's films have been social change, social realism, re-memory and more recently biomythography. She has produced, written and directed a range of films including her award winning feature-length documentary film, black./womyn.: conversations with lesbians of African descent, a short narrative film Bumming Cigarettes, and an experimental film portrait, roots.|&|rigor. featuring Philadelphia based sculpture artist Lorna Williams. She also recently debuted the exhibition of the first part of her upcoming four part series, Be Alarmed: The Black Americana Epic, Movement I – The Visions.
COMPOSING THE TINNITUS SUITES
by Daniel Fishkin
Viewing: On view (as a sculptural work) during gallery hours. Performed nightly at 8pm.
Statement: My ears sing to me. It started in 2008, on the evening following my college thesis recital. The music was not loud that night, but afterwards I heard a high buzzing sound, and it has not stopped since. I have an incurable condition called tinnitus. Doctors offer no solace besides, "You get used to it." Early in 2010, I read about Willie Morris, a former sheriff who shot himself after being unable to cope with tinnitus. In his suicide note, he wrote, "I hope that my death will help bring about some cure for those that suffer with tinnitus, by bringing attention to it. […] It is important that my life will not be wasted." Well, I was listening. In the absence of a medical cure, I vowed to find a creative solution.
Composing the Tinnitus Suites is an ongoing project in which I try to create a musical situation where tinnitus can thrive, rather than interfere. For this work, I have invented an instrument/installation, the Lady's Harp, consisting of pressure transducers and 20 foot long piano strings, and I explore its sound while simultaneously listening to my own tinnitus. I will continue this work for as long as my ears ring.
Artist bio: Daniel Fishkin's ears are ringing. Composer, sound artist, and instrument builder. Completely ambivalent about music. Daniel studied with composer Maryanne Amacher and with multi-instrumentalist Mark Stewart of Bang-On-A-Can All-Stars. He has performed as a soloist with the American Symphony Orchestra, developed sound installations in freight elevators and abandoned concert halls, and played innumerable basement punk shows. Daniel's lifework investigating the aesthetics of hearing damage has received international press (Nature Journal 505 09 1 2014); he is also a "tinnitus ambassador" of the Deutsche Tinnitus-Stiftung as an ally in the search for a cure. Daniel teaches analog synthesis at Bard College and is currently pursuing an MA in Music Composition at Wesleyan University. His influences include exotic hardwoods, his ex-girlfriends, and the histories of electronic music.
FOR VIOLET OAKLEY
by rise set twilight (Linda Aubry Bullock and Mike Bullock)
Viewing: On view during all gallery hours. Optimum viewing (with video projections) after dusk ~ 6:30pm)
Statement: For Violet Oakley is a collaborative work by rise set twilight (Linda Aubry Bullock and Mike Bullock), and is dedicated to the designer of the chandelier upon which the piece is built. Built by Tiffany & Co., the 1,500 lb. chandelier was designed by Oakley in 1911 for the First Church of Christ Scientist, which held its services here. The piece pays homage to one of America's great women artists, while elevating her work out of neglected architectural detail and foregrounding its organic shapes.
Linda created a series of translucent porcelain pieces whose forms evolved out the original glass vessels that held the chandelier's dozens of electric bulbs, and which she painted with fine, vine-like patterns derived from the chandelier's morphology. Mike also created a network of LED lights, activating in patterns derived from Oakley's own words and illuminating the porcelain from within. Using sounds recorded by both artists of voices, harp, contrabass, and electronics, Mike composed a two-channel audio piece that vibrates directly through body of the chandelier. Finally, Linda and Mike collaborated on the twin video projections that bookend the chandelier and the opposite wall.
Artist bio: Rise set twilight is the intermedia duo of Mike and Linda Bullock. Layering analog synths, video and film projections, and sculptural pieces, rise set twilight creates immersive performance-driven events and installations. Their work together has appeared at venues including Fylkingen in Stockholm, Sweden; EMPAC in Troy, NY; and the Ontological Theatre at St. Mark's Church, NYC. Rise set twilight have collaborated with a range of performers including the Strange Attractor collaborative from Cork, Ireland. Linda and Mike also make porcelain under the name Aubry Arts.
THRESHOLD
by Jorge Cousineau
Viewing: On view (as a sound work) during gallery hours. Performed nightly at 7pm.
Statement: Threshold is a series of experiments, amplifying the the sounds we normally perceive as silence, utilizing the architectural and acoustic properties of the Sanctuary itself. Using only microphones and speakers without additional treatment the sounds were recorded and played back repeatedly, in different locations and configurations. In a sense the building became the instrument, resonating and reverberating the hum of daily city life.
Artist bio: Jorge Cousineau was born in Dresden, Germany, where he attained his diploma in painting from the Academy of Fine Arts. In 1997 he moved to Philadelphia to work as a theater designer and has since created sets, lights, sound and projections for numerous dance and theater productions in Philadelphia and regionally. He is a recipient of two Independence Foundation Fellowship grants and was awarded the F. Otto Haas Award for Emerging Theater Artist. Jorge has received several Barrymore Awards for sound and set design, a Lucille Lortel Award in NYC and the 2011 Pew Fellowship in the Arts. Together with his wife Niki he operates Subcircle, a collaborative performance/installation group.
THANK YOU
SANCTUARY is made possible through a Philadelphia Knight Arts Challenge Grant from The John S. and James L. Knight Foundation.
---