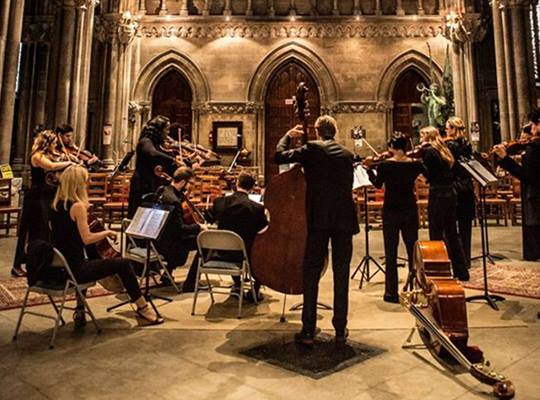 We The People: Arcana Meets Prometheus
---
Friday - 8:00pm (ET)
February 24, 2017
Church of the Advocate
Free
ABOUT THE EVENT
Arcana joins forces with the Prometheus Chamber Ensemble to perform two politically charged works of modern music. Dutch composer Louis Andriessen's 1975 composition Workers Union is notated as a single part that can be played by any kind of instruments, melodic or percussive. Noisy, hypnotic, and powerfully dramatic, Workers Union is a parable for political organizing: in the composer's words, "Only if every player plays with the intention that their part is essential will the work succeed."
While Andriessen's work is based on the theme of solidarity–"Musicians of the world, unite!"– John Cage's nearly contemporary Apartment House 1776, composed for the American Bicentennial, celebrates the composer's anarchist belief in a decentralized society with a "plurality of centers." In the original version, four soloists sing songs representing the religious traditions of the time of the American Revolution (Protestant, Sephardic, African American, and Native American), accompanied by snippets of instrumental music of the time that Cage modified via chance operations. This toned-down interpretation will feature a number of Cage's arrangements alternating with solo performances of some of the songs.
THE PROGRAM
Georg Phillip Telemann: Les Nations
Louis Andriessen: Workers Union
John Cage: Harmonies from Apartment House 1776
ABOUT ARCANA
Founded in 2016, the Arcana New Music Ensemble is a group of Philadelphia-based musicians dedicated to presenting interesting, beautiful, and unconventional music in interesting, beautiful, and unconventional places. Built on a flexible roster of 25 musicians, Arcana is able to perform a broad range of repertoire in numerous configurations. Arcana is a project of Bowerbird administered by Elizabeth Huston, Thomas Patteson, and Dustin Hurt.
violin: Rachel Segal, June Bender
viola: Veronica Jurkiewicz
bass: Dan Turkos, Josh Machiz
percussion: Andy Thierauf
bassoon: Dominic Panunto
trombone: Dan Blacksberg
electric guitar: Nick Millevoi
flute: Katie Ambacher
voice: Alize Rozsnyai
ABOUT PROMETHEUS
Prometheus Chamber Orchestra is Philadelphia's self-conducted and self-managed chamber orchestra. Its individual members perform at the highest levels, having studied at major conservatories and universities such as the Curtis Institute, San Francisco Conservatory, Indiana University, the Hartt School of Music, and Temple University. Its members also have an affinity for creative improvisation, rock, bluegrass, jazz, and other musical styles in which the artist sees an opportunity to fuse artistry with ingenuity. Beyond outstanding musicianship, Prometheus Chamber Orchestra boasts a wealth of expertise in other fields, which allows Prometheus to operate as a self-managed ensemble.
violin: Angela Sulzer, Liz Carlson, Lorenzo Raval, Rachel Massey
viola: Veronica Jurkiewicz, Emma Hughey, Jennifer Boorum, Steve Heitlinger
cello: Thomas La Forgia, Julia Morelli
bass: Dan Turkos, John DiCarlo
percussion: Dan Schwartz
bassoon: Dominic Panunto
electric bass: Matt Engle
---