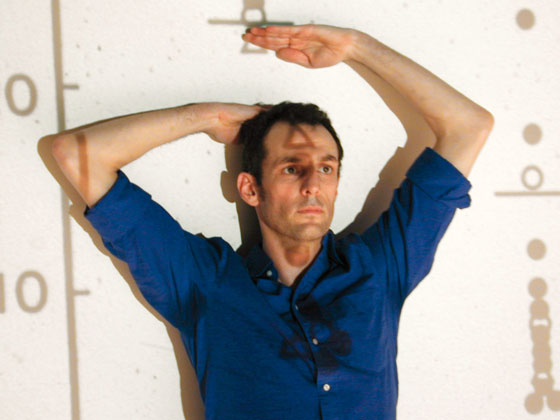 Xavier Le Roy's More Mouvements für Lachenmann
---
Friday - 8:00pm (ET)
September 16, 2011
Arts Bank
Something between dance, music and theater, More Mouvements für Lachenmann is French choreographer Xavier Le Roy's poetic and fascinating version of a contemporary music concert from the point of view of someone obsessed with movement. This dance for eight extraordinary virtuoso musicians, including members of the Austrian new music ensemble Klangforum Wien, breaks down the work of making music by uncoupling sounds and movements, sonic events and silences, actions and stillness. More Mouvements includes the Lachenmann works "Pression," "Salut für Caudwell," and "Gran Torso."
PROGRAM DETAILS
Xavier Le Roy holds a doctorate in molecular biology from the University of Montpellier, France, and has worked as a dancer and choreographer since 1991. He has performed with diverse companies and choreographers. From 1996 to 2003, he was artist-in-residence at the Podewil in Berlin. In 2007-2008 he was "Associated Artist"at Centre Chorégraphique National de Montpellier, France. In 2010 Le Roy is an Artist in Residence fellow at the MIT Program in Art Culture and Technology (Cambridge, MA). Through his solo works such as Self Unfinished (1998) and Product of Circumstances (1999), he has opened new perspectives for dance and his individual approach has radicalized academic discourse about the body and choreographic art. Le Roy develops his work like a researcher, while simultaneously focusing on the relationships between process and product and his own involvement in the process. He regularly initiates projects to question modes of production, collaboration and conditions of group work with projects such as E.X.T.E.N.S.I.O.N.S.(1999-2000), Project (2003), and 6 Months 1 Location (2008). His latest works, such as the solos Le Sacre du Printemps (2007) and Product of Other Circumstances (2009), as well as the group piece low pieces (2009-2011), explore more explicitly diverse mode of relationships between spectators and performers.
Xavier Le Roy's More Mouvements für Lachenmann is the culmination of several years of artistic exploration of the relationship between music and dance, sound and movement. As early as 2003, Le Roy was creating choreography for the music of Edgar Varese and Bernard Rands, but it was with his 2007 solo work Le Sacre du Printemps in which he directly confronted the reality and multilayered contradictions in the sound/movement relationship.
In Sacre Le Roy observed the Berlin Philharmonic during a rehearsal of Stravinsky's Rite of Spring, and took keen interest in the conductor's movement, and the precipitous ambiguity as to whether the conductor's movement was driving music, or the music was binding the conductor to certain movement. It is here that Le Roy began to explore ideas of synchronicity between the visual and the sonic cues in performance as he magnified the inherent theatricality within them.
More Mouvements takes Le Roy's earlier explorations and brings them to fuller fruition through the pairing of a more historically developed, and conceptually apropos partner in Lachenmann. In many ways, More Mouvements, is as much based on Lachenmann's music as it is about the music, and the composer's own peculiar relationship with sound, sound production, and the exceptional demands put on the musicians.
Lachenmann has referred to his compositions as musique concrète instrumentale, implying a musical language that embraces the entire sound-world made accessible through unconventional playing techniques. His music is therefore primarily derived from the most basic of sounds, which through processes of amplification serve as the bases for extended works. His scores place enormous demands on performers, due to the plethora of techniques that he has invented.
Lachenmann's gravitation toward these basic parameters of sound, and his somewhat contradictory creation of new techniques to execute the 'normal' sounds, is very much echoed in the deceptively pedestrian movement vocabulary of Le Roy's other work, or, for example, the technique required to make an illusion of a moving headless body, as in his solo piece Self Unfinished, (1998). The aesthetic marriage is so complete that Le Roy is able to draw so deeply from the visual cues of Lachenmann's music that More Mouvements für Lachenmann does not require any dancers (in the traditional sense) to perform. And though the movements of the performers are very much 'dancerly' at times, the work, like much of Le Roy's work, invites the most fundamental question, "What is dance?"
CREDITS
Choreography Xavier Le Roy
Music Helmut Lachenmann (b. 1935)
Performers Gunter Schneider (guitar), Barbara Romen (guitar), Tom Pauwels (guitar), Günther Lebbing (guitar), Annette Bik (violin), Sophie Schafleitner (violin), Dimitrios Polisoidis (viola), Andreas Lindenbaum (cello)
Dramaturg Bojana Cvejic, Berno Odo Polzer
Technical Director Götz Dihlman
Sound Engineer Wolfgang Musil
The presentation of More Mouvements für Lachenmann in the 2011 Philadelphia Live Arts Festival is supported by The Pew Center for Arts & Heritage through Dance Advance.
---