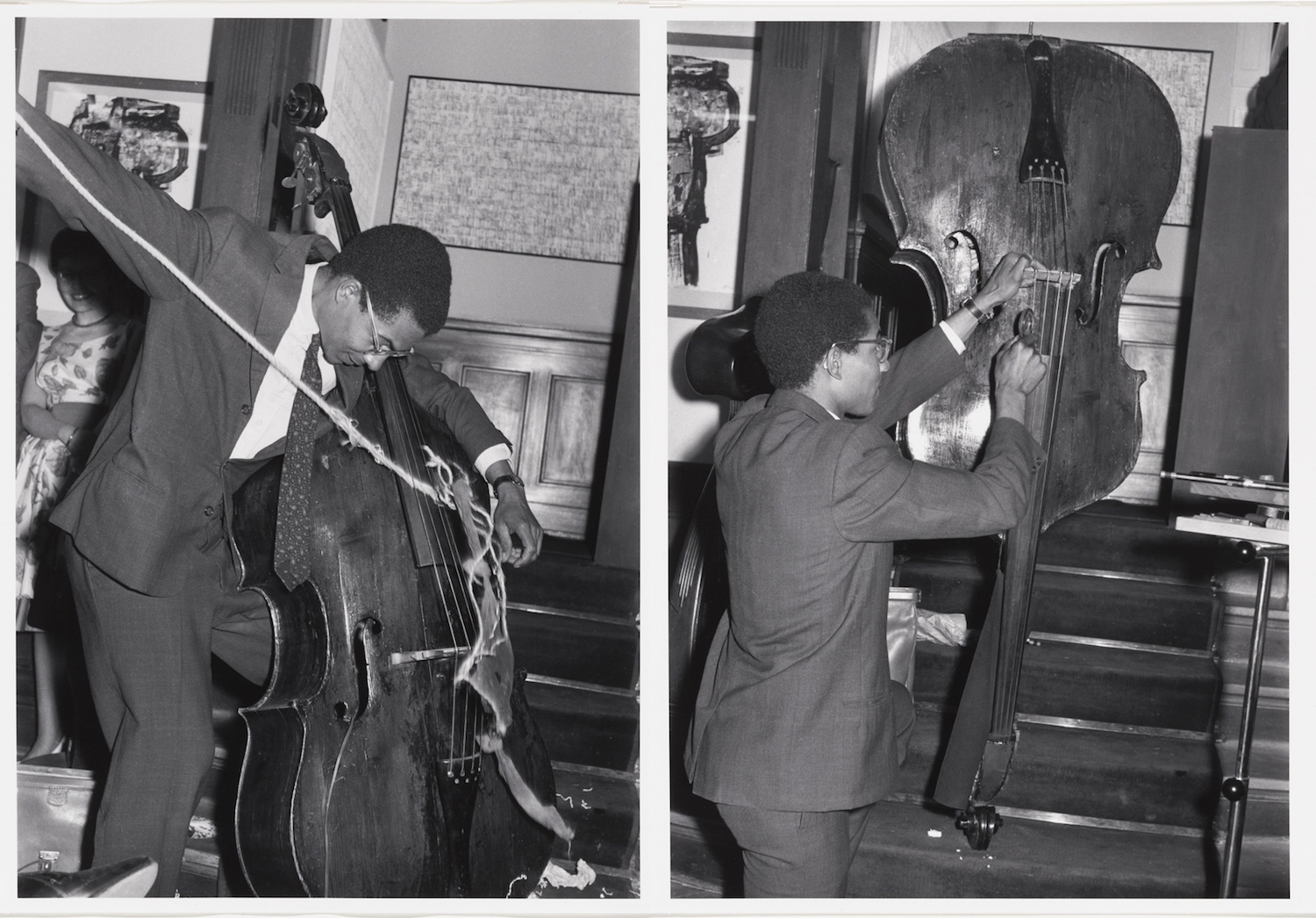 Ben Patterson: Methods and Processes
Arcana New Music Ensemble
---
Friday - 8:00pm (ET)
December 14, 2018
The Rotunda
Free
Bowerbird and the Arcana New Music Ensemble are excited to present the music of Ben Patterson (1934-2016), an important and under-recognized leader of the early Fluxus movement, an international, interdisciplinary community of experimental artists that began in the early 1960s. The program represents Patterson's wide range of compositional strategies.  For example – Paper Piece (for 1 to 5 performers) is a text score that invites musicians to –  "shake, break, tear, crumple" – paper in an improvisatory exploration of its sonic properties.  String Music on the other hand is a graphic score with detailed performance instructions and intricate notation more reminiscent of Stockhausen's Kontakte.
Early in Patterson's career, as an African American classically trained double bassist, he sought to "break the color barrier" and be the first black musician to play in an American symphony orchestra. As Patterson noted, "in the end, even though such a famous conductor as Leopold Stokowski fought strongly on my behalf, America was not yet ready for a black symphony musician, and so I went to Canada."  During his initial brush with expatriate life, Patterson performed as a contrabassist with the Halifax Symphony Orchestra and the Ottawa Philharmonic Orchestra, and also became involved with electronic music, working in Ottawa with Canadian pioneer Hugh Le Caine and performing his own experiments.
In 1960 he moved to Europe  and was active in the contemporary music scene, performing in festivals in Cologne, Paris, Venice, Vienna and elsewhere.  During this pre-Fluxus period he created and performed some of his early seminal works: Paper Piece (1960), Lemons (1961) and Variations for Double-Bass (1961). Patterson assisted George Maciunas in organizing the historic 1962 Fluxus Festival in Wiesbaden. His interview with Emmett Williams – for the opening of this festival – was one of the first articles about Fluxus. In 1963 Patterson moved to New York, where he participated in Fluxus manifestations until the late 1960s – when he returned to pursue "an ordinary life."
During the next two decades he pursued a career in arts administration – managing a variety of music, theater, and dance companies and serving as administrator or consultant to municipal, state, and federal arts funding agencies. Although he remained outside the Fluxus scene during this period, he did occasionally surface with performances and new works for such events as the 20th Anniversary Fluxus Festival in Wiesbaden in 1982 and the 1983 Bienal de Sao Paulo, Brazil, and has been well represented in the various exhibitions throughout the USA of the Silverman collection.
After a nearly twenty-year hiatus, Patterson reemerged in the late 1980s to resume his career as an artist. In 1989, Patterson returned to Europe to live, creating a vast repository of scores, paintings, and sculptures. He has exhibited or performed widely in major and minor venues in New York, Brisbane, Prague, Winnipeg, Tusa (Sicily), Athens, Kassel, and elsewhere.  
---
THE PROGRAM
Variations for Double Bass (1961-62)
String Music (1960)
Duo for Voice and String Instrument (1961)
Simple Opera (1996)
Pond (1962)
Paper Piece (1960)
Overture (1961)
A Disturbing Composition (1961)
---
ARCANA NEW MUSIC ENSEMBLE
Anthony Bob, flute
Erin Busch, cello
Veronica Jurkiewicz, viola
Josh Machiz, bass
Tara Middleton, violin and voice
David Middleton, electric guitar and bass
Andy Thierauf, percussion
The Arcana New Music Ensemble performs interesting, beautiful, and unconventional music in interesting, beautiful, and unconventional spaces. Founded in 2016, the ensemble comprises a flexible roster of more than 30 musicians and performs regularly in Philadelphia. Past concerts have featured the music of Julius Eastman, Galina Ustvolskaya, Morton Feldman, Moondog, among others.
PHOTOS FROM THE EVENT
---