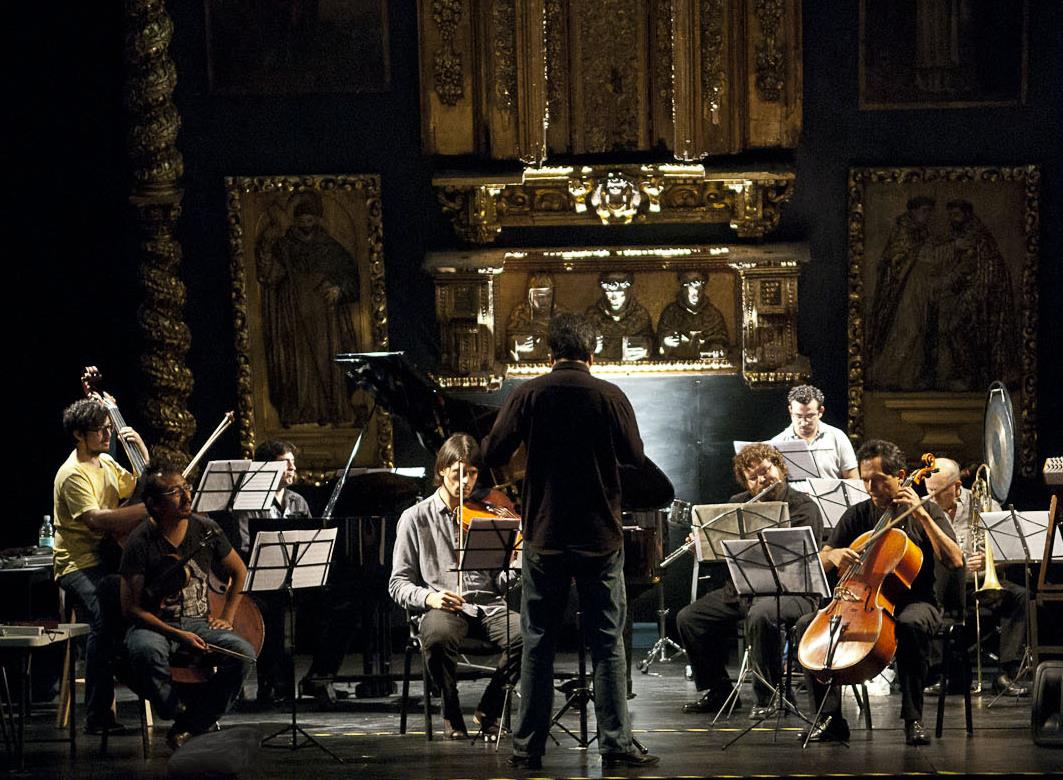 Ensemble Liminar
---
Thursday - 8:00pm (ET)
April 12, 2018
University Lutheran
$12 – $20
Bowerbird is pleased to present Liminar, a Mexico City based ensemble for contemporary music. The program features "Acustica", Kagel's extraordinary masterwork for "experimental sound producers".
PROGRAM
Mauricio Kagel: Acustica
Michael Pisaro: Tombstones
Samuel Cedillo: Monologo III for viola
Christian Wolff: Exercise 14
plus more tba.
LIMINAR
Wilfrido Terrazas, flutes
Omar López, sax
Carmina Escobar, voice
Diego Espinosa, percussion
Carlos Iturralde, guitar and electronics
Carlos Matus, piano
Julian Martinez, violin
Alexander Bruck, viola
Juan José García, doublebass
ABOUT ACUSTICA
Composed between 1968 and 1970, Acustica, for experimental sound-producers and loudspeakers, is one of Mauricio Kagel's radical and extraordinary works, in which his constant search for ways of escaping from the restraints and conventions of traditional musical performance took him into a world of exotic instruments and almost surreal invention. The instrumentation for Acustica is a huge array of sound sources: there are folk instruments collected from around the world and from different periods in history alongside a vast array of devices that Kagel invented himself – from pebbles dropped into a bucket of water to a gramophone record "played" with a penknife stuck in a tin can – all of which he notates meticulously. The order in which they are played and overlapped, however, is left entirely free – the only fixed element in the composition is a pre-recorded tape that adds more musique concrete sounds to the mix.
ABOUT THE ENSEMBLE
Liminar is an independent music ensemble based in Mexico City, but more than just an ensemble, Liminar has become a hub where new music meets other art forms, and they can be seen performing in Mexico City's main chamber music halls, museums, galleries, and alternative venues alike. Established in 2011, its core members are accomplished improvisers and devoted to new experimental music and essential works from the past century. As the group's name suggests, Liminar's place in the spectrum of contemporary musical practice is firmly on the adventurous side. The programs explore the boundaries of sound art, music theatre, and intermedia performance, thus expanding the conceptual and technical limits of the concert hall.
While Liminar works primarily with the music of living artists, mostly belonging to the vibrant Mexican music scene, the list of international composers with whom the group has worked closely with includes names like Christian Wolff, Michael Pisaro, Carola Bauckholt, Manfred Werder, and Erik Ulman. Guest musicians have included Robyn Schulkowsky, Wilhelm Bruck, and Severine Ballon. Liminar has performed in Europe, USA and Mexico in festivals/venues like BKA and Radialsystem V Berlin, Redcat Theater LA, MATA Festival NY, Biennale di Venezia, Festival Cervantino and coproduced important projects with the Goethe Institute, Fonoteca and Museo Jumex. They are also regular guests at the Foro de Internacional de Musica Nueva Manuel Enríquez, the National University's Contemporary Art Museum (MUAC), Museo del Chopo and the Centre for the Arts in Monterrey.
Liminar's programs range from pieces and collaborations with artists like Hermann Nitsch and Carlos Amorales, to American and European avant-garde composers like Ashley, Ablinger, Baca Lobera, Cage, Carrillo, Cowell, Chavez, Feldman, Kagel, Lachenmann, Lucier, Nancarrow, Pisaro, H Paredes, Rihm, Romitelli, C Sandoval, Tenney, to mention a few.
---