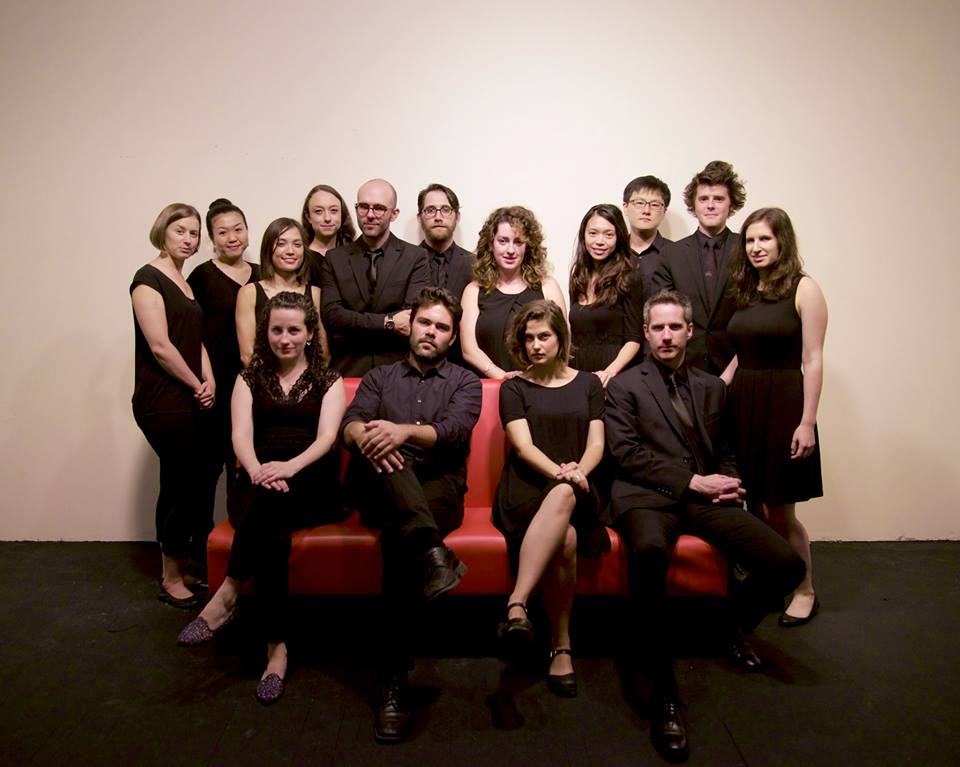 Ensemble Mise-En
with Daniel Fishkin
---
Sunday - 8:00pm (ET)
October 16, 2016
Free
ABOUT THE EVENT
The fourth installment of Composing the Tinnitus Suites: 2016 consists of the world premiere of Composing the Tinnitus Suites: 2008-2011 mise-en transcription, a notated work by Daniel Fishkin commissioned and performed by NYC-based new music ensemble mise-en. This work was composed through using Fourier analysis of early works in the saga of the Tinnitus Suites, composed on the first (now destroyed) version of the Lady's Harp in 2011.
Mark Broschinsky, trombone
Vasko Dukovski, bass clarinet
Kelley Barnett, flute
Evan Runyon, contrabass
Yumi Suehiro, piano
Jessica Park, violin
Moon Young Ha, conductor
Featuring a conversation with Carolyn Lazard and Conor Dempsey.
ABOUT THE ARTISTS
ENSEMBLE MISE-EN is a New York-based contemporary music collective led by composer Moon Young HA. Comprised of talented young musicians, mise-en strives to bring a repertoire of challenging new sounds to diverse audiences, coalesced around a real aesthetic agenda, crystallized in the name mise-en: "mee", in Korean, means "beauty", and "zahn", "to decorate". Since its inception in 2011, ensemble mise-en has collaborated with many esteemed partners such as: Washington Square Contemporary Music Society, International Alliance for Women in Music, Austrian Cultural Forum New York, Open Meadows Foundation, New York University, New York Foundation for the Arts, I-Park, Goethe-Institute Boston, Villa Gillet (FR) and others. The ensemble has performed at exciting venues such as (le) poisson rouge, Bohemian National Hall, Italian Academy, the DiMenna Center, Tenri Cultural Institute and the cell.
Daniel studied with composer Maryanne Amacher and with multi-instrumentalist Mark Stewart. He has performed as a soloist on modular synthesizer with the American Symphony Orchestra, developed sound installations in freight elevators and abandoned concert halls, and played innumerable basement punk shows. Previous iterations of Composing the Tinnitus Suites have received international press (Nature Journal, 2014); as an ally in the search for a cure, he has been awarded the title of "tinnitus ambassador" by the Deutsche Tinnitus-Stiftung. Daniel received his MA in Music Composition from Wesleyan University, and currently teaches courses in analog synthesis at Bard College.
ABOUT THE SERIES
In 2008, Daniel Fishkin's ears started ringing, and they never stopped. Composing the Tinnitus Suites: 2016 investigates the aesthetics of hearing damage through a performance series in the Sanctuary of the Rotunda, consisting of experimental music concerts and conversations with other thinkers who confront hearing damage in their own practice and personal lives. The series is anchored by the Lady's Harp: a system of 20-foot long piano wires activated by mixer feedback, using guitar pickups and pressure transducers to coax the strings into vibration, not unlike the cilia that transduce vibrations into electrical impulses for the brain. Fishkin says, "To make 'Tinnitus Music' is not just to compose sounds, but also to compose situations that can break the isolation of its experience."
Composing the Tinnitus Suites: 2016 has been supported by The Pew Center for Arts & Heritage.
---