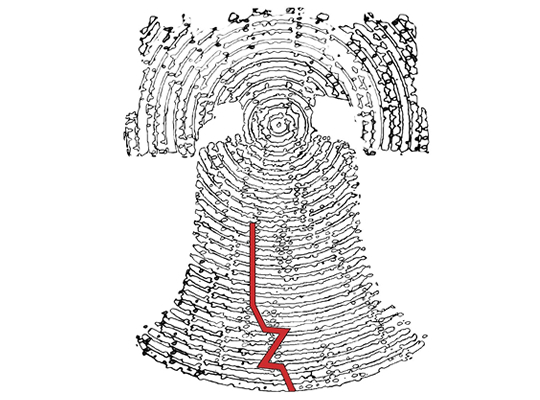 The Philadelphia Embassy of the Kingdoms of Elgaland-Vargaland
---
From Friday - 12:00am (ET)
October 14, 2016
To Saturday - 11:59pm (ET)
October 15, 2016
Crane Arts
Bowerbird, in collaboration with Mike Bullock, is pleased to present the inauguration of "The Philadelphia Embassy of the Kingdoms of Elgaland-Vargaland" (KREV). KREV, as described by the country's founders – Swedish artists Leif Elggren (King Leif I) and Carl Michael von Hausswolff (King Michael I) – is "the largest and most populous realm on Earth, incorporating all boundaries between other nations as well as Digital Territory and other states of existence. Every time you travel somewhere, and every time you enter another form, such as the dream state, you visit Elgaland-Vargaland."
With performances by Ian M Fraser and Bhob Rainey in their first collaboration performing a new work derived from algorithmic digital composition techniques. Solo performance by CM von Hausswolff using electronics to make his unique blend of droned and polyfrequential beauty.
Also featuring a performance by Sons of God with Mike Bullock. Sons of God – the duo of Leif Elggren and Kent Tankred – excels in creating long, puzzling stage performances that give equal roles to physical action (or inaction) and soundtrack (live or taped) with themes such as violence, love, the quotidian, food and royalty. For this performance they will collaborate with electronic composer Mike Bullock, who will create a sonic setting using modular synthesizers and field recordings.
Along with these performances artworks will be on display in the Gray Area and ICEBox Project Space will be videos, porcelain objects, prints, stamps, currency, and other Royal ephemera, as well as books, records, and CDs from artists Leif Elggren, CM von Hasswolff, Linda Aubry Bullock and Mike Bullock.
ABOUT THE PERFORMERS:
Mike Bullock is a composer, performer, and artist whose work encompasses improvisation, electroacoustic composition, modular synthesis, intermedia installation, contrabass and bass guitar, porcelain making, illustration, and critical writing. Bullock has been performing electroacoustic improvised music since the mid 90s and has performed across the US and in Europe, at venues such as Fylkingen in Stockholm, Sweden; Instants Chavires in Paris; Café OTO in London; Experimental Intermedia and ISSUE Project Room in New York City; The Philadelphia Museum of Art; and EMPAC in Troy, NY. Collaborators have included King Britt, HPrizm (High Priest of Anti-Pop Consortium), Bertrand Gauguet, Andy Guhl, Mazen Kerbaj, Pauline Oliveros, Bhob Rainey, Greg Kelley, Steve Roden, Hankus Netsky, Keith Rowe, and Christian Wolff, Vic Rawlings, Raed Yassin, Christine Abdelnour, Sharif Sehnaoui, Domenico Sciajno, Seymour Wright, Sebastian Lexer, Julien Ottavi, Ben Owen, Andrew Lafkas, Bryan Eubanks, Kenta Nagai, Andrea Neumann, Stephane Rives, Scott Smallwood, Stephan Moore, Howard Stelzer, Tucker Dulin, Curtis Bahn, Newton Armstrong. Additionally, Bullock has taught and lectured on field recording and improvisation at Hautes Ecoles des Arts du Rhin, The Pratt Institute, and Massachusetts Institute of Technology. He is currently based in Brooklyn, NY and Philadelphia, PA.
Linda Aubry Bullock is a painter, porcelain maker, graphic designer, video artist and electronic musician based in Brooklyn, NY. She has performed live video and modular synthesizer at numerous venues including ISSUE Project Room and Experimental Intermedia in New York City; EMPAC in Troy, NY; and Fylkingen in Stockholm, Sweden. Her visual art has been exhibited at Vox Populi Gallery in Philadelphia. Linda has an extensive career producing porcelain tableware for the home, as well as experimental porcelain pieces for intermedia installation works.
Leif Elggren (born 1950, Linkoping, Sweden) is a Swedish artist who lives and works in Stockholm. Active since the late 1970s, Leif Elggren has become one of the most constantly surprising conceptual artists to work in the combined worlds of audio and visual. A writer, visual artist, stage performer and composer, he has many albums to his credits, solo and with the Sons of God, on labels such as Ash International, Touch, Radium and his own Firework Edition. His music, often conceived as the soundtrack to a visual installation or experimental stage performance, usually presents carefully selected sound sources over a long stretch of time and can range from mesmerizingly quiet electronics to harsh noise. His wide-ranging and prolific body of art often involves dreams and subtle absurdities, social hierarchies turned upside-down, hidden actions and events taking on the quality of icons. Together with artist Carl Michael von Hausswolff, he is a founder of the Kingdoms of Elgaland-Vargaland (KREV) where he enjoys the title of King. Elggren spent five years at the Academy of Fine Arts in Stockholm, specializing in drawing, design and book printing. In the late '70s he began to associate with performance groups, meeting people like Hausswolff and Thomas Liljenberg. With the latter he formed Firework in 1978, a duo that put up exhibitions and performances. Around the same time he purchased a press and started to publish art books. In 1988 he formed the duo Guds Söner (The Sons of God) with Kent Tankred, whom he had met four years earlier. The duo excels in creating long, puzzling stage performances that give equal roles to physical action (or inaction) and soundtrack (live or taped) with themes such as violence, love, the quotidian, food and royalty. Solo works include Talking to a Dead Queen (1996) and Pluralis Majestatis (2000). Together with Hausswolff, Elggren represented Sweden in the Nordic Pavilion at the Venice Biennale in 2001 (with Tommi Grönlund and Petteri Nisunen from Finland and Anders Tomren from Norway). In 2007 he appeared (with John Duncan) at the Netmage festival in Bologna organized by xing, and executed "Something Like Seeing in the Dark."
Carl Michael von Hausswolff (born 1956, Linkoping, Sweden) is an artist living and working in Stockholm. Since the 1970s Hausswolff has worked as a composer using the tape recorder as his main instrument and as a conceptual visual artist working with performance art, light- and sound installations and photography. His audio compositions from 1979 to 1992, constructed almost exclusively from basic material taken from earlier audiovisual installations and performance works, consist of complex macromal drones interlaced with a surface of aesthetic elegance and beauty. In later works, Hausswolff has added a purely isolationistic sonic condition to composing. More recent compositions byHausswolff are pure, intuitive studies of electricity, frequency functions and tonal autism within the framework of a conceptual stringent cryption. Lately he has also developed a more conceptual form of audio art overlooking subjects such as architecture and urbanism, rats and maggots. Collaborators include Graham Lewis, Jean-Louis Huhta, Pan sonic, Russell Haswell, Zbigniew Karkowski, Erik Pauser, The Hafler Trio and John Duncan. His music and sound art can be found on labels such as Touch, Ash International, Laton, Oral, RasterNoton, Firework Edition, SubRosa and Die Stadt. His music is published by Touch Music, London. Hausswolff's music has been performed throughout Europe and in North America and Asia in festivals such as Sonar, Electrograph and I.D.E.A.L. In these concerts a very physical, almost brutal, side of Hausswolff's aesthetics has blended with a droned and polyfrequential beauty. The audience very often fall into a form of trance, dozing away in their seats. Other times people experiencing the events has thanked him "for the massage" or has expressed a "feeling that the flesh came off the bones" due to the vibrations of the low frequencies used.
Kent Tankred (born 1947, Stockholm, Sweden) studied painting in the early 70s before studying at EMS (Institute for Electro-Acoustic Music) in Stockholm with Rolf Enstrom and Jan W Morthenson. Tankred is interested in musical encounters with other art forms, particularly pictorial art, which has resulted in fusions where his music has also functioned as installations at exhibitions. The multi slide presentation Riot which was shown in Berlin in 1988 was created in collaboration with the graphic artist Leif Elggren. Tankred and Elggren work together on a regular basis as a performance duo, calling themselves The Sons of God. Tankred aims to strengthen the ties between music, movement and image and also to avoid conventional forms of expression. He often uses a "concresizer," a kind of instrument which he has constructed himself which controls different types of sound sculptures from a keyboard. His works have been exhibited in different places in Sweden and Europe. Tankred has been the president of the Fylkingen society between 1993-98.=
Ian M. Fraser is a computer musician working in free improvisation and algorithmic-based composition. His primary focus is generative structures, pseudo-artificial intelligence, and stochastic processes. With Reed Evan Rosenberg, he works with the continual development of Keroaän, a musical Artificial Intelligence designed to perform without any human intervention whatsoever. In live performance they combine live generative works with real-time visualizations utilizing high intensity strobe lights and lasers.
Bhob Rainey is an award-winning composer, performer, saxophonist, and sound designer. In 1998, with trumpeter Greg Kelley, he founded the duo Nmperign, which quickly became a model for a new phase of non-idiomatic improvisation often referred to as "lowercase" or "EAI" (Electroacoustic Improvisation). In 2000 he founded The BSC, an improvising large ensemble, in which he developed techniques for an improvisational discipline that were eventually outlined in his 2011 publication, Manual. Throughout the late 1990's and early 2000's he performed globally and collaborated with numerous improvisers of both the (then) current and previous generations, including Axel Dorner, Andrea Neumann, Gunter Mu ller, Michel Doneda, Le Quan Ninh, and many others. By the mid-2000's, while continuing to work in the realm of improvisation, Rainey began to produce electronic and algorithmic works. He spent five years collaborating with German composer Ralf Wehowsky (RLW) on the 2007 release, I don't think I can see you tonight, which, along with Nmperign and Jason Lescalleet's Love Me Two Times (2006), established him as a formidable electronic composer who synthesizes streams of Musique Concrete, computer music, and improvisation. Throughout his career, Rainey has sought out cross-discipline collaborations, working with dancers, filmmakers, and theater companies. From 2012-2014 he worked with theater company New Paradise Labs to create The Adults, which premiered at the 2014 Philadelphia Fringe Festival to much acclaim. Rainey was awarded the Pew Fellowship in the Arts in 2013. He is currently working on a long-term project with New Paradise Labs dealing with radical contingency.
The Philadelphia Embassy of the Kingdoms of Elgaland-Vargaland has been supported by The Pew Center for Arts & Heritage.
---