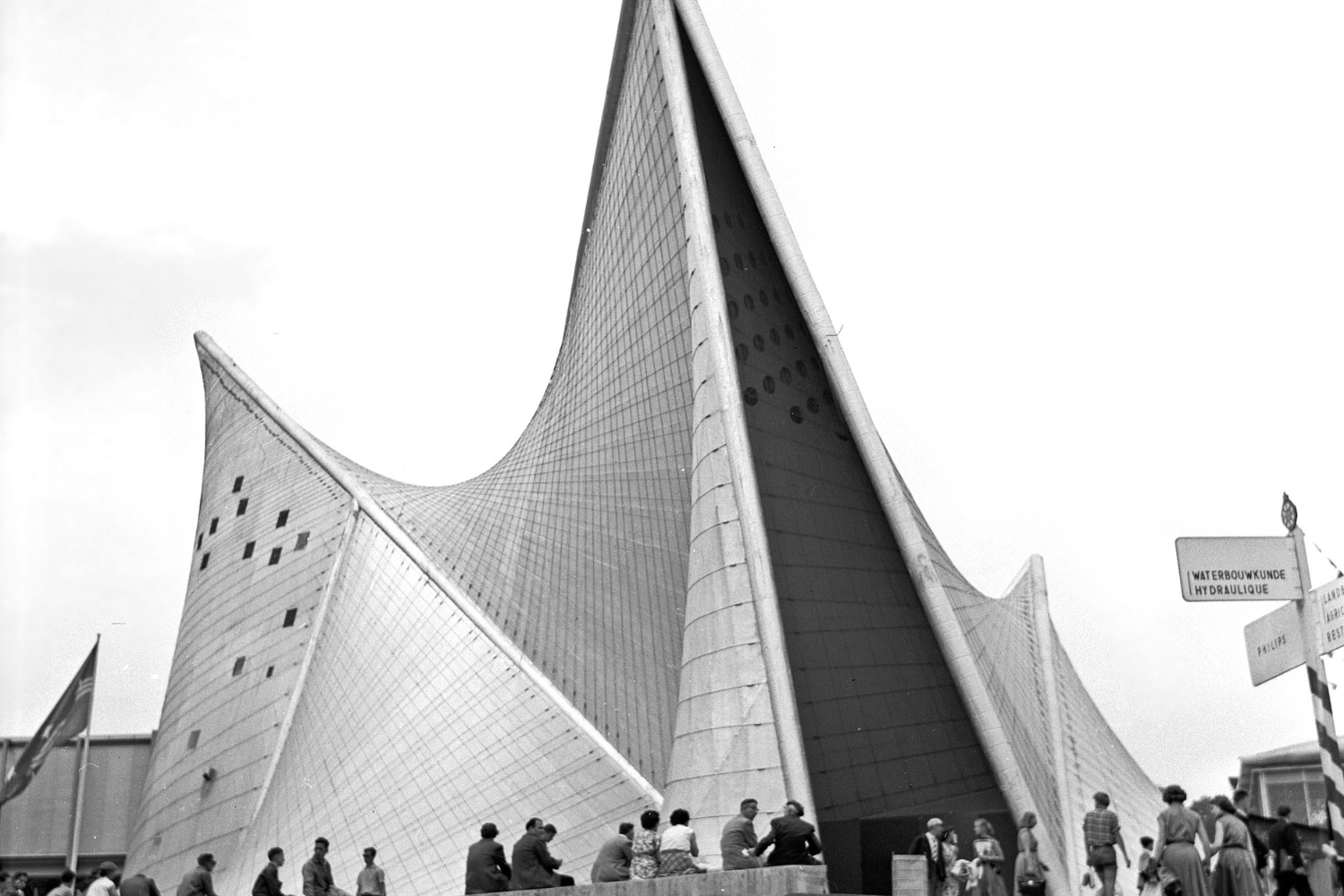 Expo '58: A More Humane Art
Nightletter Screenings
---
Wednesday - 7:00pm (ET)
December 7, 2022
University Lutheran
$8 – $12
Get Tickets
Held in the Belgian spring and summer of 1958, the Brussels Exposition was the apogee of World's Fairs. With its slogan "evaluation of the world for a more humane world" celebrating a new post-war optimism about technology and progress, it was also full of the contradictions of the age, and was equally a celebration of nationalism, corporate collaboration, and ongoing colonialism. But it also served as the premiere of some of the most important and radical artistic works of the second half of the twentieth century, previewing currents that continue to this day.
The Le Corbusier designed Phillips Pavilion was a masterpiece of modernist architecture where new works in the emerging idioms of electronic music and musique concrète by Edgard Varèse and Iannis Xenakis were first presented. Brussels was also the first major meeting place of the international film community following the second World War where not only did critics and filmmakers from dozens of countries vote on a list of the greatest films of all time but more than 100 novel experimental works from around the world were presented as a radical change in this young art form. These films included not only what we would typically label "experimental film" including early works by members of the American underground cinema movement as well as key figures of the European avant-garde tradition but also some of the first works of the coming New Waves of narrative filmmaking such as Agnes Varda, Roman Polanski, Ken Russell, and Alain Tanner as well as some of the first independent animated films. Expo '58: A More Humane Art will survey the breadth of this incredible exposition drawing from all of these currents and celebrating the Brussels festival as the debutante ball of numerous cinematic forms.
Co-presented with Nightletter.
---
FILM PROGRAM
Adebar / Peter Kubelka / 1957 / 3 min / 16mm
The Very Eye of Night / Maya Deren / 1958 / 15 min / 16mm
Anticipation of the Night / Stan Brakhage / 1958 / 42 min / 16mm
Jamestown Baloos / Robert Breer / 1957 / 8 min / 16mm
Free Radicals / Len Lye / 1958 / 5 min / Digital
L'Opera Mouffe / Agnès Varda / 1958 / 16 min / Digital
---
HEALTH & SAFETY
This is an "in person" event.   In consideration of the ongoing pandemic and the safety of those in our community, Bowerbird is requiring all audience members, staff, and performers to wear a mask while inside the venue (please note that musicians will have the option to perform without masks once on stage).
---
---