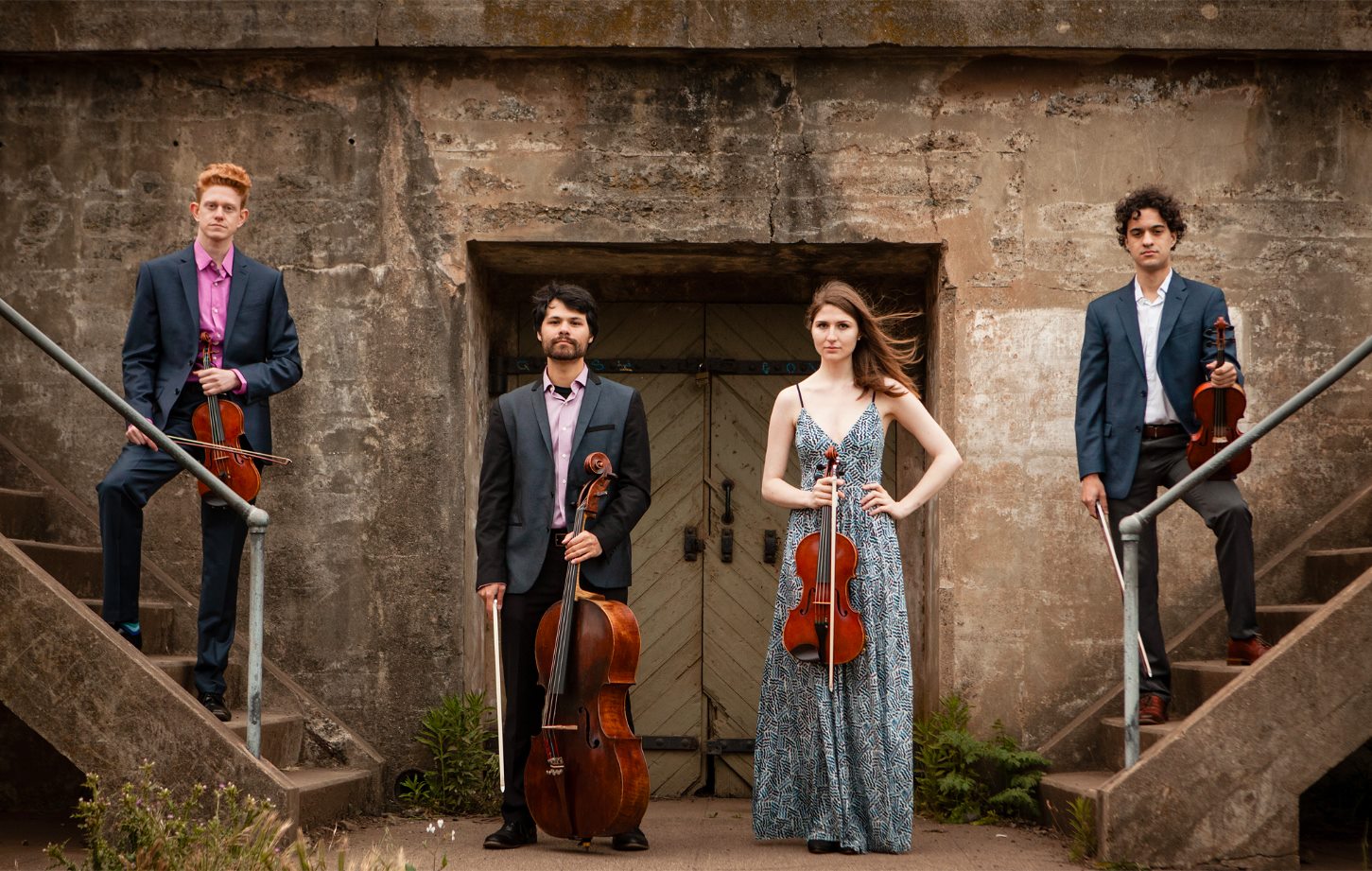 Friction Quartet
Rosie Langaber, Murmuration
---
Thursday - 8:00pm
March 22, 2018
University Lutheran
3637 Chestnut Street Philadelphia PA 19104
+ Google Map
Admission:
$12 – $20
Bowerbird is pleased to welcome San Francisco's Friction Quartet to their premiere Philadelphia performance. The program will feature the world premiere of a new string quartet by New Zealander composer (and Philadelphia based) Rosie Langabeer. Opening the evening will be Murmuration celebrating the debut album, "Revised Notes"
FRICTION QUARTET
Otis Harriel, Violin; Kevin Rogers, Violin;
Taija Warbelow, Viola; Doug Machiz, Cello
plus MURMURATION
Russell Kotcher, violin/piano; Joshua Machiz, double bass; Eric Coyne, cello/piano
PROGRAM
Ludwig van Beethoven: Grosse Fuge
Rosie Langabeer: Occulmente (World Premiere)
Piers Hellawell: The Still Dancers
ABOUT THE ARTISTS
The San Francisco Chronicle has praised the Friction Quartet for its "high-octane music making" and "fine blend of rhythmic ferocity and tonal flair." Dedicated to working with living composers, the quartet has given more than 70 world-premiere performances and commissioned 32 works since its formation in 2011. The Friction Quartet works outside the traditional string quartet model by performing arrangements of pop music, making use of digital sound processing, and combining music with other media. In 2016, the ensemble performed at Carnegie Hall as part of the Kronos Quartet's groundbreaking initiative Fifty for the Future: The Kronos Learning Repertoire.
Founded in Philadelphia in 2011, Murmuration is an improvisational instrumental chamber ensemble that blends classical, ambient, and pop elements into a sound ranging from Debussy to The Eurythmics. They have performed in a variety of venues across the region, and have participated in a wide range collaborations that have included either dance, spoken word, or film. Members include Russell Kotcher, violin/piano; Joshua Machiz, double bass; Eric Coyne, cello/piano. Their debut album, Revised Notes, is due for release in March, 2018. Revised Notes is a collection of in-studio improvisations that were recorded at Turtle Studios in Philadelphia in the summer of 2015. Each track began as an improvisation, or a section of a large-scale improvisation. Some were edited with overdubs, enhanced or reduced reverb, and various filters. Others remain nearly as they were with minimal to no editing. Rather than containing numerous large-scale pieces, the goal of the album is to give listeners a sampling of the variety of moods, characters, and sound-scapes that Murmuration creates in its music.
---