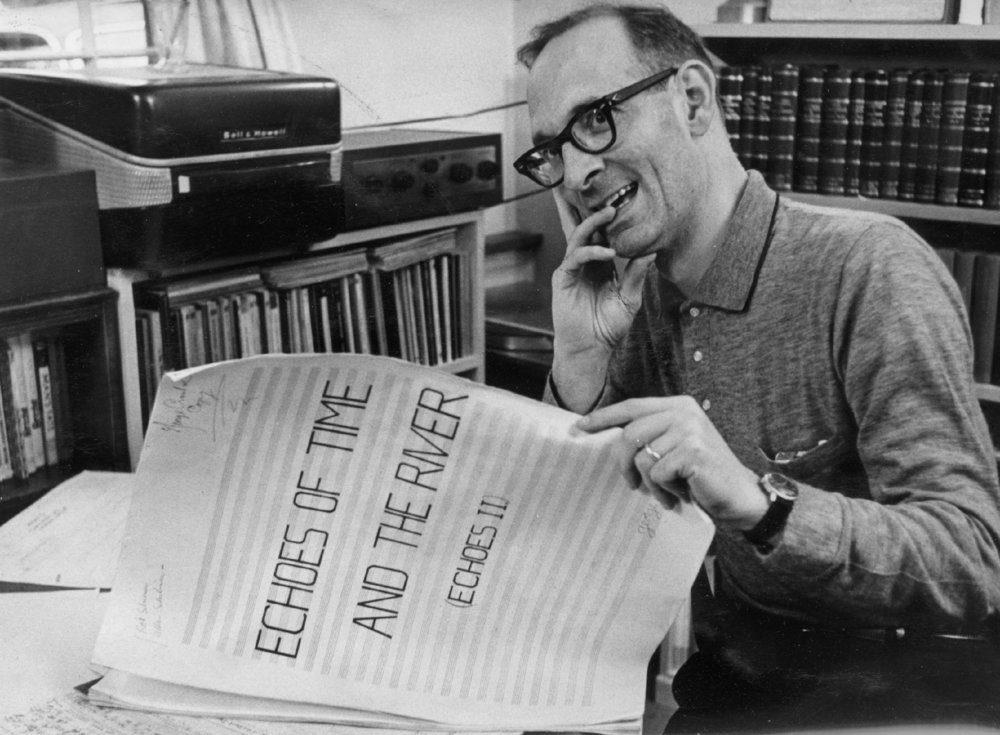 GEORGE CRUMB AT 85
with ensemble counter)induction
---
Saturday - 4:00pm (ET)
April 4, 2015
Trinity Center for Urban Life
Please join Bowerbird and counter)induction for this special celebration in honor of George Crumb's 85th birthday. George Crumb's unique musical language has left an indelible mark upon American and international contemporary music. A generation of composers from the University of Pennsylvania count studying with him as a fundamental element in their creative development. counter)induction would like to celebrate his remarkable voice with a major concert featuring seminal Crumb works alongside two new commissions dedicated to George, by two of his last students.
The Crumb repertoire draws from every phase and direction of his oeuvre. Eleven Echoes of Autumn (1966) is a work composed shortly after Crumb joined the faculty at Penn, and exhibits his masterful control of timbre and dynamic. Vox Balaenae (1971), calling for masked performers, amplification, and lighting direction, reflects Crumb's sensibility in theatre and ritual. Mundus Canis (1998), a "comeback" work of sorts heralding a new period of invention and creativity, shows Crumb's sense of humor and his love of animals.
Additionally, Crumb students and counter)induction composers Kyle Bartlett and Douglas Boyce will compose works in homage to their experience with George and his music, to be premiered at this Philadelphia concert. Bartlett will write a series of miniatures for piano, while Boyce will compose a duo for guitar and violin, both to be premiered on this concert.
Program:
George Crumb: Eleven Echoes of Autumn (1966)
George Crumb: Vox Balaenae (1971)
George Crumb: Mundus Canis (1998)
Kyle Bartlett: New Work World Premiere
Douglas Boyce: New Work World Premiere
ABOUT THE ENSEMBLE
Formed in 1998 by two Philadelphia-based composers (Douglas Boyce and Kyle Bartlett), counter)induction has produced 16 seasons of highly acclaimed, thought-provoking chamber music concerts. Renowned for its virtuosic performances and daring programming, the composer/ performer collective has established itself as a touchstone of excellence in contemporary music. c)i is the winner of an ASCAP/Chamber Music America "Award for Adventurous Programming" and has headlined numerous festivals, including the 2004 "Music at the Anthology" Festival, the 2005 Boston Conservatory New Music Week, the 2005 Columbia Music Scholarship Conference, and most recently the 2010 Conference of the International Consortium for Auditory Display. c)i pursues its mission of education by presenting concerts and workshops at numerous universities and serving for almost a decade as ensemble ­in ­residence for the Columbia University undergraduate composition department. In all of its concerts, c)i undermines narrow conceptions of music by revealing connections and parallels not easily seen.
counter)induction members:
Kyle Bartlett, composer
Douglas Boyce, composer
Miranda Cuckson, violin
Benjamin Fingland, clarinet
Jessica Meyer, viola
Karen Ouzounian, cello
Ning Yu, piano
Ryan Streber, composer, audio reinforcement2212 Spruce St, Philadelphia, Pennsylvania 191032212 Spruce St, Philadelphia, Pennsylvania 19103
This concert is supported generously by the Theodore Presser Foundation
---