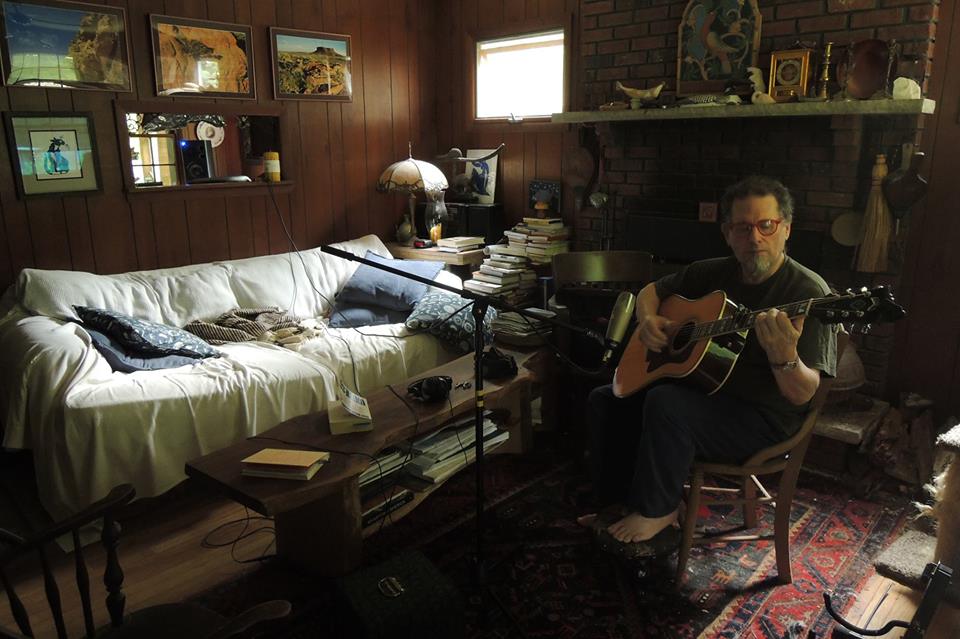 Glenn Jones, Laura Baird, Elkhorn duo
---
Friday - 8:00pm (ET)
April 15, 2016
The Rotunda
Free
ABOUT GLENN JONES
Glenn Jones is a master of American Primitive Guitar, a style invented in the late 1950s by John Fahey, whose traditional fingerpicking techniques and wide-ranging influences were used to create modern original compositions. Jones, who led the post-rock ensemble Cul de Sac, brings his own made-up tunings, the use of custom-crafted partial capos, and a highly skilled picking style on both banjo and guitar, to create personal compositions that are lyrical, emotive and elegant. What sets him apart from the myriad guitarists playing today is his ability to tell stories with the guitar and banjo, and to convey a range of emotions. This process starts with the compositions themselves and carries through to his selection of recording environment and engineer.
Fleeting was recorded in a house on the banks of the Rancocas Creek in Mount Holly, New Jersey. Cozy, cluttered with artifacts of a life well-lived (by its owner Bill Bolger), the house struck the right note for Jones and his recording engineer, Laura Baird. Jones in particular likes spaces with character that are remote from the day-to-day world. Jones and Baird made no attempt to soundproof the recording environment, happy to let sounds filtering in from the outdoors to become part of the listening experience.
One of Fleeting's underlying themes is the past and the way places and people resonate in our lives. Jones reflects on the brevity — the fleetingness — of all things, while also looking towards the future. "Spokane River Falls," which Jones calls his "water song," recalls the all-but-forgotten city of Spokane, Washington, where he was born. "Cléo Awake" and "Cléo Asleep" share the same melodies and the same inspiration — the newborn child of Jones' friends (the conceit of "Cléo Asleep" is that Jones plays with a mute on the banjo — called The Happy Wife Banjo Mute — so as not to disturb Cléo, no matter where in the world she is!). "In Durance Vile," one of the album's more dissonant, prickly tracks, was originally written to accompany three poems by the abstract painter Wassily Kandinsky, whose texts Jones found "absurd, playful . . . sometimes cruel." Two of the album's songs are dedications to fellow guitarists (and friends) Robbie Basho and Michael Chapman.
Jones turned away from standard tuning years ago, inventing tunings as a way of escaping the known. The pieces he writes in these tunings are his way of navigating new and unfamiliar landscapes. "But it's my hope," he says, "that what you hear are not the tunings and partial capos and all that, but the music — the feeling within these pieces." Fleeting is a journey that Jones invites his listeners to take with him.
ABOUT LAURA BAIRD
Laura Baird is a singer, songwriter, multi-instrumentalist, and recording engineer. Since 2001 she has performed and recorded as The Baird Sisters with her sister, Meg Baird. She enjoys crossing and blending genres like folk, pop, classical, and electronic, and frequently collaborates with other artists and musicians who work in and between these genres.
ABOUT ELKHORN
ELKHORN is the electric/acoustic guitar project of Drew Gardner and Jesse Sheppard. The duo combines Sheppard's American Primitive-style acoustic finger picking with Gardner's extended improvisational and textural electric playing. The duo grew up together in the deep woods and rotting industrial husks of central New Jersey and have been collaborating on and off since the mid-1980s. A film-maker as well as musician, Sheppard directed The Things That We Used To Do (2010) a documentary about Jack Rose and Glenn Jones.
---