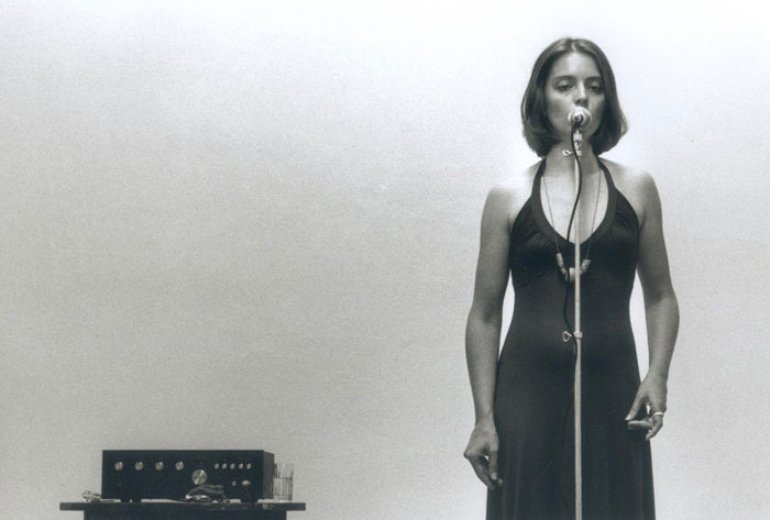 John Cage's Song Books
Joan La Barbara and Ne(x)tworks
---
Friday - 8:00pm (ET)
November 30, 2012
Christ Church
JOHN CAGE'S SONG BOOKS
performed by Ne(x)tworks
Ne(x)tworks
Joan La Barbara – voice
Shelley Burgon – harp
Yves Dharamraj – cello
Miguel Frasconi – glass
Stephen Gosling – piano;
Ariana Kim – violin
Christopher McIntyre – trombone, laptop
As with many of Cage's works, Song Books is indeterminate with regard to performance. In order to highlight the immense and open possibilities of the score, Cage: Beyond Silence offers audiences a rare opportunity to experience multiple versions of this work, further inviting audiences to engage with the ephemeral qualities of music so important to Cage.
This performance will feature Cage's Song Books (Solos for Voice 392) (1970) in a concert length version by Joan La Barbara's New York City based Ne(x)tworks ensemble.
ABOUT SONG BOOKS
"One might think of Song Books as Cage's Art of Fugue, an exhaustive demonstration of the diverse approaches to music-making that the composer had practiced over his long career. Of course, Cage–unlike J. S. Bach–continued his career for more than two decades after he completed the piece. But although he found new ways to extend his artistic vision in ways that surprised even him, he would only occasionally match the diversity and ambitious scope that he achieved so brilliantly in Song Books." ~ Rob Haskins
Replete with text and music materials quoted from Marcel Duchamp, Erik Satie, David Thoreau, Buckminster Fuller, Norman O. Brown, and even Mozart and Schubert, John Cages 1970 composition Song Books is a two-volume collection of eighty-nine short solos.
Some of these solos call for singing, conventional or otherwise. Other solos require no singing at all, but rather reproduce the word-game actions of Cage's Theater Piece (1960). Still other Solos are examples of another kind of theater altogether, one which clearly reflects the influence of the neo-Dadaist Fluxus movement. Instructions for some of these Solos ask the performer simply to "prepare something to eat" or to "perform a disciplined action that fulfills an obligation to others."
Each realization of Song Books is performed to fill a predetermined duration, with any number of performers, each responsible for choosing their own music. Additionally, Cage indicated that a performance of Song Books may also include simultaneous performances of other indeterminate music such as Winter Music (1957), Concert for Piano and Orchestra (1958), Indeterminacy (1959),or Rozart Mix (1965).
---