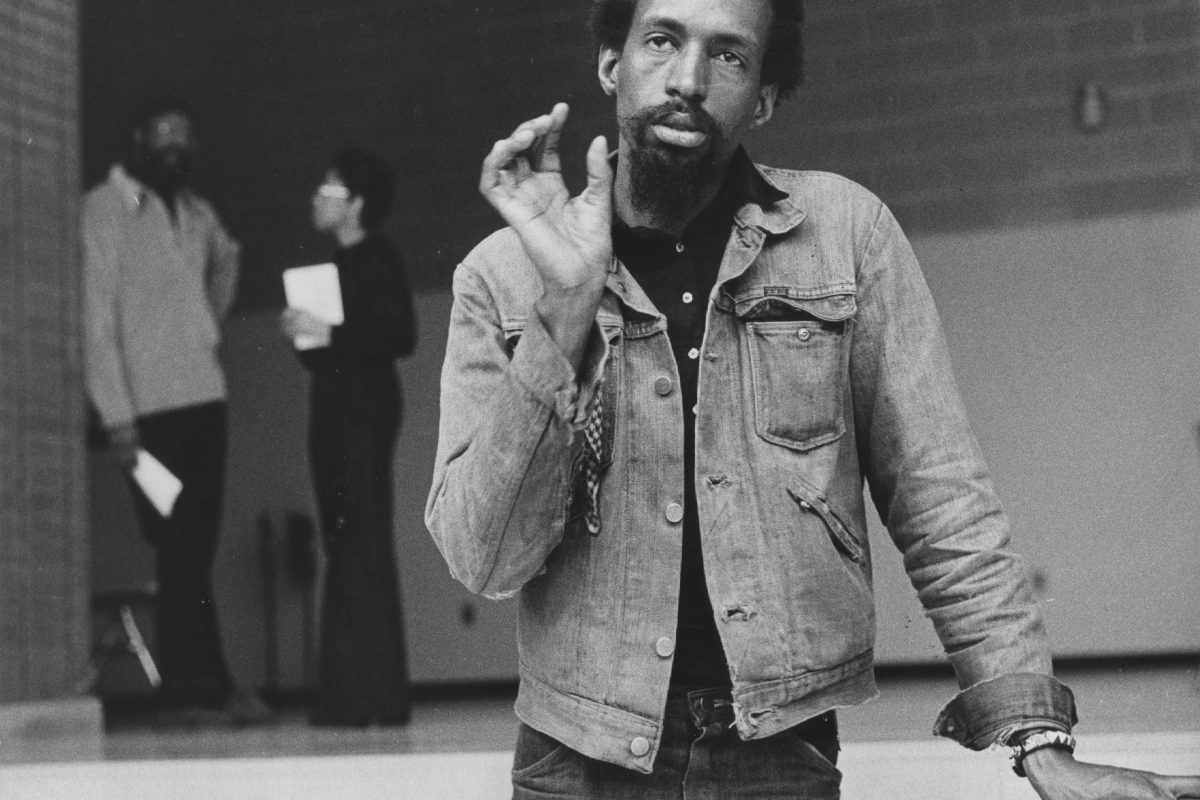 Julius Eastman: The Holy Presence of Joan d'Arc + Thruway!
---
Friday - 8:00pm (ET)
May 26, 2017
The Rotunda
Free
For the final concert, Eastman's powerful work for 10 cellos The Holy Presence of Joan D'Arc and its introspective companion vocal piece Prelude to The Holy Presence of Joan d'Arc will be performed. Far ahead of their time, these pieces incorporate a much more atonal language into Eastman's minimalist aesthetic. The concert will open with an encore performance of Eastman's "Thruway" and a solo work by NYC based musicians Jeremy Toussaint-Baptiste.
*Please note: Dev Hynes will no longer be performing. Refunds can be requested at ticket at bowerbird dot org.
Program:
JULIUS EASTMAN: PRELUDE TO THE HOLY PRESENCE OF JOAN D'ARC (1981)
Davóne Tines, bass-baritone
JULIUS EASTMAN: THE HOLY PRESENCE OF JOAN D'ARC* (1981) for 10 cellos
BOWERBIRD CELLO ENSEMBLE
Mirjam Ingolfsson, Thomas La Forgia, Ezgi Yargici, Eric Coyne, Agnes Kline, Erin Busch, Arlen Hlusko, Lucia Strother, Carolina Diazgranados, Rachel Icenogle
Stanford Thompson, conductor
* transcription by Clarice Jensen
JEREMY TOUSSAINT-BAPTISTE: EVIL N*GGER: A DEDICATION/INVOCATION
An atmospheric exploration of Julius Eastman's 1979 composition Evil N*gger for solo performer and four instruments.
JULIUS EASTMAN: THRUWAY (ENCORE PERFORMANCE)
Soprano Tara Middleton
Flute Anthony Bob
Clarinet Joe Dvorak
Violin Veronica Jurkiewicz
Trombone: Rodney McGhee
Sax: Nicholas McNamara
Electronics: Kyle Austin – hprizm
Video: John Phillips
EASTMAN COMMUNITY CHOIR
Jacob Walls
Mick Ricereto
Erica Corbo
Jeanne Lyons
Peter Christian
Atamanu Zaki Hagins
Isabella Sazak
Matt Hollenberg
sam cirulis
Heather Mease
More information can be found here: https://www.thatwhichisfundamental.com/may-26th-joan-of-arc
ABOUT THE SERIES
Julius Eastman: That Which is Fundamental is an interdisciplinary, multi-artist project that examines the life, work, and resurgent influence of Julius Eastman, a gay African American composer and performer who was active internationally in the 1970s and 80s, but who died homeless at the age of 49, leaving an incomplete but compelling collection of scores and recordings. The culmination of more than three years of research, this first iteration of this project will take place in Philadelphia in May 2017. Events include four major concerts – including several modern "premieres" of recently recovered works – and a multi-disciplinary exhibition featuring archival materials and work by ten contemporary artists who engage with Eastman and the fragmented nature of his legacy.
More information can be found here: https://www.thatwhichisfundamental.com
---