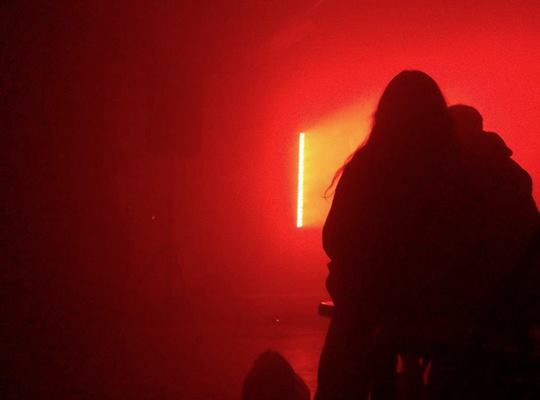 Keroaän + Bhob Rainey
---
Sunday - 8:00pm (ET)
June 21, 2015
The Rotunda
Free
Bowerbird is excited to close out it's 2014 – 2015 GATE season with this thrilling double bill of audio-visual spectaculars inspired by Iannis Xenakis' "Polytopes". The evening features a new electronic work by Bhob Rainey and a performance of Keroaän, Ian M Fraser and Reed Evan Rosenberg's laser, strobe, and sound performing Artificial Intelligence platform.
ABOUT THE ARTISTS
KEROAÄN is a collaborative research project between IAN M FRASER and REED EVAN ROSENBERG exploring composition of electronic music by an artificial intelligence. Pieces are diffused in real time with no human intervention whatsoever as the machine agent manipulates the qualities of chosen non-standard synthesis and microsound techniques. In live diffusions, the machine agent additionally controls laser apertures and an array of strobe lighting which collectively act as a visual projection of the structure of its performance. A distinctly non-human logic pervades the resultant arrangements of chaotic sounds and high-intensity lighting, presenting an immersive, alien environment.
Bhob Rainey (b. 1972), a soprano saxophonist and composer, performs as a solo artist, as one half of nmperign (an improvisational duo with trumpeter Greg Kelley), and as leader of the BSC, an eight-member ensemble that uses both acoustic and electronic instruments. He formed the BSC to address the inherent challenge of performing longer works with multiple improvisational artists. After 18 years spent living in Boston, with stints in Chicago and New Orleans, Rainey has returned to his hometown of Philadelphia. He holds an M.A. in jazz composition from the New England Conservatory of Music, and his music has been supported with grants from Meet the Composer and United States Artists.
---