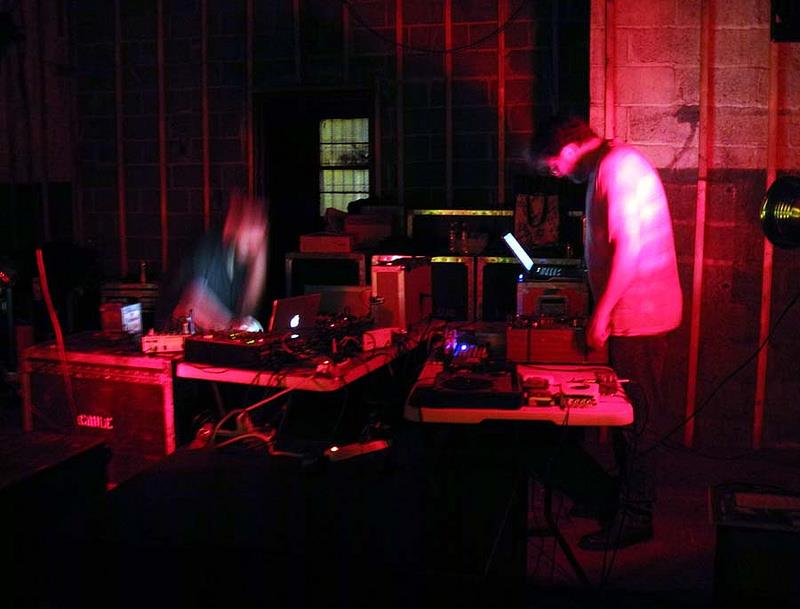 Kevin Drumm + Jason Lescalleet
---
Friday - 8:00pm (ET)
September 5, 2014
International House
ABOUT THE EVENT
Bowerbird, Philly Sound Forum, and International House Philadelphia are proud to present Kevin Drumm (in his first ever Philadelphia appearance) and Jason Lescalleet, in celebratation of the recent release of their epic double CD 'The Abyss' on Erstwhile Records.
In addition to the duo of Drumm and Lescalleet, the evening will also feature Trophy Tape, a project curated and directed by Lescalleet; featuring videos by Aaron Dilloway, Ellen Frances, Annie Feldmeier Adams, Justin Meyers, Antony Milton, C. Spencer Yeh, Olivia Block, Adel Souto, Neil Young Cloaca, Todd Deal, Jubal Brown, Heidi Alasuvanto, and Robert Beatty. 13 pieces corresponding with songs from the first disc of his crucial "Songs About Nothing" 2CD on Erstwhile. Ranging from the abstract to the startlingly direct.
ABOUT THE ARTISTS
Avant-garde tabletop guitarist Kevin Drumm was born and raised in 1970 in South Holland, IL, playing in a handful of rock bands before relocating to Chicago in 1991 to work at the city's Board of Trade. He soon began his experiments with prepared guitar, applying objects including magnets, binder clips, chains, a violin bow and even toenail clippers to distort the instrument's sound; in time Drumm befriended a number of members of Chicago's growing improv community, including Jim O'Rourke (with whom he served in Brise-Glace, additionally contributing to Gastr del Sol's Upgrade and Afterlife album and Ken Vandermark. In late 1997 Drumm made his solo debut with a self-titled (Perdition Plastics) and has released superb duo records with Taku Sugimoto (Sonoris), Axel Dorner, Martin Tetreault (both Erstwhile) and Ralf Wehowsky (Selektion). His chameleon-like presence has been documented on a number of projects, each revealing new facets of his wide-ranging and unique talents on both guitar and electronics. Drumm seamlessly melds the worlds of acoustic and electronic sound, occasionally teetering on the edge of silence, yet always remaining impeccably musical. Kevin Drumm has recorded and performed with Phill Niblock, Tony Conrad, Jim O'Rourke, MIMEO, Mats Gustafsson, John Butcher, Thomas Ankersmit, Taku Sugimoto and many others.
Jason Lescalleet (b. 1968 in Worcester MA) explores a sound world that occupies a space between noise, contemporary composition, and minimal electronics. Using decidedly primitive tactics and equipment his work focuses on microscopic audio detail set awash in exaggerated and exploited site-specific acoustics. In the past two decades, Lescalleet has gradually and painstakingly compiled a compelling discography on notable labels such as Erstwhile, RRR, Intransitive Recordings, Kye, Celebrate Psi-Phenomenon, Hanson Records, Chondritic Sound, and most recently via his own Glistening Examples imprint. He has collaborated with Graham Lambkin, Phill Niblock, Joe Colley, John Hudak, Rafael Toral, Thomas Ankersmit, Ron Lessard (as Due Process), and CM Von Hausswolff, among others, and during this time he's built a solid reputation for delivering a visceral live experience in concert. He currently lives in Maine, where he works and operates the Glistening Examples publishing label and the Glistening Labs studio for audio recording and mastering services.
---