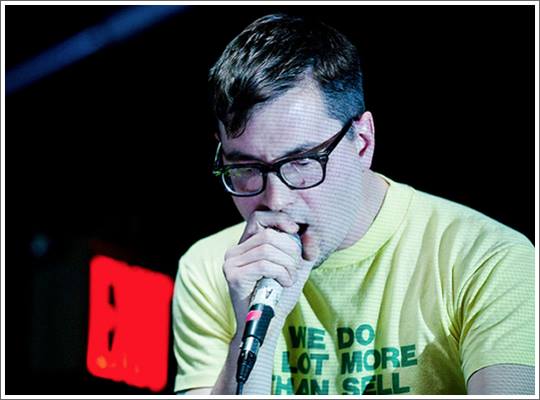 All Sound is Queer
---
Friday - 8:00pm (ET)
June 20, 2014
The Rotunda
ALL SOUND IS QUEER
curated by Catherine Pancake, featuring artists Keir Neuringer, Alex Smith, Megan McShea, John Eaton, Jules Gimbrone, and Drew Daniel.
ABOUT THE EVENT
"Queerness abides in the refusal to preserve, in the willingness to end the space of ruinous, risky anonymity, to let sound pull us with it into the black hole of an experience that is not yet stable." ~ Drew Daniel
ALL SOUND IS QUEER is envisioned as both a response and continuation of Drew Daniel's eponymous essay from the November 2011 edition of the British music magazine The Wire. The essay turns on its head the idea that GLBTQ identity can or should be built around identifiable "queer" musical forms such as Lady Gaga, vintage house, gay music festivals, or riotgrrl punk. Daniel instead posits an much more subversive approach wherein the experience of "sound" by nature of its unusual form can "queer" any "subject" away from his/her/their mainstream goals and into a more generative world of unknowns, ambivalence, creative exploration, and alternatives to a normative aesthetic embrace. For those who have found "sound" to be a profoundly rich tunnel to embracing an outsider stance many times imposed by normative musical practices, the article provokes a desire for response and further exploration using the concept of "queerness" as an entry point for all radical sound practices.
Curated by sound artist and film maker Catherine Pancake, the program will include texts, live performance, readings, and commissioned sound works by a variety of artists who embrace issues of identity politics in experimental music, and also are known for "queering sound" regardless of announced or implied identity.
Host:
Catherine Pancake
Performing Live:
Keir Neuringer (improvisational music)
Alex Smith (improvisational music)
Megan McShea (sound poetry)
Site-specific Sound Installation:
John Eaton
Fixed Recorded Compositions:
Jules Gimbrone
Drew Daniel
---