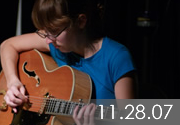 KILLICK'S KINDA QUIET CONTINUO QUARTET / SULLENDER / HERNANDEZ DUO / JOHN HERON SOLO
---
Wednesday - 8:00pm (ET)
November 28, 2007
Powel House
Killick's KINDA QUIET CONTINUO QUARTET
Killick – H'arpeggione
Mary Halvorson – guitar
Matt Weston – percussion
Matt Bauder – clarinet
Sick, modern, geeky, heavy and deep. Old enough to repay, but young enough to sell. The cat with the mostest, a rockalicious throwdown in the spiraling murk of musical sojourners. This here devil cello weaves African trance, improvisational beauty, er, instability and heavy metal. I'm Killick of Athens, Georgia. I doggedly chase extemporaneity. I play some quasi-guitars and my devil cello: the H'arpeggione, an upright acoustic instrument with sympathetic strings. Acoustic may be a dirty word, yeah, though that's my preferred (dirty) bag. My style blends primitive folk, beloved metal, and sacred musics from around the world into a doomy/pretty/physically exhausting voice. I've had the good fortune to play with countless amazing musicians as I hop, skip, and leap throughout this fair land of ours. I'm comin'-a getcha!
Mary Halvorson is a guitarist, composer and improviser living in Brooklyn. She grew up in Boston and studied jazz at Wesleyan University and the New School. Since 2000 she has been performing regularly in New York with various groups and has toured Europe and the U.S. with the Anthony Braxton Quintet (Live at the Royal Festival Hall, Leo Records) and Trevor Dunn's Trio-Convulsant (Sister Phantom Owl Fish, Ipecac Recordings). She has also performed alongside Joe Morris, Nels Cline, John Tchicai, Elliott Sharp, Lee Ranaldo, Andrea Parkins, Marc Ribot, Tony Malaby, Oscar Noriega and John Hollenbeck. Current projects which Mary composes for and performs with include a chamber-music duo with violist Jessica Pavone (On and Off, Skirl Records, 2007); The Mary Halvorson Trio with John Hebert and Ches Smith; and the avant-rock band People (Misbegotten Man, I & Ear Records, 2007). She also performs regularly in ensembles led by Taylor Ho Bynum, Ted Reichman, Tatsuya Nakatani, Jason Cady, Matthew Welch, Brian Chase and Curtis Hasselbring.
Matt Weston plays percussion and electronics, and has performed throughout the US and in Europe. He has appeared on CNN, VH1, and CBS TV. He has studied and/or collaborated with Arthur Brooks, Bill Dixon, Kevin Drumm, Milford Graves, William Parker, Jack Wright and others. His work has earned critical praise from such publications as the Wire, the Village Voice, Signal To Noise, Cadence, All About Jazz, Grooves, and Bananafish. His solo album Vacuums has garnered international acclaim, as have his recordings with Barn Owl and with Tizzy. He has recorded for the Tautology, Sachimay, Breaking World Records, Imvated, Crank Satori, BoxMedia, and Drag City labels. A new label, 7272Music, is set to launch with the aim of releasing limited editions of Weston's live performances. In addition to his solo work, Weston is a member of Barn Owl (with guitarist Chris Cooper and bassist Andy Crespo); and is guitarist/vocalist with Tizzy (with drummer/vocalist Teri Morris and bassist/vocalist Jen Stavely).
WOODY SULLENDER banjo
KATT HERNANDEZ violin
new york city / philadelphia
Under the not-so-clever moniker of Uncle Woody Sullendert, Woody Sullender performs improvised banjo music, playing with and against the cultural baggage of the instrument. While alluding to the traditional musics of his home states of Virginia and North Carolina, he explores a diverse plane of plucked string music from around the world as well as incorporating punk, noise, free jazz, etc.. He has performed with Pauline Oliveros, Fred Lonberg-Holm, Michael Zerang, Kyle Bruckmann, Carol Genetti, Jason Ajemian, Chris Forsyth, members of the Vandermark 5, TV Pow, and Cheer Accident, among others. In 2004, he collaborated with sound artist Maryanne Amacher, incorporating his banjo recordings into TEO! A sonic sculpture which won the Golden Nica at the 2005 Ars Electronica festival. Among other activities, he can currently be heard Sunday nights (Monday mornings) 12am-3pm, DJing on WFMU.
Katt Hernandez has been living in the Boston area, playing the violin, for the last six years. She has collaberated with a magnificently variated sea of musicians, dancers, and others including- but certainly not limited to- Joe Maneri, Zack Fuller, David Maxwell, Marc Bisson, Matt Somalis, John Voigt, Allisa Cardone, Gordon Beeferman, Jonathan Vincent, Walter Wright, Joe Burgio, Eric Rosenthal, Jeff Arnal, Jaimie McGlaughlin, Andrew Neumann, Dave Gross, and Hans Rickheit. She has twice been invited to perfrom on the Autumn Uprising , High Zero , Mobius ArtRages , and Improvised and Otherwise festivals, and has also appeared at the Montreaux-Detroit , Brandeis New Music , Boston CyberArts , Michiania , IAJE , IASJ , and Ear Whacks festivals. She has been a guest artist at MIT, Harvard, and the New England Conservatory, performed in a vast slew of local venues and- to date- any number of subway passages, urban grottos, and troglyditical performace slaces, as well as other experimental and life-making places throughout the Bos-Wash metropolii.
---