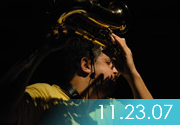 ATSURA YAMAUCHI, HEDDY BOUBAKER, JACK WRIGHT / DAVE SMOLEN / JASON CALLOWAY
---
Friday - 8:00pm (ET)
November 23, 2007
The Rotunda
KATSURA YAMAUCHI saxes
HEDDY BOUBAKER saxes
JACK WRIGHT saxes
japan / france / usa
Born in 1963 in Marseille (France) a nice Sunday of March at siesta time, influenced by the Mediterranean sea and the Mistral wind, Heddy Boubaker has played music and experimented with sounds since 1977, starting with electric guitar in a mainly rock/punk style. He's now playing improvised music with his alto saxophone in an indescribable style, in which we are always able to hear the sea and the wind among many other … things. Actively participated to organisation of Zieu-M-Zic festival in 2003 and 2004. Participate to numerous projects and never stop to do many artistic meetings. He also live in, with his familly, and manages the improvised music venue "la maison peinte" near Toulouse. Active member of IREA association and of SonoFages collective.
Over the past twenty-five years JACK WRIGHT has been a bold saxophonist, as well as an influential musical personality. Either on tour or organizing the next one, he has played in virtually every venue available to experimental improvised music in the US, and many in Europe as well. In 1982 he began Spring Garden Music as a vehicle for organizing an improvisational music community, which continues to grow through regular No Net weekend sessions. He has been called the Johnny Appleseed of free improvisation for his encouragement to young players. As a musical explorer as well, his music passes through radical shifts of style and approach from one year to the next, yet always somehow identifiable as his own. These days he is playing mostly alto and soprano saxophones, in every possible direction, sometimes even recognizable as such. He lives in Easton, which enables him to commute easily to NYC and Phila. He is also increasingly active in Europe, touring both sides of the Atlantic with European musicians
Jack Wright has over sixty partners around the US and in Europe with whom he plays on his travels and records. His most recent tours have been with Fabrizio Spera and Alberto Braida in Italy; with Agnes Palier and Olivier Toutlemond in France, Switzerland and Germany, with Michael Johnsen and Sebastien Cirotteau in Europe; with French soprano sax player Michel Doneda and percussionist Tatsuya Nakatani in Japan, France and the US; Carol Genetti, sound vocalist of Chicago, and Jon Mueller, percussionist of Milwaukee; cellist Bob Marsh of the Bay area; Nate Wooley, trumpet, of NYC in Europe; Michael Griener percussion and Sabine Vogel flute of Berlin; Reuben Radding, NYC bassist; and Phil Durrant, English laptop musician.
---