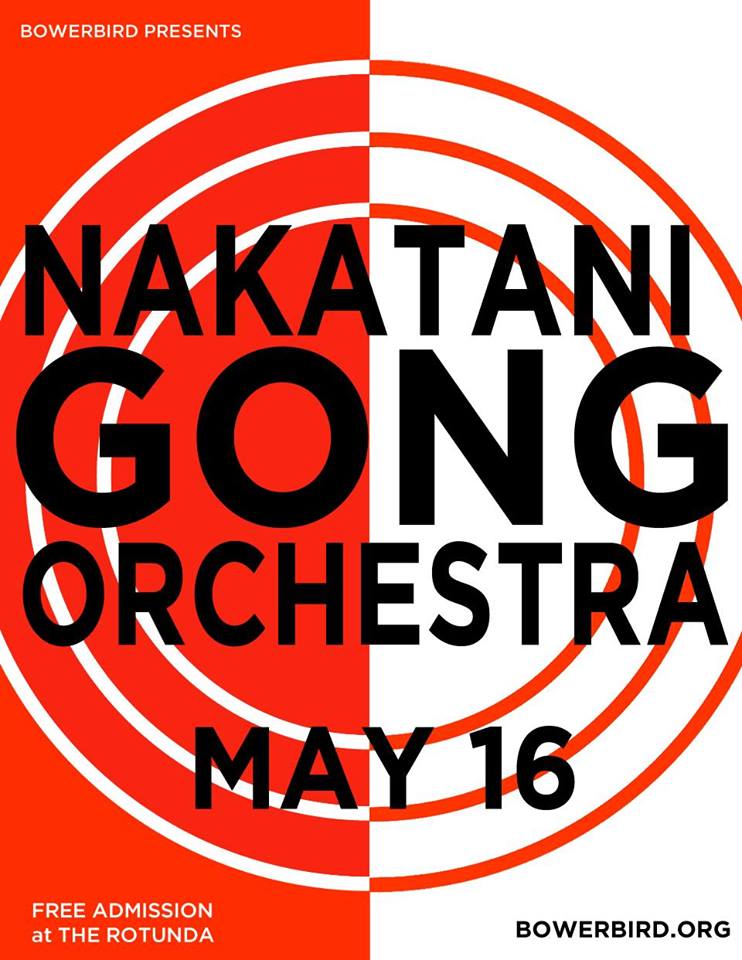 Nakatani Gong Orchestra
---
Friday - 8:00pm (ET)
May 16, 2014
The Rotunda
Free
NAKATANI GONG ORCHESTRA – ten gong ensemble
+ TATSUYA NAKATANI – solo percussion set
Vibrating metal. Glacial ambiance. Percussionist Tatsuya Nakatani returns to Philadelphia for a solo set and to lead a performance of the Nakatani Gong Orchestra (NGO) – an ensemble of 10 gongs played by local musicians and conducted by Natakatani.
Anyone who has seen Nakatani perform live should be familiar with his skill in manipulating metal discs of all shapes and sizes, and as the director of the NGO, he uses the same techniques on a larger scale, creating rich expanses of sound that ripple and flow like the most seductive of Richard Serra's oversized and oxidated steel sculptures.
Nakatani and his orchestra use hand-made bows and mallets to create a sonorous mass of imposing intensity and beautifully wavering mirage. The bowing and gentle striking of the gongs creates a shimmering sheen in constant motion, using the instrument's inherently complex chorus of overtones to construct a dense canvas of ever-evolving sound. The sizeable heft of the sound isn't enough to keep it from floating on air, a copper-toned aurora against a backdrop of endless black.
ABOUT THE ARTIST
Born and raised in Osaka, Japan, Tatsuya Nakatani currently resides in Easton, Pennsylvania. He has released over sixty CD recordings in the U.S. and Europe. Since the late 1990s, he has performed primarily as a solo percussionist across the U.S. and overseas and has taught master classes at universities as well as holding workshops and lectures. His N.G.O. performs nationwide.
Nakatani's approach to music is visceral, non-linear and intuitively primitive, expressing an unusually strong spirit while avoiding categorization. He creates sound with both traditional and extended percussion techniques, utilizing drums, bowed gongs, singing bowls, as well as various sticks, kitchen tools and homemade bows. His approach is steeped in the sensibilities of free improvisation, experimental music, jazz, rock, and noise, and yet retains the sense of space and quiet beauty found in traditional Japanese folk music.
---