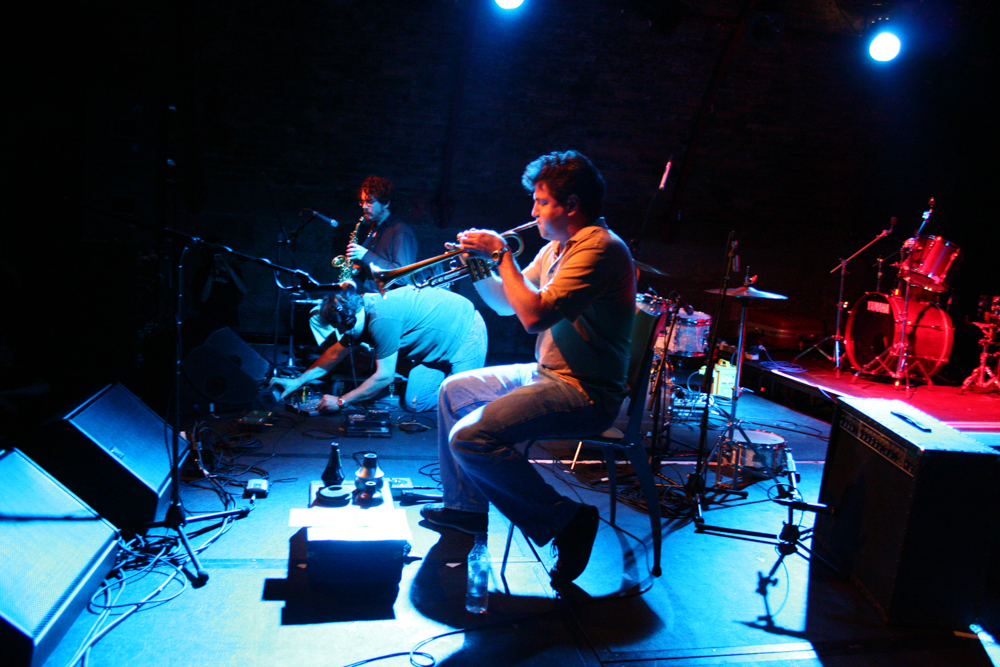 Nmperign
---
Sunday - 8:00pm (ET)
November 16, 2008
Vox Populi
$5 – $10
THE PROGRAM
Nmperign
Dan Cappechi + Tim Albro
Dave Smolen
Burak
ABOUT THE ARTISTS
NMPERIGN
Bhob Rainey – soprano sax
Greg Kelley – trumpet
Nmperign has been hailed the world over as the leading purveyors of whatever that strange thing they do is. Their palette of sounds makes laptops seem as flexible as doorbells, and their precise but wildly unpredictable improvisations would have you at the edge of your seat if you weren't so afraid of the noise you would make getting there. Fierce and fragile, lush and fractured, nmperign is tough to pin down and all the better for it. Nmperign's music seems to unwind as two parallel soundtracks being put in line by a kind of Leibnizian god. The duo has a disturbing (turmoil) serenity; they seem to have been set up in this new monadology for an eternity. For me, there is nothing to be called 'minimal' in their music, in their choice of low and dangerously weak sounds. It would be nonsense to call this music 'minimal'; on the contrary, their way of making music refines our senses and gives precision to a double movement of internalization and openmindedness. So space is opened and landmarks disappear.
DAN CAPPECHI – percussion
TIM ALBRO – guitar
Born in Worcester, MA in 1980, currently based in Philadelphia, Tim Albro received a BA in English at Wesleyan University. Since arriving in Philadelphia from Wesleyan, he has done ethnographic work on gospel music in West Philly, composed music for a dance ensemble, as well as participate in the vibrant improvised/creative music community growing in Philadelphia. This work as an improvising/creative musician includes performing on the 12-string electric guitar /w electronics, on the prepared guitar/electronics/radio in the duo HZL, and solo work with home built radio transmitter kits. Current research interests include: Sun Ra, Paolo Frere, and Elizabeth Cotten.
Born and raised in the Twin Cities of Minnesota (St. Paul and Mineapolis), Dan Capecchi moved to Philadelphia in the fall of 2002, where he became increasingly interested and active in the world of in improvised music. Dan has been fortunate to be involved in long term projects of Shot x Shot, Peter Robbins, Jeff Baumeister, and Toshi Makahara as well as short term engagements with Susie Ibarra and others. A percussionist, composer, and teacher, he currently lives in Philadelphia with his wife and sons.
DAVE SMOLEN – electronics
Dave Smolen has gone from processed percussion to harsh noise electronics to non-drum machine rhythmic electronics, which is where he's presently at. He runs the Philadelphia electronic/noise/etc.. label, Malleable Records; which has released groundbreaking music by CSection, Mincemeat or Tenspeed, SNOWSTORM and EMBARKER. His 2nd album is due for release this Winter.
---