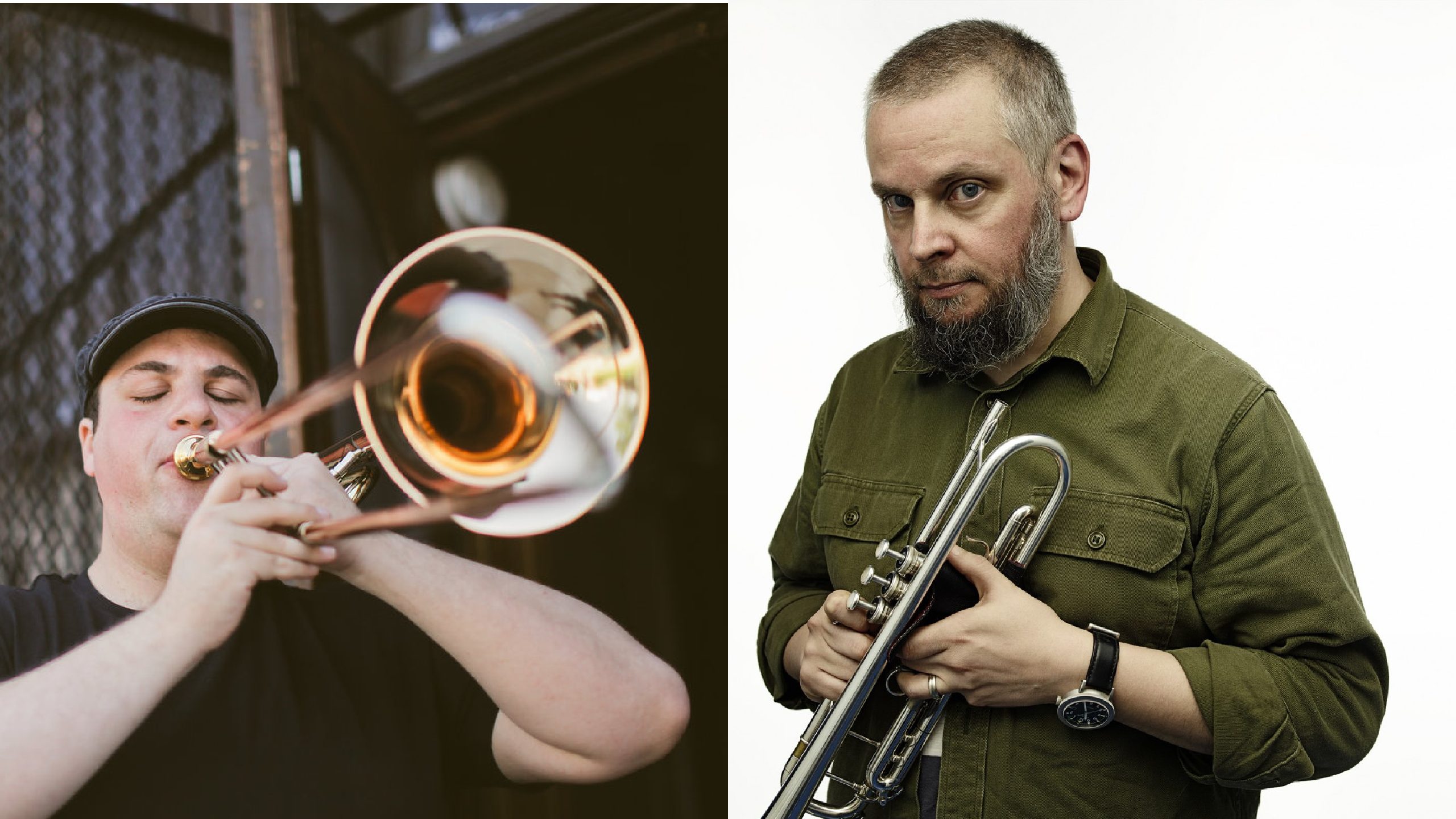 DOUBLE DUTY DUOS
---
Thursday - 8:00pm (ET)
November 13, 2008
Physick House Museum
$10
Join us for tour of improvised music's intangible character as Bowerbird bring together some of jazz and free music's most celebrated voices to the histortic Physick House Museum for an evening of duos. New York City based trumpeter Nate Wooley will show two drastically different sides of his playing when he performs with Swiss bassist Christian Weber and then in a highly anticipated duo with fellow trumpeter Peter Evans. Peter will also be put on double duty as he spars in brass Olympics with trombonist Dan Blacksberg and Christian will also perform with Philadelphian Jesse Kudler.
THE DUOS
PETER EVANS + NATE WOOLEY
CHRISTIAN WEBER + NATE WOOLEY
DAN BLACKSBERG + PETER EVANS
JESSE KUDLER+ CHRISTIAN WEBER
ABOUT THE ARTISTS
Peter Evans has been a member of the New York musical community since 2003, when he moved to the city after graduating Oberlin Conservatory with a degree in classical trumpet. Peter currently works in a wide variety of areas, including solo performance, chamber orchestras, performance art, free improvised settings, electro-acoustic music and composition. As a performer, Evans has been working to broaden the expressive range of his chosen instrument and enjoys playing with steady configurations of players and composers. Current bands include the Peter Evans Quartet, Moppa Elliott's terrorist bebop band Mostly Other People Do the Killing, the hyperactive improvisation duo Sparks (with Tom Blancarte), duo with trumpeter Nate Wooley, as well as a sustained interest in solo performance. Other collaborators include: Mary Halvorson, Dave Taylor, Steve Beresford, Okkyung Lee, Taylor Ho Bynum, Kevin Shea, Jim Black, Evan Parker, Tyshawn Sorey, Peter Brotzmann, Mark Gould, Weasel Walter, Matt Bauder, Joel Ryan, and Luka Ivanovic. In New York, Peter also performs contemporary notated music with groups such as the International Contemporary Ensemble, Alarm Will Sound, Contiuum, and Ensemble 21. He has continued to perform on piccolo trumpet in Baroque settings, performing Brandenburg Concerto No. 2 at the Bargemusic series, and in Bach's Mass in B Minor at St Peter's Church. Peter is also an experienced teacher, having given workshops on music, trumpet, and improvisation at institutions including the University of California in San Diego, Buffalo University, University of Oregon, and the Walden School. In June 2008 Peter traveled to the Philippines with the Cultures in Harmony project, teaching, collaborating and performing with tribal musicians in Mindanao. Recent travels have brought Peter to venues and festivals in the U.S., Canada, Europe, the UK, and Southeast Asia. These include appearances at the Moers Festival, the Ulrichsberg Kaleidophon Festival, Bordeaux Jazz Festival, Jazz a Mulhouse, and the Free Music Festival in Antwerp. Recordings include "More is More", a solo trumpet album on psi, the self-titled first album of the Peter Evans Quartet (on firehouse12), the self-titled "Sparks" on Creative Sources and Shamokin!, the second album by MOPDTK, on HotCup Records.
One of the most in demand in creative music, Nate Wooley (b. 1974) was born in Clatskanie, Oregon. He began his professional career on trumpet with his father at the age of 13. After a brief stay in Denver, Nate moved to Jersey City in 2001. He has developed a highly personal style, mixing his knowledge of jazz and classical trumpet tradition and context with a very healthy bit of experimentation. His solo album, "Wrong Shape to be a Storyteller" on Creative Sources Recordings from last year was a culmination of this kind of thinking and was critically acclaimed as a benchmark for solo documents in the lowercase/reductionist tradition. His main thrust is still the trio, Blue Collar, whose sophomore cd "Lovely Hazel" on Public Eyesore was voted one of the top 10 jazz and improv cds by the Philadelphia CityPaper in 2005. Besides these projects, Nate does a great deal of work as a sideman with figures as diverse as John Butcher, Anthony Braxton, Paul Lytton, John Olsen of Wolf Eyes, David Grubbs, Daniel Levin, Stephen Gauci, and the Sound/Vision Orchestra.
"Double bassist Christian Weber is fast becoming one of the most interesting players on the European elektroacoustic Improv scene. Although he's a good free improvisor, he seems to prefer to work with predetermined structures, albeit ones that are either hidden or very discreet." Brian Marley – The Wire (UK) Jan 2007
Works/worked with ao. Bruno Amstad, Tim Barnes, Johannes Bauer, Ludwig Bekic, Andres Bosshard, John Butcher, Antoine Chessex, Gene Coleman, Collegium Novum, Lol Coxhill, Chris Dahlgren, Jacques Demierre, Bertrand Denzler, Robert Dick, Michel DonedaPaul Dunmall, Markus Eichenberger, Kai Fagaschinski, Pierre Favre, Peter K Frey, Charles Gayle, Gegenklang, Michael Griener, Andy Guhl, Uli Gumpert, Boris Hauf, Franz Hautzinger, Stefan Heckel, Gerhard Herrmann, Charlotte Hug, Ben Jeger, Jason Kahn, Mazen Kerbaj, Hans Koch, Ritsche Koch, Tomas Korber, Peter Kowald, Joachim Kühn, Oliver Lake, Joke Lanz, Urs Leimgruber, Tony Levin, Werner Lüdi, Phil Minton, Norbert Möslang, Michael Moser, Günter Müller, Simon Nabatov, Lucas Niggli, Evan Parker, Dave Phillips, Simon Picard, Wolfgang Puschnig, Christian Reiner, Wolfgang Reisinger, Paul Rogers, Roger Rotor, Olaf Rupp, Jorge Sanchez-Chiong, Philip Schaufelberger, Willem Schulz, Irène Schweizer, Christine Sehnaoui, Sharif Sehnaoui, Elliott Sharp, Martin Siewert, Steamboat Switzerland, Michael Jefry Stevens, Co Streiff, Michael Thieke, Dieter Ulrich, Tom Varner, Chris Wiesendanger, Bo Wiget, Michel Wintsch, Stephan Wittwer, Nils Wogram, Christian Wolfarth, Katsura Yamauchi, Raed Yassin, Otomo Yoshihide, Michael Zerang, Alfred Zimmerlin.
Jon Barrios approaches stringed instruments with a violence rarely seen in any brow, be it high or low. A break with his background in latin american music and jazz led to a desperate originality in technique. His latest work is a magnum video graphic score for string quartet with electronics, titled Fantasy Number One.
Dan Blacksberg is a trombonist who is working to expand the range of the trombone in jazz and improvised music. A native and resident of Philadelphia, he has been seen all around town with such local musicians as Jack Wright, Toshi Makihara, Sonic Liberation Front and with Bobby Zankel's Warriors of the Wonderful Sound as well as his own quartets and trio. He has appeared in concerts produced by Bowerbird and the Ars Nova Workshop. In addition, Dan has performed with Anthony Braxton (the premiere of Composition 19 for 100 tubas), Taylor Ho Bynum, Joe Morris, Mike Pride, Nate Wooley, Katt Hernandez, Daniel Levin and Joe Maneri in many venues in the Northeast US and elsewhere. Dan holds a bachelor's degree from the New England Conservatory of Music, where he studied with musical luminaries Bob Brookmeyer and Ran Blake. At NEC, Dan had the opportunity to work with Irene Aebi on the U.S. Premiere of her late husband Steve Lacy's song cycle Futurities (2004), and with Gunther Schuller in the world premiere of his monumental work Encounters (2003). Dan is also one of the premiere trombonists in the world of Klezmer. Dan has performed with Frank London, Michael Alpert, Adrienne Cooper, Alan Bern, Aaron Alexander, and the Shirim Klezmer Orchestra. He has performed at the Krakow Jewish Music Festival, Klezmore, Yiddish Summer Weimar and the Ashkenaz Festival as well as the Montreal Jazz Festival and is a well known presence at KlezKamp and KlezKanada.
---