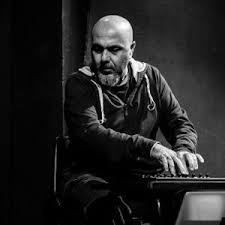 OSSATURA
---
Thursday - 7:00pm (ET)
March 20, 2008
The Slought Foundation
Elio Martusciello (electronics)
Fabrizio Spera (percussion and electronics)
Luca Venitucci (accordion and electronics)
Slought Foundation and Soundfield NFP are pleased to present an evening of new and experimental music featuring the Rome-based ensemble Ossatura and Philadelphia-based Ensemble Noamnesia on Thursday, March 20th, 2008. Ossatura features Elio Martusciello (electronics), Fabrizio Spera (percussion and electronics), and Luca Venitucci (accordion and electronics). Featured members of Ensemble Noamnesia will include Marina Peterson (cello), Katt Hernandez (violin), Evan Lipson (bass) and Gene Coleman (bass clarinet).
As part of the ongoing Soundfield series called "EurEthos", they will perform graphic scores by Anthony Braxton ("Composition #10" (1969), arranged by Art Lange), Alessandro Bosetti ("Dogs Protected by an Invisible Fence" (2008) and Gene Coleman ("Atman III" (2008)
This concert is part of the 2007-2008 "Soundfield@Slought" series. This program is supported by the Philadelphia Music Project, a program of The Philadelphia Center for Arts and Heritage, funded by The Pew Charitable Trusts and administered by The University of the Arts.
Improvisation represents the backbone of the music played by Ossatura. The practice of improvising is integrated by discussion, research and critical analysis, all of which contribute to the elaboration of structures, information and organizational modes. Their music is marked by a sequence of sound blocks and diversified interlocking timbres and shapes, where detailed textural work alternates with rhythmic accelerations and highly dense sound events. Standard instrumental techniques are explored, together with heterodox practices such as manipulation, treatment, electrification and amplification of various objects, assuming noise as a structural element. Their improvisational work develops through electro acoustical elaboration in real time and the use of tapes, which both expand and define the space where sound is manipulated. Ossatura tends towards a combination of non-musical languages through a creative process where music is but one of the components in a complex and extended project.
Elio Martusciello is a self-taught musician and composer and teaches electronic music and electro acoustics at the Conservatory of Cagliari, Italy.
Fabrizio Spera has actively contributed as a percussionist to the contemporary and improvised music scene since the late eighties. His current projects and groups involve Ossatura Triowith John Butcher and John Edwards, RARA ensemble, and a trio with Alberto Braida and Lisle Ellis.
Luca Venitucci attended musical studies at the scuola popolare di musica in Roma and studied composition with Boris Porena and Luca Venitucci. In the late eighties he began to participate in the activities of the improvised music scene in Italy and Europe, and during the next decade performed with musicians including Mike Cooper, Peter Kowald, Otomo Yoshihide, Thomas Lehn, Axel Dorner and others. From 1996 to 2002 he has been part of zeitkratzer ensemble, with whom he performed and recorded contemporary music scores by Cage, Glass, Stockhausen, La Monte Young and James Tenney. He has undertaken original projects and collaborations with several experimental musicians and composers such as Christian Marclay, Butch Morris, Francisco Lopez, Keith Rowe, Phil Niblock, Lee Renaldo, and Nicolas Collins.
---