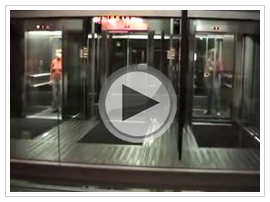 CHRISTIAN KESTEN / ALESSANDRO BOSETTI / MIKE SZEKELY/JON BARRIOS/MATT ENGLE / CECILIA CORRIGAN
---
Saturday - 7:00pm (ET)
March 22, 2008
University City Arts League
Christian Kesten was born in 1966 and works as composer, performance artist, vocalist and stage director. He lives in Berlin, Germany.His interest lies in thespace in-between: between music and theatre, music and language, between music and the visual arts. His pieces work with the space which opens up between the sound of language and the parallel, non-illustrative action (-cycling 1990; des Kleinen bergewicht 1995; 45 seconds 2006). They make use of everyday spaces and their sounds, including works made for train stations, in which minimal sounds of winds and brass are spread over the station and mixed with sounds of trains and passers-by (nordbahnhof 1996, bahnhof westend 1996, bahnhof zoo 1997). welcome home is written for the squeaking doors of the Nordbahnhof station in Berlin and two violins which mirror the door sounds: the passers-by experience the music while on the move. In (o.T.) für klarinette in einem raum mit langem nachhall 1(1999) and 2(2000) [(without title) for clarinet in a space with a long reverberation time] the clarinet plays to its own reverberation as a second voice, microtonally, and thus refers to the presence of space. parochial (1998) – for the group "Maulwerker" (4 female voices, trumpet/voice, clarinet/voice, alto saxophone + additional instruments) – was written especially for the space of the Parochialkirche in Berlin: sculptural shaped sounds are moved in space, while trumpet, clarinet and sax move mostly outside the space and so extending acoustic perception beyond the walls of the church.
Recently he developed the ;video audio field recording, by recording field sounds with a video camera, composing dense and light sound textures of field recordings and live instruments. The projected images are always fixed camera angles, filming spaces in-between, the incidental, the mundane: the Los Angeles catalogue; dodger stadium; cypress park; urban cafe restroom (all 2007). Kesten studied at the University of Arts (UdK) Berlin (Music: guitar, piano, voice; counterpoint/twelvetone-technique with H.Fladt; musicological thesis on "Silence in the works of John Cage and Morton Feldman"; Experimental music and music-theatre with Dieter Schnebel | Performance Art | Projects with the stage design class of Achim Freyer) and TU Berlin (German literature and linguistics). 1989-91 he studied privately with Michael Vetter (overtone singing, vocal improvisation, calligraphy/notation etc.). Movement studies with various teachers (Amos Hetz a.o.).
Since 1987, he has been performing new vocal music and experimental music-theatre throughout Europe and in New York, Rio de Janeiro, Israel, Moscow and Tokyo. He currently works with the ensemble Maulwerker and as soloist. In a long collaboration with Dieter Schnebel he premiered most of his music theatre works since 1987. He has recently worked with Alessandro Bosetti, Jacques Demierre, Chico Mello, Makiko Nishikaze, Iris ter Schiphorst, who wrote solo works or operas for him. Kesten conceives and curates the series "maulwerker performing music (since 2005) in Berlin with programs like poems for feet pro cedere. Music as Process, Situationen. Interpenetrations of art and life or Halts Maul. Screaming pieces from four decades, with World Premieres by Antonia Baehr, Alessandro Bosetti, Bill Dietz, Jürg Frey, Robin Hayward, David Helbich, Michael Hirsch, Sven-Åke Johansson, Travis Just, Christian Kesten, Andrea Neumann, Pauline Oliveros, Dieter Schnebel, Emmett Williams, István Zelenka, a.o. Since 2006, he is co-curator of the experimental music concert series Labor Sonor at KULE Berlin.
ALESSANDRO BOSETTI
voice, electronics, saxopone
Berlin / Milano / Baltimore
Alessandro Bosetti, composer and sound artist, was born in Milan, Italy in 1973. He works on the musicality of spoken words and unusual aspects of spoken communication and produced text-sound compositions featured in live performances, radio broadcastings and published recordings. In his work he moves on the line between sound anthropology and composition often including translation and misunderstanding in the creative process. Field research and interviews often build the basis for his abstract compositions along with electro-acoustic and acoustic collages, relational strategies,trained and untrained instrumental practices, vocal explorations and digital manipulations. Since he's curious about differences he travels. Just in 2006 he's been living and working in West Africa, China, Taiwan, Holland, Scandinavia, United States , Germany and Italy. For the future he plans to be living and working between Berlin (D), Milano (I) and Baltimore (USA).
Jon Barrios has performed with Toshi Makihara, Dan Blacksberg, Jack Wright, Tatsuya Nakatani, Anne West, Dustin Hurt, Alban Bailly, Christine Shenoui, Gerald Sloan, John Dikeman, Dan Scofield, Jesse Kudler, Marina Petersen, Fabrizio Spera, Raed Yassin, and others.
Barrios also founded the small label Lift Records, which focused on limited edition short-run releases
of curious projects. Other recent projects include Equis Equis Equis (with Bryan Rogers and Mike Szekely), trio music with Toshi Makihara and Jack Wright, and the ongoing larger piece ìFantasy No. 1,î a double bass and electronics project with a release due in June 2008.
Matt Engle grew up ten minutes outside of Philadelphia in South Jersey. He now resides in Philadelphia where he is a working member of the music scene. Matt studied with Kevin McConnell and Tony Marino while attending The University of the Arts. He has an integral role in the longstanding improvisational outfit Shot x Shot, as both a performer and composer. In addition to Shot x Shot, Matt has played with
Trio Rhizome (with Seth Meicht and Mike Szekely), the Seth Meicht Trio, and Sonic Liberation Front.
Mike Szekely studied jazz at the Hartt School of Music, led by saxophonist Jackie McLean. He has also studied percussion with drum master Milford Graves. Since 1993, Michael has co-led various projects with saxophonist Allen Livermore (NYC), resulting in two recordings: Feet Musicís Assertions & sketches (Chroma Independent Media, 1995) and the ALMS Trioís Advocates (Eighth Nerve Records, 2005). Michael also co-founded Trio Rhizome (with Matt Engle and Seth Meicht) and
has worked with Dan Blacksberg, Anthony Braxton, Toshi Makihara, Ed Mann, Stephen Haynes, Taylor Ho Bynum, Jackson Moore, and Matt Mitchell, among others, on various projects.
CECILIA CORRIGANand guests
voice, eletronics
Philadelphia, PA
Cecilia Corrigan was born in Tokyo, Japan and now grows old in Philadelphia, Pennsylvania. Her past musical projects have included Kikillia, Robbers of the Soil, and various other monikers for collaborations with Meg Frisch and Jim Strong, among others. She is interested in sound as synchronous play and polemic. Recorded music can be heard at this internet location:
http://myspace.com/slothropianstars
---