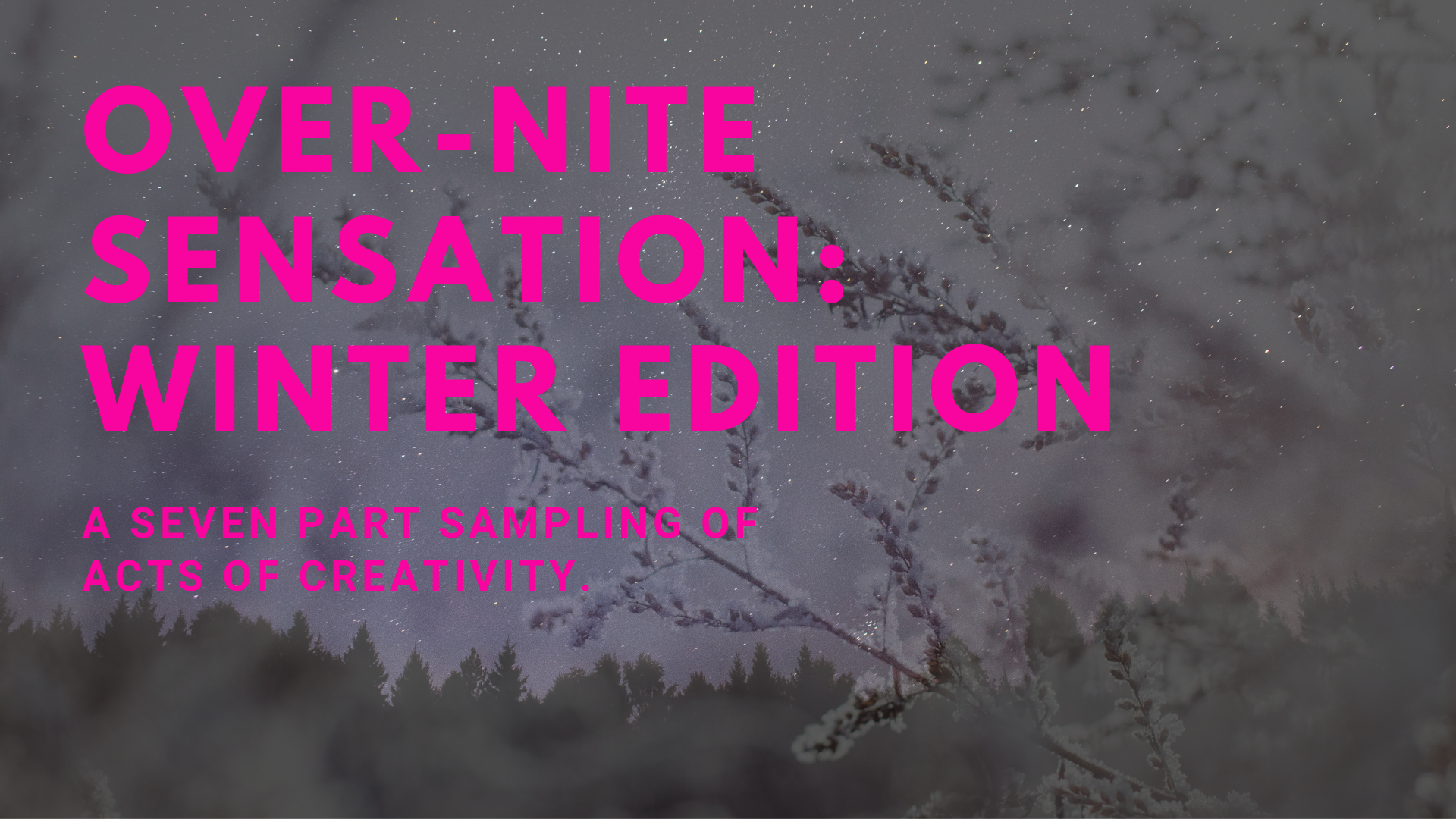 OVER-NITE SENSATION: Winter Edition
---
Sunday - 8:00pm (ET)
December 13, 2009
Plays and Players
$5 – $10
With its most eclectic offering to date, the winter edition of OVER-NITE SENSATION will offer a unique opportunity, for the seasoned and the uninitiated alike, to sample a broad array of artistic inclinations. This evening offers a bizarre mix of composers improvising, improvisers composing, realtime laptop processing of a counter tenor voice, music from the Japanese avant-garde composer Toshio Hosokawa, new works, and old reunions, all in one night.
THE EPICUREANS (Dave Gross, Ricardo Donoso, Ryan Mcguire) – Boston's lovable lowercase wedding band
VAN STEIFEL and MARK RIMPLE – anachronistic laptop / counter tenor duo
JASON CALLOWAY  – plays Toshio Hosokawa's Sen II for solo cello
TIM ALBRO  – low fi 12-string electric guitar noise-blue
MARTHA SAVERY / EUGENE LEW – instigating the most controversial viola / percussion jams since 2009
SPECIAL WHAT? (Amnon Freidlin, Bryan Rodgers, Pete Angevine)  – one show reunion tour for Philly's favorite one-show-reunion-tour-only band
Paula Diehl's SOUNDS2 performed by Paul Billbrough and Gabe Globus-Hoenich
Important notes: Set durations will be generally between 10 – 15 minutes, making for a quicker, but not exhausting parade of performances. Quig's Pub, the Plays and Players on-premise speakeasy, will be offering adult beverages and other libations throughout the night. Seasonal revelry will abound.
ABOUT THE ARTISTS
THE EPICUREANS (Boston)
Dave Gross – sax
Ricardo Donoso – drums
Ryan Mcguire – bass
Formed in 2008, The Epicureans have the hottest new sound out there. they range from sparse 'lowercase' type music to "full on" (as the kids say these days) noise with a hardcore metal edge. at once playful and brutal, the epicureans are your best friends and your enemies worst enemy. when they say 'we love you' at the end of every show they mean it. music is all about love and the epicureans, with their thirst for seeking pleasure, are here to provide.
(Sea of Tranquility) "Avant-garde music has always been something for a relatively small group of listeners, a musical art form that can be rather dissonant, noisy, and unmelodic, rarely taking the shape or form of common song based structures. Then again, there are acts that perform an even more extreme form of avant-garde, of which The Epicureans certainly fall into. This trio, whose new album A Riddle Within a Conundrum Within a Game is out now on Public Eyesore Records, simply fails to meet any sort of criteria that would qualify it as music. Even after giving it 5 spins (and I've sat through a lot of releases from Public Eyesore over the years, none of them being easy listening by any means), there's nothing here that's remotely pleasing to the ears. Dave Gross (sax), Ricardo Donoso (drums), and Ryan McGuire (bass), have put together six tracks of noise, the first half of the CD barely registers a blip on the audio counter, slight tinkering of cymbals & drums while bass strings are scraped against, while the last two pieces, "Blade of Fury" and "H.S." brings to mind images of what a herd of dinosaurs farting might sound like, Gross' bleating, squonking sax and McGuire's bass practically unrecognizable, instead rumbling like bad gas being squeezed out between many butt cheeks. Sounds harsh? Well, I'm all for saying that there's a market out there for just about anything, and you have to give these guys credit for REALLY going out there with this, but in the end I'd have a hard time recommending this flatulent nightmare to even the most loyal avant-garde lover out there. From what they've presented, the listener has no clue that they know how to play their instruments, let alone write a tune. Next time guys, give us a little something extra…please?"- Pete Pardo
VAN STIEFEL – laptop processing
MARK RIMPLE – counter tenor
In music by Van Stiefel lyrical voices are teased out of usual instrumental combinations: electric guitar quartets, laptop ensembles, turntables, as well as more conventional ensembles. Trained as a classical guitarist at an early age, Stiefel attended the Centro Flamenco Paco Pena in 1983, studying with guitarist John Williams. He has collaborated with a variety of artists and ensembles including: visual artist Caroline Lathan-Stiefel, improvisation trio maison vague, Ursula's End, guitarist Eliot Fisk, violinist Nurit Pacht, guitarist Dan Lippel, the Vega String Quartet, choreographer David Dorfman, the Nash Ensemble, Thamyris Contemporary Music Ensemble, the Minneapolis Guitar Quartet, the Talujon Percussion Ensemble, and the Macon Symphony. Stiefel is Assistant Professor of Music Theory and Composition at West Chester University School of Music in Pennsylvania and is completing a CD of chamber music with electric guitar, laptop, and other instruments.
Mark Rimple is a countertenor, lutenist, and composer who enjoys mixing his dual passions of early and new music. The Washington Post has praised his "splendid" countertenor singing, and in 2004 a Chicago Tribune reviewer wrote of a performance with the Newberry Consort that "Rimple's technique as a lutenist is fluid and confident, adding a kinetic lift to the ensemble. His considerable assets as a countertenor include a centered, clear tone," and "effortless upper notes capable of pinpoint agility." He is a founding member of Trefoil, an ensemble devoted to the performance of late medieval music from mensural notation, and he can be heard on two recordings with the ensemble: Cristo e Nato: Lauding the Nativity in Medieval Italy, and Masters, Mazes and Monsters: Treading the Medieval Labyrinth (both recordings available at www.msrcd.com). He is a frequent guest of the Newberry Consort, and appears on their most recent medieval recording, Puzzles and Perfect Beauty. He also appears regularly with Piffaro, the Renaissance Band, and The Folger Consort. He is a specialist in the theory and notation of early music and often teaches this material at workshops throughout the country. Mark is an accomplished composer, and holds a DMA in Composition from Temple University. His compositions have been performed by the ISCM Chamber Players, Parnassus, and The Network for New Music. He has also championed new music for guitar, lute, mandolin, and countertenor with such ensembles as the Cygnus ensemble and the Network for New Music. Mark is an Associate Professor of Music Theory and Composition at West Chester University of Pennsylvania.
JASON CALLOWAY – cello performing Toshio Hosokawa's (b. 1955) Sen II for solo cello
Cellist Jason Calloway has performed to acclaim throughout North America, the Caribbean, Europe, and the Middle East as soloist and chamber musician. He has appeared at festivals including Lucerne, Spoleto USA, Darmstadt, Klangspuren (Austria), Acanthes (France), Perpignan, Valencia, Citta' della Pieve (Italy), Jerash (Jordan), Casals (Puerto Rico), Sarasota, Blossom, Music Academy of the West, the New York String Seminar, and Encore. Mr. Calloway has appeared around the world as cellist of the Naumburg award-winning Biava Quartet, formerly in residence at the Juilliard School, in addition to collaborations in chamber music with members of the Curtis, Juilliard, Miami, Tokyo, and Vermeer quartets and with principal players of most of the world's leading orchestras. He has also travelled widely as a member of 'In Freundschaft,' a duo with trombonist, Steve Parker, and with Animato!, a duo with pianist Christopher Weldon. He gave his Carnegie Hall recital debut under the auspices of Artists International and has also been heard in New York at Alice Tully Hall, Steinway Hall, the Museum of Modern Art, the Kosciuszko Foundation, the 92nd Street Y, and the Polish Consulate; in Los Angeles at Disney Hall, the Bing Theatre, the Skirball Center and Pepperdine University; in Washington, D.C. at the Kennedy Center; in San Francisco at Hoover Auditorium; in Philadelphia at the Academy of Music and the Ethical Society; and live on NPR, WQXR (NYC), KMZT (Los Angeles), WFLN (Philadelphia), and on RAI television (Italy).
A devoted advocate of new music, Mr. Calloway has performed with leading ensembles around the world and with the New Juilliard Ensemble both in New York and abroad, in addition to frequent appearances in Philadelphia with Bowerbird, Soundfield, and Network for New Music. Mr. Calloway also inaugurates this season the (h)ear project, a Philadelphia concert series devoted to new and experimental music, in addition to appearances with Instrumenta Contemporanea in Oaxaca. Among the hundreds of premieres he has presented are solo and ensemble works of Berio, Knussen, Lachenmann, and Pintscher, and he has collaborated intensively with some of today's most important composers including Birtwistle, Carter, Davidovsky, Dusapin, Henze, Hosokawa, Husa, Franke, Rihm, and Yannay. As a dedicated supporter of young composers, he has for several seasons presented a series of concerts of solo cello works newly composed for him, most recently at Harvard and Temple universities, and at Spoleto USA gave the public premiere of Yanov-Yanovsky's Hearing Solutions for cello and ensemble.
Mr. Calloway prizes his work with Pierre Boulez and the Ensemble InterContemporain, both at the Lucerne Festival and at the Zug (Switzerland) Kunsthaus in Schoenberg's Pierrot Lunaire and Serenade as part of a major Kandinsky/Gerstl exhibit, in addition to his collaborations with the violinist Gilles Apap and with tap dancer Savion Glover. He is also artistic director of Shir Ami, an ensemble dedicated to promoting the music of Holocaust composers, and In Flux, a recently formed new music ensemble. A native of Philadelphia, Jason Calloway is a recent graduate of the Juilliard School and the University of Southern California. His teachers have included Ronald Leonard, Orlando Cole, Rohan de Saram, Lynn Harrell, Fred Sherry, Robert Cafaro, Joel Sachs, Felix Galimir, Luis Biava, and Seymour Lipkin. Mr. Calloway is grateful for the assistance of the Maestro Foundation.
TIM ALBRO – guitar, electronics
Born in Worcester, MA in 1980, currently based in Philadelphia, Tim Albro received a BA in English at Wesleyan University. Since Wesleyan, he has done ethnographic work on gospel music in West Philadelphia, composed music for a dance ensemble, as well as participate in the vibrant improvised/creative music community growing in Philadelphia. This work as an improvising/creative musician includes performing on the 12-string electric guitar /w electronics, on the prepared guitar/electronics/radio in the duo HZL, and recent solo work with home built radio transmitters. Current research interests include: the life of milarepa, green anarchism, and good advice.
PAULA DIEHL – composer
Diehl's SOUNDS 2 will be peroformed by guitarist Paul Billbrough and percussionist Gabe Globus-Hoenich.
Diehl became interested in improvisation in 1982, one result of a music system, SEPARATION, which came to her. She formed the ensemble SOUNDS to find out if the system could be used for improvs. It could. In 2009 SOUNDS became SOUNDS 2, a duo which brought into being a new performance style. Separation improvs call for gradual decrease of INTERLOCK among, usually, three Fourths, its working intervals, until all are discrete entities. It also calls for varied ORDERINGS: that is, designation of an open or closed status for the first and the last pitch of every Fourth, a setup which, in conjunction with interlock, drives the music to an ending. Changed orderings are chosen for each new phase of interlock. A few orderings not chosen – and thus 'wrong'- can be used; they add interest to the improvisation, but must be made 'right,' that is, closed when closure of that phase takes place. All these pitches interact with adjacent exposed or closed pitches. At present a basic ensemble is one guitar, acoustic or electric, and non pitched percussion. The percussion is 'composed. It mirrors in rhythm the 'orderings' which have become a part of each Fourth. In the new improv style all exposed notes from intervals in use are given to the guitar.
SPECIAL WHAT? (formerly BRKFST?)
Bryan Rodgers – sax
Pete Angevine – drums
Amnon Freidlin – guitar
Special What is a trio consisting of tenor saxophone, electric guitar and drumset based in Philadelphia and Brooklyn. Their music is a blend of semi-composed, semi-improvised newness; they exemplify a distinct and singular group aesthetic and musical vocabulary. Employing and enjoying the use of pulse (both abstracted and real), references to tonality and form, Special What creates comprehensible yet exciting and unusual music. With a focused and direct approach, their music yields high impact and compact abstractions of stuff that normal people would listen to. Members include Bryan Rogers (Shot x Shot, The Scriptors, Bobby Zankel), Amnon Freidlin (Zs, Normal Love, Pepi Ginsberg, Model Barbers) and Pete Angevine (SATANIZED, Model Barbers).
MARTHA SAVERY– viola
EUGENE LEW – drumset
Martha Savery was born in Swarthmore, Pennsylvania in 1980. She had a happy childhood and began studying classical music at the age of 8. She studied a variety of instruments including the viola, saxophone, bassoon and bass. After winning a series of honors and competitions for classical music she felt unsatisfied creatively and decided to be an artist. She has been blowing glass for seven years, and has studied at the Tyler School of Art and Salem Community College. In 2003 she received a scholarship from the Studio at the Corning Museum of Glass and in 2004 completed a 5-month assistantship residency at the Creative Glass Center of America in Millville, New Jersey. She was awarded a scholarship to attend the famous Pilchuck Glass School in Washington State in August, 2007. She currently lives in her studio in North Philadelphia, which is also a martial arts dojo.
---