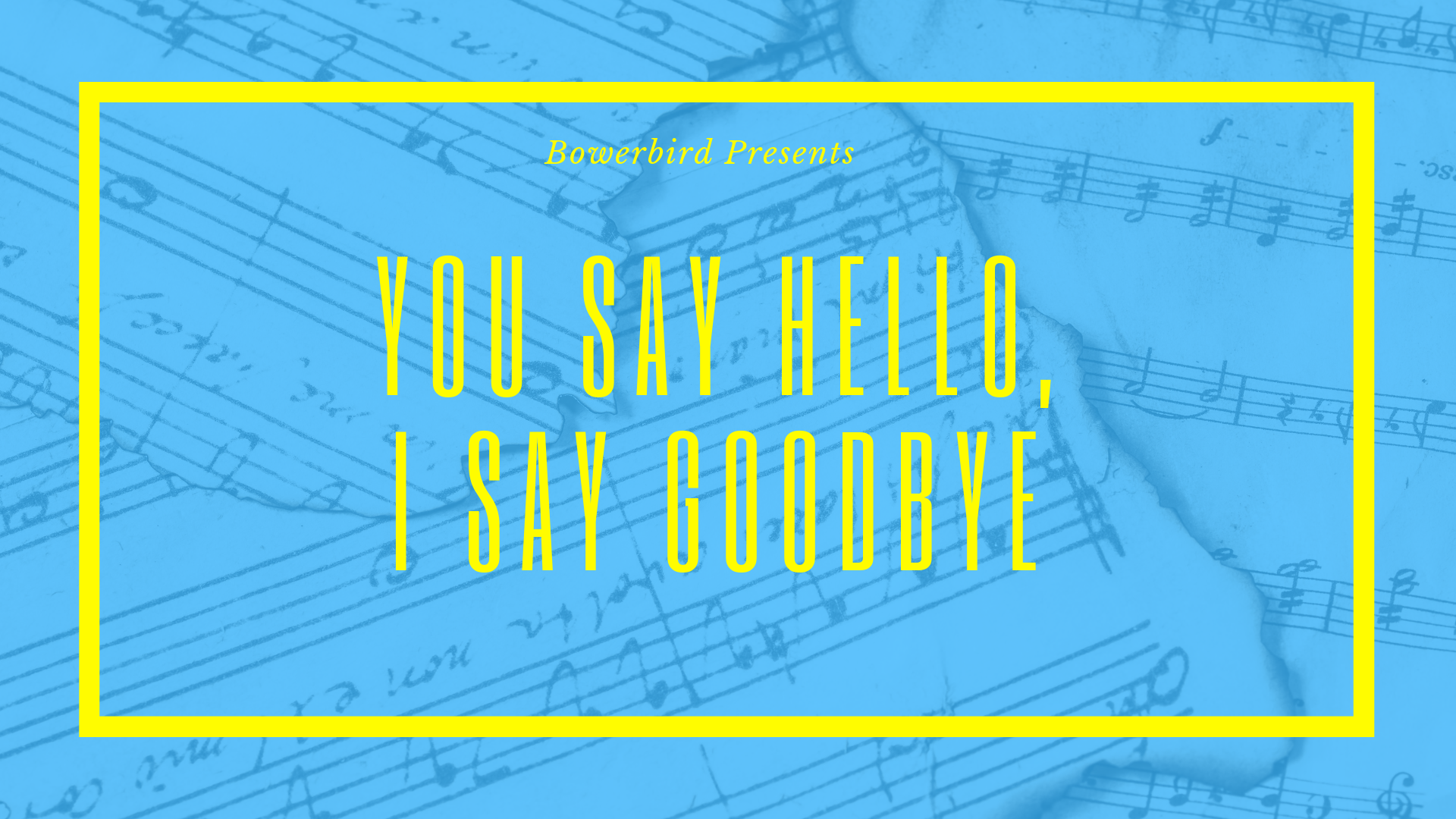 YOU SAY HELLO, I SAY GOODBYE
---
Friday - 8:00pm (ET)
November 20, 2009
The Rotunda
Free
There is something wonderfully fleeting about improvised music. The music itself lives for only the briefest of moments, and collaborations, even extended ones, can come and go quite often. Maybe this has to do with the relative ease with which partners can interchange with one another, or the transient nature of its practitioners, but in any case this openness for possibility creates great potential for artistic exploration.
On this evening Bowerbird offers a geographical survey of projects new and old from across the region, nation, and world. The night will an international quartet of Margarida Garcia (born in Lisbon, now based in New York City, playing upright electric bass), Manuel Mota (from Lisbon, playing guitar), Barry Weisblat (from New York City, homemade electronic inventions), and Marcia Bassett (aka Zaimph, predominately using guitar and vocals); Andrew T. Royal, a solo violinist from Chicago; and a fantastic trio of Philadelphia-based musicians, Ian Fraser, Jesse Kudler, and Tim Albro (playing a combination of laptop, guitar, craked electronics, cheap consumer devices: a no-name table top electric guitar, hand-held cassette recorders, radios and transmitters). Also this evening, as a special farewell, the once-upon-a-time based in Philadelphia duo Hisswig, featuring double bassist Evan Lipson (now in Chattanooga) and microtonal violinist Katt Hernandez (heading to Boston), will say so long, see ya later to Philadelphia.
THE PROGRAM
(1) MANUEL MOTA, MARGARIDA GARCIA,
BARRY WEISBLAT, MARCIA BASSETT
(2) JESSE KUDLER, IAN FRASER, TIM ALBRO TRIO
(3) HISSWIG (EVAN LIPSON / KATT HERNANDEZ)
(4) ANDREW T. ROYAL
ABOUT THE ARTISTS
Barry Weisblat was born in Brooklyn in 1975 and remains one of the unsung heroes of deep and investigative Sound Thought. Beyond a long-running commitment to participating in the underground's underground of improvisation and a dynamic sense of musical conversation, Weisblat has extended his reach and pool of knowledge beyond rubbing the surface of the black box of sound to designing and implementing his own systems. Translating light into sound, sound into action, action into thought, and thought into light, Weisblat's ceaseless curiosity and simultaneous obsessive desire to participate and join in dialogue has pushed his output farther out than most people can see or conceive of.
Manuel Mota guitarist born in Lisbon, with public activity since 1989. From that to 1997 he studies and experiments with prepared guitar, mainly acoustic. Since then his interests shifted to the development of a personal language for fingerstyle electric guitar and started working in a regular basis with bassist Margarida Garcia. A lot of acoustic guitar has been played at home in the last years, and it has also been possible to find him playing with bands Osso Exótico, Curia, Dru, and collaborating with David Maranha and Afonso Simões. Worked with Sei Miguel from 1997 to 2005. Founds the record label Headlights in 1998. Draws and shoots.
Margarida Garcia and Marcia Bassett first collaborated in a group working with sound, text and light projections. Other members of the group included Mattin, Emma Hedditch and Jeffery Perkins. Through these early meetings, Bassett and Garcia recognized a similar sonic aesthetic. Further meetings of the two have lead to handful of local improvised shows and a forth-coming LP to be released on the label Headlights.
Marcia Bassett, born in USA Bassett aka Zaimph, predominately uses guitar and vocals to create sounds that shimmer in a dark metallic buzz of sonic noise and drone, before a swift shift into blissed out ragas or crippling, brutal, white-hot noise. The organic improvised elements of Bassett's work leave traces of eerie ghost voices and deep-space echoes that recall the electrified ritual of nomadic Japanese avant-gardists Taj Mahal Travellers — but more immediately sound like a magnification of her contributions to Double Leopards and Hototogisu, generating towers of electricity that move from malevolent arcs of anti-gravity and spumes of throttled single notes into deep wormholes that do violence to feeble notions of time and space.
Margarida Garcia, born in Lisbon. Using double bass as her main instrument, she developed a close collaboration with guitarist Manuel Mota in 1997. The two have worked as a duo as well as in the group, Curia, which includes Afonso Simões and David Maranha (organeye, osso exótico). Garcia has also worked with Sei Miguel from 1999 to 2002. Other close collabs include Marcia Bassett, Barry Weisblat and Mattin. She has played in live/recording settings with Nöel Akchoté, Otomo Yoshihide, Ferran Fages, Alfredo C. Monteiro, Ruth Barberán, John Tilbury, Eddie Prevost, Rhodri Davies, Matt Valentine, Erica Elder, David Keenan and Alex Neilson (tight meat duo).
Evan Lipson (b. 1981, Toronto) is a bassist and composer who currently resides in Chattanooga, Tennessee. Lipson has worked in a variety of contexts and styles since adolescence; with roots predominantly based in modernist classical, punk, jazz, outsider pop, noise, and free improvisation. However, Lipson has been invariably focused on transcending the politics of genre. Following his own forms of occult research and pragmatic synthesis, Lipson's efforts strive towards cultivating the rarefied, esoteric, and iconoclastic world(s) of unconventional music. With a central emphasis on working directly with his own bands (including regular tours and regional performances), Lipson's music and his modus operandi have always been based on the intuitive search for the liminal zones where intellect and instinct, history and myth, and creative and destructive forces intersect.
Focused primarily on freely improvised music, Katt Hernandez draws a firey array of electronic-like sounds and keening melodies from her completely accoustic violin. She also works extensively with microtonality, drawn from a study of a mixture of sources, including traditional folk and sacred musics of the Middle East, Turkey, and Eastern Europe, various odd-ball whisps of old Americana, and the Maneri/Sims 72 note system. Playing with as wide and unexpected a variety of other performers as possible is tantamount to her sonic and spiritual pursuits. She has also played music of the late Ottman empire and Whirling Dervish ceremonies with the Eurasia Ensemble. She spent some time playing old-time, vaudeville, and early jazz tunes with Matt Somalis(a.k.a. Shoe) whilst channelling the spirit of Amelia Earhart in the duo Lindy's Radio. And she also plays the mysterious incarnation of a disturbing cartoon character in the frightening music and performance art duo Dr. Selenium and Madame Margo. In fact, she plays somewhere for somebody at least weekly, come hell or high water. Katt has collaborated with a magnificently variated sea of musicians, dancers, and others including- but certainly not limited to- Joe Maneri, Zack Fuller, David Maxwell, Beat Circus, Nicole Bindler, Matt Somalis, Vashti Bunyan, John Voigt, Allisa Cardone, Gordon Beeferman, Jonathan Vincent, Walter Wright, Joe Burgio, Eric Rosenthal, Jeff Arnal, Jaimie McGlaughlin, Andrew Neumann, Dave Gross, and Hans Rickheit. She has twice been invited to perform on the Autumn Uprising, High Zero, Mobius ArtRages, and Improvised and Otherwise festivals, and has also appeared at the Montreaux-Detroit, Brandeis New Music, Boston CyberArts, Michiania, IAJE, IASJ, and Ear Whacks festivals. She has been a guest artist at MIT, Harvard, University of Indiana and the New England Conservatory, performed in a vast slew of localized venues and life-making places throughout the east coast metropolii.
Jesse Kudler, born 1979, improvises on cheap consumer devices: a no-name electric guitar, hand-held cassette recorders, radios and transmitters, various small junk, and pedals/electronics. He uses a computer to assemble his recorded music. Kudler's work often operates on the extremes of volume, demonstrating an interest in the subtleties that can arise from intense softness or loudness, and it is marked by special attention to the stereo field. Recent interest has focused on both internal (electronic/radio) and external (microphone/speaker) feedback. Beyond simply exploring non-pitched sounds, Kudler investigates their use in creating improvised structure. Kudler attended public school until Wesleyan University, where he studied music with Ron Kuivila, Alvin Lucier, and a little bit with Anthony Braxton, among others. In his various travels, Kudler has performed with Matt Bauder, Kyle Bruckmann, Chris Cogburn, James Coleman, Tim Feeney, Marcos Fernandes, Margarida Garcia, Brent Gutzeit, Horse Sinister, Bonnie Jones, Newton, Pauline Oliveros, Bhob Rainey, Vic Rawlings, Christine Sehnaoui, Mike Shiflet, Jason Soliday, Howard Stelzer, Christian Weber, Barry Weisblat, Ellen Weller, Matt Weston, Jack Wright, Jason Zeh, and many others. He has toured the United States several times.
---