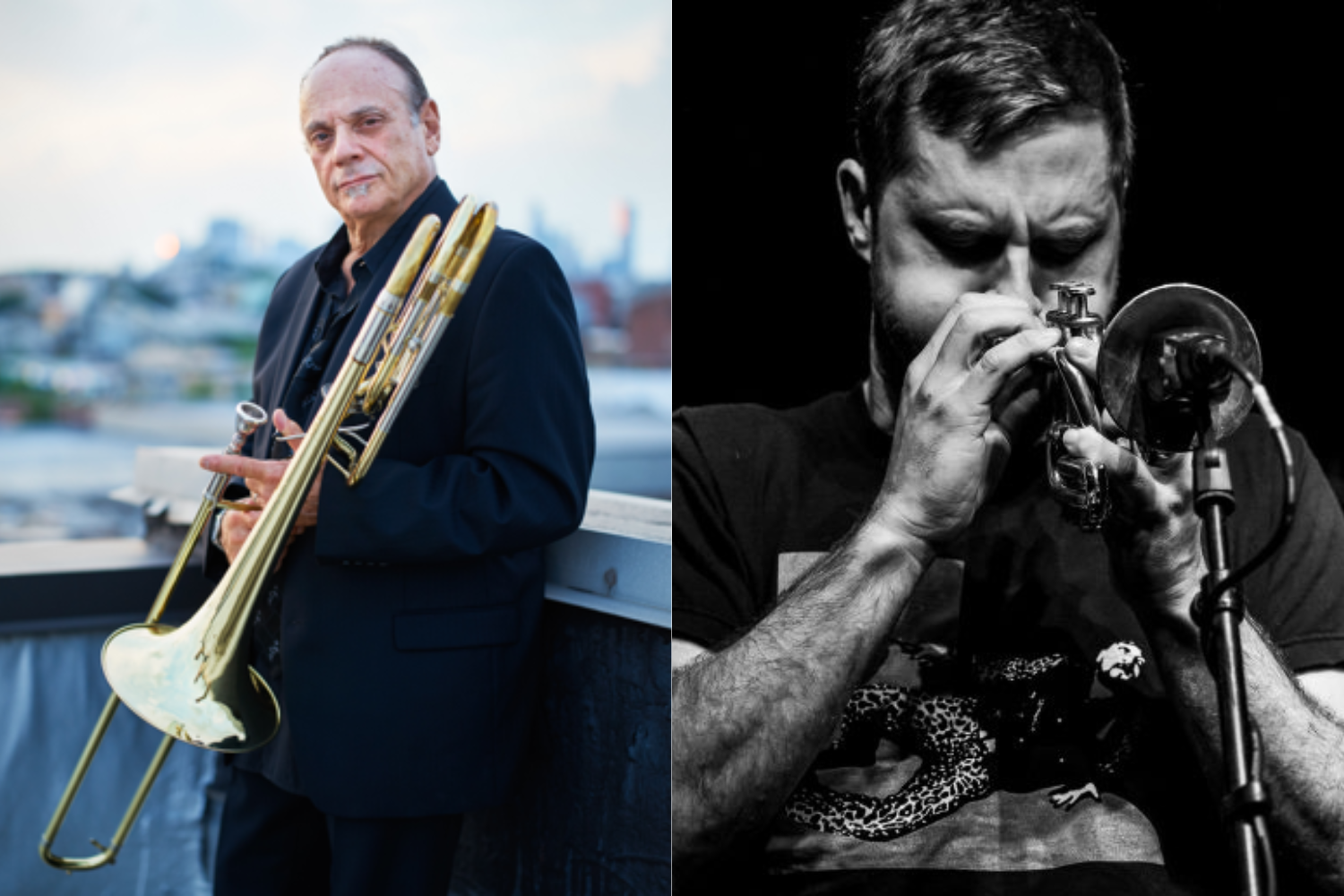 Peter Evans and David Taylor
---
Friday - 8:00pm (ET)
December 1, 2023
University Lutheran
$12 – $20
Get Tickets
Bowerbird is pleased to present brass players Peter Evans and David Taylor in a solo/solo/duo performance at University Lutheran.
ABOUT THE ARTISTS
Peter Evans is a trumpet player and composer based in New York City since 2003. Evans is part of a broad, hybridized scene of musical experimentation, and his work cuts across a wide range of modern musical practices and traditions. Peter is committed to the simultaneously self-determining and collaborative nature of musical improvisation as a compositional tool, and works with an ever-expanding group of musicians and composers in the creation of new music. His primary groups as a leader are the Peter Evans Ensemble and Being & Becoming (with Joel Ross, Nick Jozwiak, and Savannah Harris). Evans has been exploring solo trumpet music since 2002 and is widely recognized as a leading voice in the field, having released several recordings over the past decade. He is a member of the cooperative groups Pulverize the Sound (with Mike Pride and Tim Dahl) and Rocket Science (with Evan Parker, Craig Taborn, and Sam Pluta) and is constantly experimenting and forming new configurations with like-minded players. As a composer, he has been commissioned by the International Contemporary Ensemble (ICE), Wet Ink, Yarn/Wire, the Donaueschingen Musiktage Festival, the Jerome Foundation's Emerging Artist Program, and the Doris Duke Foundation. Evans has presented and/or performed his works at major festivals worldwide and tours his own groups extensively. He has worked with some of the leading figures in contemporary music: John Zorn, Peter Broetzmann, Pauline Oliveros, Brian Ferneyhough, Kanye West, George Lewis, Anthony Braxton, Mary Halvorson, Ambrose Akinmusere, Weasel Walter, Ingrid Laubrock, Jeff "Tain" Watts, Tyshawn Sorey, Jim Black, Ikue Mori, Steve Schick, and performs with both the ICE and Wet Ink. As an interpreter of notated concert music Evans' has performed works by Varese, Xenakis, Bach, Stravinsky, Elliott Carter, Marcos Balter, Agusta Read Thomas, Roscoe Mitchell, and many more. Peter Evans has been releasing recordings on his own label, More is More, since 2011.
Receiving B.S. and M.S. degrees from the Julliard School of Music, David Taylor started his playing career as a member of Leopold Stowkowski's American Symphony Orchestra, and by appearing with the New York Philharmonic under Pierre Boulez Almost simultaneously, he was a member of the Thad Jones Mel Lewis jazz band, and recorded with Duke Ellington (The New Orleans Suite), The Rolling Stones, and Blood, Sweat, and Tears. Mr. Taylor has recorded four solo albums (Koch, New World, and DMP) and has presented numerous recitals throughout the world (including Carnegie Recital Hall, Kaufman Auditorium at the Y at 92nd Street, and Merkin Hall). David Taylor currently performs with The Chamber Music Society of Lincoln Center, The Charles Mingus Big Band, Eos Orchestra, The NY Chamber Symphony, The Mostly Mozart Festival Orchestra, The Michelle Camillo Band, Areopagitica (a brass trio in residence at Mannes College), The Bob Mintzer Band, the Daniel Schnyder, David Taylor, and the Kenny Drew Jr Trio. He appears frequently with Orpheus, and the St. Lukes Chamber Orchestra, and he is on the faculties of the Manhattan School of Music and Mannes College.
---