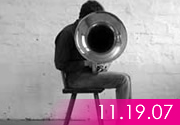 ROBIN HAYWARD /ANTHEA CADDY / EVE RISSER / JOEL GRIP / FEENEY / NEIDHARDT / BAILLY / HURT / THE PYGMY VARIATIONS
---
Monday - 8:00pm (ET)
November 19, 2007
Community Education Center
ROBIN HAYWARD tuba
ANTHEA CADDY cello
NEWTON ARMSTRONG electronics
germany / australia
The tuba player Robin Hayward, born in Brighton, England in 1969, has been based in Berlin since 1998. Through a combined conceptual and empirical approach he has radically extended the tuba's potential in both the areas of noise and microtonality. His compositions for other instruments reflect a similar medium-specific approach. As an interpreter his specific playing ability has been utilized by leading composers such as Alvin Lucier, Christian Wolff and Peter Ablinger. He has toured extensively both solo and in collaboration. His research to date has been documented in his solo CD Valve Division and numerous collaborative releases. Active in many contemporary music ensembles including Phosphor, Ictus and Kammerensemble Neue Musik Berlin, in 2005 he founded Zinc & Copperworks for continued research into brass instruments.
Anthea Caddy is an Australian cellist who applies a distinctive and idiosyncratic set of techniques to her instrument. Exploiting the cellos textural, spatial and dynamic capabilities she draws reference points from electro-acoustic and contemporary compositional approaches to inform her practice. Interested in the relationship between electronic and acoustic sound, she seeks to consolidate both the conceptual and practical aspects of these two media, articulating techniques and concepts indigenous to digital spatialisation in her performances and recordings. She has toured nationally and internationally performing in festivals and series solo and in collaboration within a diversity of contexts.
PROTECTOGRAPH
EVE RISSER prepared piano, flute, voice, toys
JOEL GRIP double-bass
france / sweden
Protectograph plays music. Stories given to you by the eccentric musical body of Eve Risser and Joel Grip. Two extreme personalities – armed with prepared piano, flute, and double-bass – who rumbles and scrapes their way through unknown paths, constantly trespassing musical borders. French-Swedish chanting. Music, En garde! Protectograph has performed at experimental improvised music festivals and venues in Scandinavia, France and USA ranging from the Louvre Museum in Paris (Musée du Louvre) to The Talking Head Club in Baltimore.
 TIM FEENEY percussion
 PAUL NEIDHARDT percussion
ALBAN BAILLY guitar
DUSTIN HURT trumpet
ithica / baltimore / france / philly
Tim Feeney seeks to explore and examine the timbral possibilities inherent in everyday found and built objects. He treats his percussion setup as a friction instrument, using bows, scrapers, and rosined drumheads to capture and amplify frequencies that go unheard when an object is struck with a traditional mallet. He supplements this acoustic console with an electronic instrument, arranged from no-input mixers, contact microphones, and effects pedals, that synthesizes and alters the spectral characteristics of low-fidelity sine tones, feedback, and noise.
Baltimore 's Paul Neidhardt is one of the countries most astonishing new music percussionists. A trained, highly disciplined player with a flair for complex textural sound produced by friction, Neidhardt's approach to improvising covers the majority of the terrain explored by the explosive side of European free music and subtle textural players like Sean Meehan and Jason Kahn, while retaining a freshness and flexibility of purpose all his own. His background playing rock and African music adds a potential for propulsive intensity to his playing not usually found in players so skilled in the arts of minimalist reductionism. Despite recovering from injuries that limited his time playing in recent years, he is a highly in-demand player, working with groups like Trokeneis, Death in the Maze, and Multiphonic Choir, as well as frequent collaborations with Jack Wright. He is currently a member of the Red Room collective and High Zero Foundation.
Alban Bailly, a native of France, began his music path by playing rock his youth. He moved onto studying Jazz, which opened him to free improvisation in the late nineties. In 2001 he studied Arabic music and oud in Marrakech, Morocco. Back to Nancy, France, Alban became an active performer, playing solo and together with performers in Europe. It is at this period the gypsy and Balkan music intrigued him and took him to Serbia to meet traditonal Eastern European music in 2004. Since making Philadelphia his home in 2005, Alban has experienced abundance of opportunity as a composer and a performer, collaborating with musicians from Eastcoast and beyond. Using his guitar and accordion, he plays various genres of music and often collaborates with dancers.
Composer, free improvisor, and organizer, Dustin Hurt is emerging as a key element to Philadelphia 's experimental and new music scene. Dustin's frequent collaboratations include a duo with Alban Bailly (as Ko Koed), a trio with Tim Albro and Jesse Kudler (as HZL BRD), and a trio with Sean Mattio and Troy Herion. He is a performer in Nicole Bindler's Philadelphia New Dance and Music Ensemble and was a performer in John Berndt's Baltimore based large group ensemble, Second Nature, in March of 2006. He has also performed with Toshi Makihara, Jack Wright, Gene Coleman, Christine Sehnaoui, Dave Smolen, Carlos Santiago, Leandro Barzabal, Jon Barrios, and Paul Neidhardt, among others. His composed works have been performed by members of the Philadelphia Orchestra, the Pennsylvania Ballet Orchestra, and regularly by the Philadelphia based avant-supergroup, Normal Love.
THE PYGMY VARIATIONS
A collection of string tunes inspired by the pygmies of the Central African Republic.             
Anne Fredrickson – cello
Jesse Moynihan – violin
Katt Hernandez – violin
Carlos Santiago – violin
Gina Fererra – gyil
Evan Lipson – bass
Ashley Deekus – percussion, conductor
The Pygmies are a broad group of people who live in Central Africa, especially in Congo, Central African Republic and Cameroon. Music is an important part of Pygmy life, and casual performances take place during many of the day's events. Music comes in many forms, including the spiritual likanos stories, vocable singing and music played from a variety of instruments. The African Pygmies are particularly known for their usually vocal music, usually characterized by dense contrapuntal communal improvisation. Simha Arom (2003) says that the level of polyphonic complexity of Pygmy music was reached in Europe in the 14th century, yet Pygmy culture is unwritten and ancient, some Pygmy groups being the first known cultures in some areas of Africa. Music permeates daily life and there are songs for entertainment as well as specific events and activities.
---