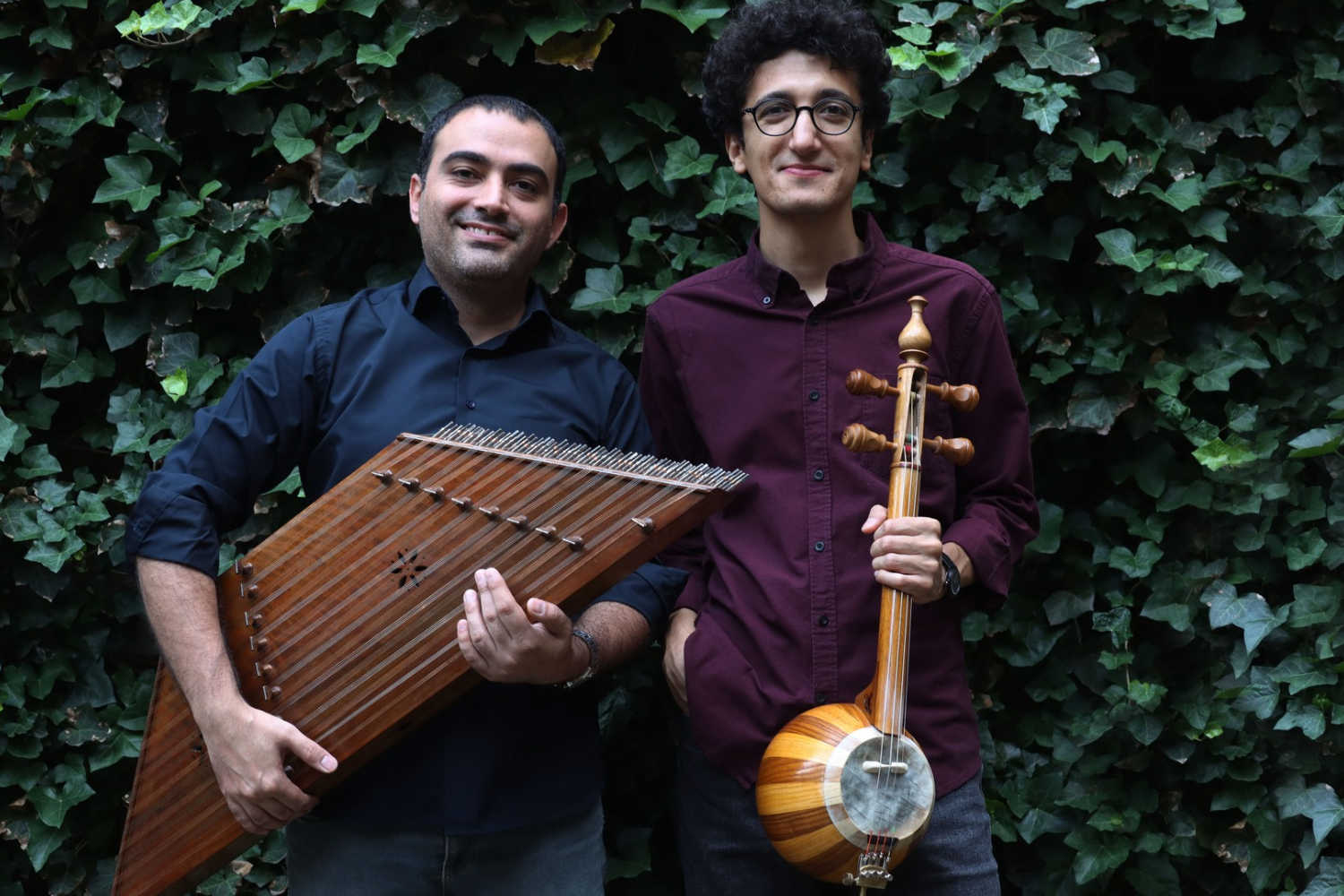 Shiraz Ensemble
Sina Homaee and Sepehr Pirasteh
---
Thursday - 8:00pm (ET)
August 17, 2023
University Lutheran
$10 – $20
Get Tickets
We are pleased to present the Shiraz Ensemble: Sina Homaee and Sepehr Pirasteh. Shiraz Ensemble embodies a global perspective, combining their roles as citizens of the world and passionate artists to shed light on crucial socio-political matters through art. Drawing inspiration from their personal journeys as immigrants from Iran to the United States, they channel their experiences into a transformative musical narrative. Blending contemporary classical music with the rich traditions of Iran, Shiraz Ensemble aims to engage audiences and promote cultural understanding by fusing different musical aesthetics. Founded in Philadelphia, Shiraz Ensemble takes its name from the ancient city of Shiraz in Iran, a place of birth and upbringing for both its founders, Sina and Sepehr.
Co-presented with Fire Museum Presents.
ABOUT THE ARTISTS
Sina Homaee (He/Him) was born in Shiraz, Iran. He is an Iranian musician and educator currently based in Philadelphia, PA. His primary instruments are santour (سنتور) and tombak (تنبک). He started his first music lessons at the age of nine years old. Sina's principal mentors for tombak were Jamal Bordbar and Farbod Yadollahi. He also studied santour with Amin Rahaee, Roozbeh Rahimi, Alireza Sedighynasab, Mehran Shirazi, and Masoud Shenasa. Sina has taught a variety of music courses such as music theory, Iranian music theory, form and analysis in Iranian traditional music, as well as his primary instruments, santour, and tombak at Fazel University of Art and music institutions in Shiraz. He was the director of the Sepidar Ensemble in Shiraz, Iran, and collaborated with numerous music ensembles in Iran. During his time in Iran, Sina collaborated with Fars TV and Radio Broadcasting Channel. Sina is currently finishing his Master's thesis in Ethnomusicology at Guilan University (Rasht, Iran). His research interests are Qashqaei music (Nomadic people around Fars province), music and globalization, women in Iranian music, and music in the Iranian diaspora. He pursued his bachelor's of music in Iranian music performance from the Shiraz University of Art. He currently lives in Philadelphia and plays with a variety of music ensembles. Sina is interested in integrating different musical cultures and is keen to collaborate with a variety of artists from different musical backgrounds.
Sepehr Pirasteh is a composer and conductor born in Shiraz, Iran. His compositions draw on Persian classical and folk as well as contemporary classical music vocabularies to express his concerns and fears about the political and social realities of the world we are living in. Sepehr's works have been performed by ensembles such as Argus String Quartet, PRISM saxophone quartet, Pushback Ensemble, Unheard-of Ensemble, Orquestra Criança Cidadã, Hole in the floor, fivebyfive, and members of the Fifth House Ensemble. He has been commissioned by Susan Horvath Chamber Music, ENA chamber opera ensemble, Philadelphia Student Composers Project, Detroit Composers' Project, YInMn project, Fresh Inc. Festival, Yara Ensemble, Central Michigan University's (CMU) Percussion Ensemble, and the CMU Saxophone Ensemble. His music has been performed in Argentina, Brazil, Iran and the United States. Sepehr has also been a fellow in festivals and residencies such as Harvard University's Fromm Foundation Fellowship (Composers Conference), CCI Initiative, and Fresh Inc Festival. As a conductor, he has been focusing on premiering new music written by young and emerging composers as well as conducting the classical repertoire. Sepehr served as the director of the CMU New Music Ensemble, Pierrot Ensemble, and Concert Orchestra, and Vintage community orchestra in Mount Pleasant, Michigan. He was also the assistant conductor of the CMU Symphony Orchestra. In 2020 he started serving as the director of Temple Composers' Orchestra (TCO). Sepehr currently is a Ph.D. student in Music Studies at Temple University. He pursued his MM in Composition and Orchestral Conducting at Central Michigan University. Sepehr studied composition with Dr. Jose-Luis Maurtua, Dr. Evan Ware and conducting with Dr. Jose-Luis Maurtua. He received his BA in Composition from Tehran University of Art (Iran). He plays a Persian Kamancheh and Tanbour and is currently based in Philadelphia.
---