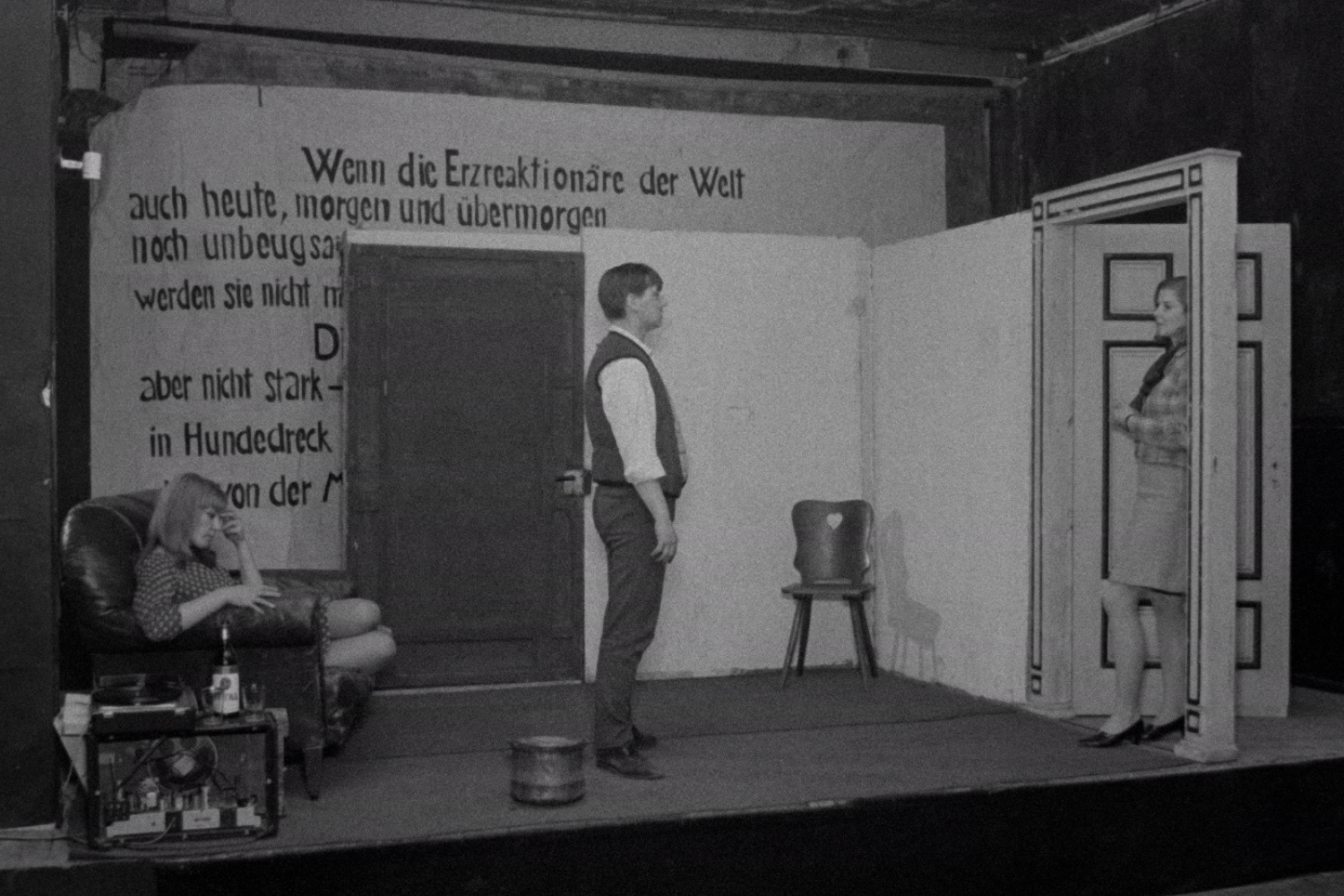 The Beauty of Moving Wind in the Trees
Nightletter Screenings
---
Thursday - 7:00pm (ET)
August 24, 2023
University Lutheran
$8 – $12
Get Tickets
Every film by Danièle Huillet and Jean-Marie Straub is a challenge: to the political status quo of capitalism, to the film industry, even to their own audiences. The films of these married longtime-collaborators are marked by an intellectual rigor, a purity of form and movement, and an overriding concern with power and politics. That their ravishing films are also among the most austere in modern cinema is what led Straub to famously joke that "we make our films so that audiences can walk out of them." D.W. Griffith presented his own challenges, accelerating cinematic experimentation by synthesizing multiple distinct early filmmaking trends into some of the most innovative and novel films of the nickelodeon era and establishing a "classical" style still felt in contemporary films. This is to say nothing of the challenges of watching some of his films today with their reactionary politics. So what is one to make of Straub-Huillet's worship of Griffith?
This program presents three films by these three giants of cinema situated where the ends of this horseshoe meet. Huillet and Straub revered Griffith's early Biograph short A Corner in Wheat and it's easy to see why. It is the story of greedy monopolists who instigate the immiseration of the working class by gouging the price of wheat and thus the cost of food in a way Luc Moullet described as "very close to Karl Marx". The film is astonishing not only for its novel parallel scenes depicting the differences between the haves and have nots but for its pictographic beauty. Documentary-like shots reminiscent of French realist painting intermix with intricately blocked diagonal breadlines and cramped theatrical interior scenes. It's a secretly modernist form Straub and Huillet take to a logical extreme in The Bridegroom, the Actress, and the Pimp, which almost seems to track the entire history of film in its conflation of a theatrical staging of a play by Buchner (starring R.W. Fassbinder, Hanna Schygulla and other members of the Munich Action-Theater before they broke out in Fassbinder's own films), documentary footage, and a second narrative. A similar trick: multiple cinematic planes intersect to tell a story of power and exploitation. Straub-Huillet's later Introduction to Arnold Schoenberg's "Accompaniment to a Cinematographic Scene" shows us another approach in the couple's later style where their dry, intellectual take on fascism and capitalism, adapted from that famous modernist composer's own words draws on the simultaneous power of immaterial ideas and the essential vivacious force of photographing and documenting the beauty of gesture, of people, of the world. It is no wonder then, that despite superficial differences, Straub was so fond of quoting Griffith's dirge for the passing of a certain style of filmmaking, "what the modern movie lacks is beauty—the beauty of the moving wind in the trees".
Prints of The Bridegroom, the Actress, and the Pimp and Introduction to Arnold Schoenberg's "Accompaniment to a Cinematographic Scene" courtesy of the Reserve Film and Video Collection of The New York Public Library for the Performing Arts.
PROGRAM
The Bridegroom, the Actress, and the Pimp / Jean-Marie Straub & Danièle Huillet / 1968 / 23 min / 16mm
Introduction to Arnold Schoenberg's "Accompaniment to a Cinematographic Scene" / Jean-Marie Straub & Danièle Huillet / 1973 / 15 min / 16mm
A Corner in Wheat / D.W. Griffith / 1909 / 14 min / 16mm
---