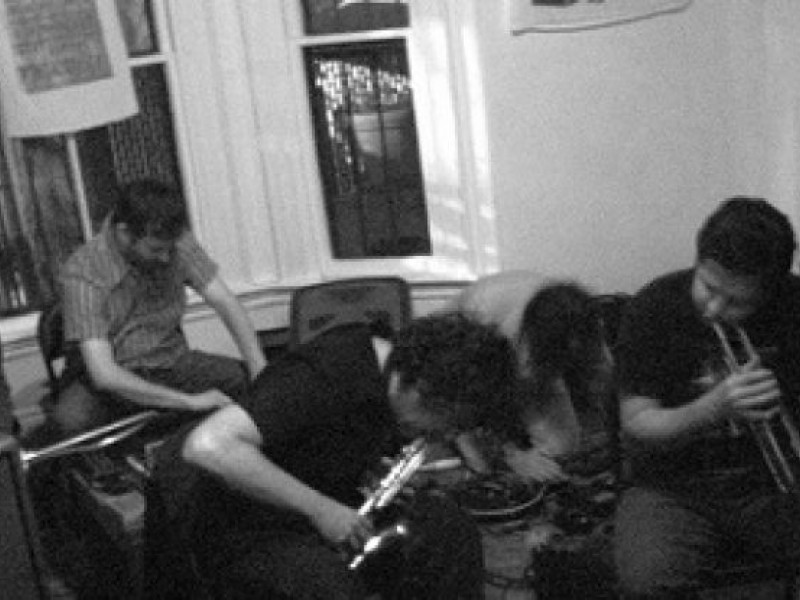 The BSC performs John Cage's Song Books
---
Friday - 8:00pm (ET)
December 7, 2012
Philadelphia Episcopal Cathedral
ABOUT THE EVENT
Pushing the boundaries of instrumental performance techniques and electro-acoustic sound production, the New England-based seven-member ensemble The BSC offers a bold interpretation of Cage's Song Books.
Ripe with texts by Thoreau, Satie, Duchamp, Buckminster Fuller and Merce Cunningham, this performance will fill the beautiful acoustic space of the Philadelphia Episcopal Cathedral, inviting audiences to enjoy the surprising beauty of Cage's most important score.
The BSC
Bhob Rainey – Soprano Saxophone, Director;
Greg Kelley – Trumpet; James Coleman – Theremin;
Liz Tonne – Voice;
Chris Cooper – Guitar and Electronics;
Vic Rawlings – Cello and Electronics;
Mike Bullock – Bass.
ABOUT SONG BOOKS
"One might think of Song Books as Cage's Art of Fugue, an exhaustive demonstration of the diverse approaches to music-making that the composer had practiced over his long career. Of course, Cage–unlike J. S. Bach–continued his career for more than two decades after he completed the piece. But although he found new ways to extend his artistic vision in ways that surprised even him, he would only occasionally match the diversity and ambitious scope that he achieved so brilliantly in Song Books." ~ Rob Haskins
Replete with text and music materials quoted from Marcel Duchamp, Erik Satie, David Thoreau, Buckminster Fuller, Norman O. Brown, and even Mozart and Schubert, John Cages 1970 composition Song Books is a two-volume collection of eighty-nine short solos.
Some of these solos call for singing, conventional or otherwise. Other solos require no singing at all, but rather reproduce the word-game actions of Cage's Theater Piece (1960). Still other Solos are examples of another kind of theater altogether, one which clearly reflects the influence of the neo-Dadaist Fluxus movement. Instructions for some of these Solos ask the performer simply to "prepare something to eat" or to "perform a disciplined action that fulfills an obligation to others."
Each realization of Song Books is performed to fill a predetermined duration, with any number of performers, each responsible for choosing their own music. Additionally, Cage indicated that a performance of Song Books may also include simultaneous performances of other indeterminate music such as Winter Music (1957), Concert for Piano and Orchestra (1958), Indeterminacy (1959),or Rozart Mix (1965).
ABOUT THE BSC
The BSC was formed by composer / improviser Bhob Rainey in August, 2000. Comprised of seven improvisers with a variety of musical backgrounds, the ensemble's intent has been to confront the challenges of large group improvisation while engaging with contemporary repertoire that is geared towards innovative, electroacoustic sound production.
The BSC has been a mainstay of concert series that promote both improvised and composed music, often involving collaboration with international artists and with the New England Conservatory. Fruits of these collaborations include a recording for Mode records with composer Christian Wolff as well as a recently released performance from RPI's EMPAC center with Pauline Oliveros on accordion.
The BSC's idiosyncratic approach to performance has made it attractive to composers working in the electroacoustic idiom. This interest has led to workshops and performances at both Princeton and Wesleyan Universities, where students in composition scored works for the ensemble.
In 2010, Bhob Rainey commissioned four writers from different disciplines to contribute to a book on the BSC's improvisational practices. The book, Manual, which received a grant from Loyola University New Orleans' "Year of the Writer" program, was released along with a full-length album at the end of 2011
---