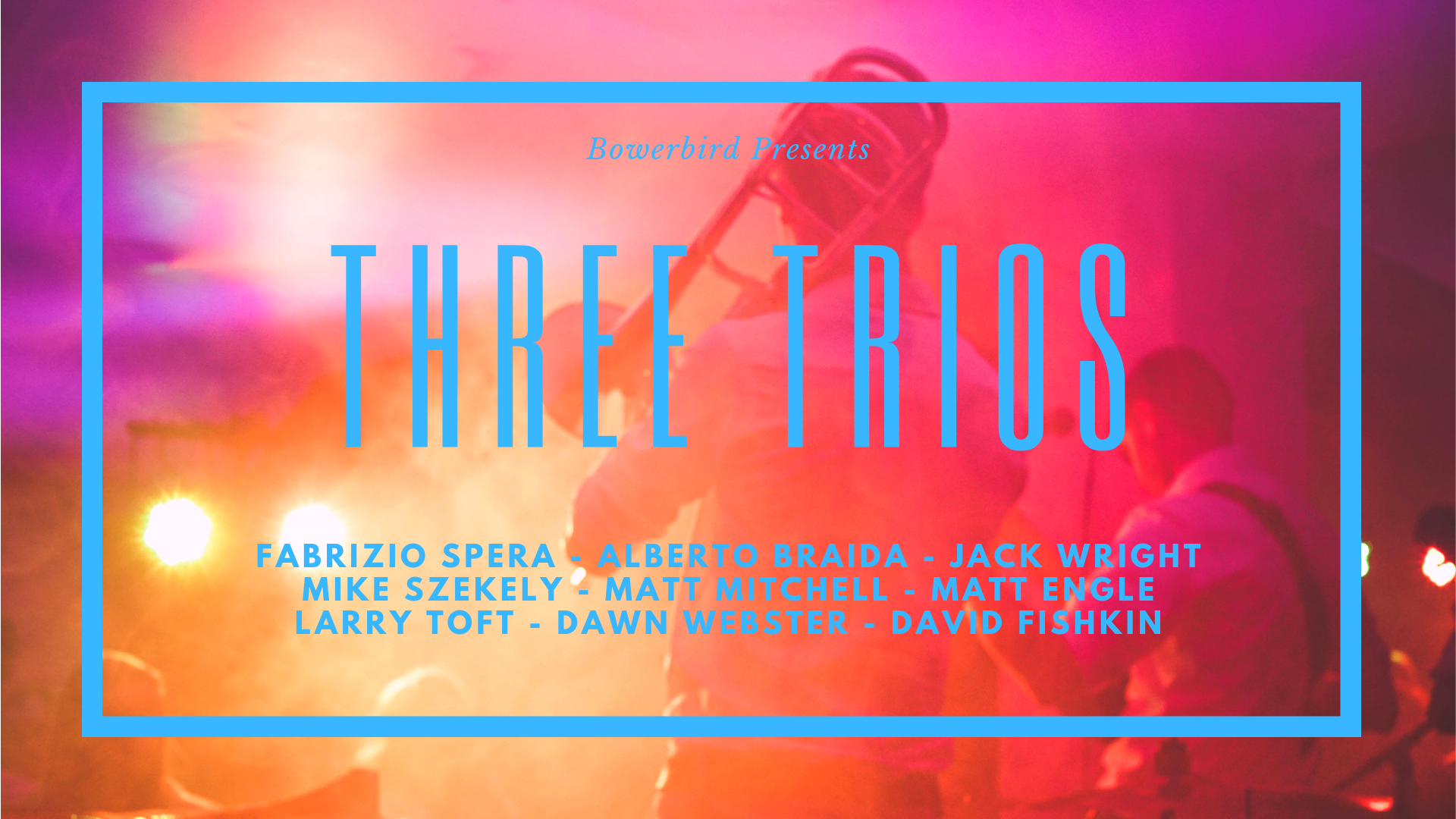 Three Trios
---
Tuesday - 8:00pm (ET)
May 5, 2009
Plays and Players
$10
Fabrizio Spera – Alberto Braida – Jack Wright
Mike Szekely – Matt Mitchell – Matt Engle
Larry Toft – Dawn Webster – David Fishkin
Much of the jazz tradition is built on well defined instrumental roles – bass and drum in the rhythm section, horns playing melodic solos and harmonic supporting material. But just as quickly as these norms were established, musicians have been breaking these boundaries to redefine the own sonic territory. This evening, three trios of jazz-capable musicians suspend these questions for another day.
Italians musicians Fabrizio Spera (percussion) and Alberto Braida (piano) will be joined by American saxophonist Jack Wright. Forged through a globe trotting story becoming more common in improvised music, the trio came together after Spera, who had met Wright at the Irtijal Festival in Beirut Lebanon, suggested that a regular partner of his, pianist Braida, would be a superb choice for a trio. The group first came together in the village of Montepulciano, Italy in November 2006 and was followed by an Italian tour. Fabrizio and Alberto have toured several times in the US, supported by the Italian Institute in 2006 in San Francisco, and in 2008 in New York. Fabrizio has come several times with his trio Ossatura, most recently in 2007, and also performed in May 2008 at the Vision Festival in NY. He also toured with Jack Wright in San Francisco and in trio with Gust Burns in Seattle and Portland Or in spring 2008.
Opening the evening are two trios made up Philadelphia musicians. Though drawn from a pull of frequent collaborators, these groupings constitute new experiments in personnel. Shot x Shot bassists Matt Engle is joined by percussionist Michael Szekely and pianist Matt Mitchell. Rounding out the night, West Philadelphia Orchestra trombonist Larry Toft and trumpeter Dawn Webster will be joined by baritone saxiphonist David Fishkin.
ABOUT THE ARTISTS
FABRIZIO SPERA – percussion, electronics
Since the end of the eighties Fabrizio Spera has been active as musician and organizer in the field of experimental music with a special interest in free improvisation. He has played and collaborated with, among others: Mike Cooper, Peter Kowald, Wolfgang Fuchs, Otomo Yoshihide, Jon Rose, Tim Hodgkinson, Thomas Lehn, Jean Marc Montera, Tom Cora, Elio Martusciello, Conrad Bauer, Tristan Honsinger, Werner Ludi, John Butcher, John Edwards, Ab Baars, Rhodri Davies, Marc Wastell, Lol Coxhill, Chris Cutler, Mario Schiano, Giancarlo Schiaffini, Guido Mazzon, Sebi Tramontana, Martin Tétreault, Michel Doneda, Jérome Noetinger, Burkhard Beins Saadet Turkoz, Hans Koch, Martin Schuetz, Larry Ochs, Lisle Ellis, Wadada Leo Smith.
Some of his current groups are Ossatura with Elio Martusciello and Luca Venitucci; Blast with Dirk Bruinsma, Frank Crjins, Paed Conca; Viktoria Frey (H. Eisler songs) with Sabina Meyer, Lauro Rossi, Fabrizio Puglisi; Lingua Wolfgang Fuchs with Thomas Lehn, Trio with John Butcher and John Edwards, RARA ensemble; Di Terra, trio with Alberto Braida and Lisle Ellis, and of course the trio with Jack Wright and Alberto Braida.
He has played in festivals like: the Vision Festival (NYC); Controindicazioni (Rome, Italy), London Musician's Collective (London, UK), Europa Jazz Festival (Noci, Italy), Musique Actuelle (Victoriaville, Quebec), Angelica (Bologna, Italiy), Musique Action (Vandœuvre-lès-Nancy, France), Jazzhaus Festival (Cologne, Germany), Synthese (Bourges, France), Musique Innovatrices (Saint-Étienne, France), Humannoise Congress (Wiesbaden, Germany), Tampere Jazz Happenings (Tampere, Finland), Alternativa (Prague, Hungary), Fruits de Mhere (Mhere, France), Total Music Meeting (Berlin, Germany), Yokohama Jazz promenade (Yokohama, Japan), Nits de Musica (Barcelona, Spain), Ring Ring (Belgrade, Serbia), Mix 02 (Århus, Denmark), Densité (Fresnes en Woevre, France), November Music (Ghent, Belgium)
ALBERTO BRAIDA – piano
Began his piano studies when he was seven years old. He obtained a diploma at the Conservatory "G. Nicolini" in Piacenza and attended jazz music seminars in Siena from 1989 to 1991. He has been focused since the beginning on improvisation and its relationship with composition. Braida has collaborated and played with musicians and composers such as Wadada Leo Smith, Lisle Ellis, Peter Kowald, Paul Lovens, Wolfgang Fuchs, John Edwards, Jack Wright, Wilbert De Joode, John Butcher, Gino Robair, Hans Koch, Giancarlo Locatelli, Ab Baars, Fabrizio Spera, George Cremaschi, Ig Henneman, John Hughes, Liz Albee, Fabio Martini, Edoardo Marraffa, Antonio Borghini, Gianfranco Tedeschi, Serge Baghdassarians, Sabina Mayer, Michael Thieke, Alessandro Bosetti, Jeff Arnal, Michael Griener, Alexander Frangheneim, Filippo Monico, Boris Baltschun, Astrid Weins, Massimo Falascone, Lars Scherzberg, Luca Venitucci and many other.
He played in Berlin (Total Music Meeting 2001 and Total Music Meeting 2004), Hamburg, Hannover, Cologne, Oberhausen, Locarno, Milano ("Festival milanese della musica d'improvvisazione" 2004 and 2005), Lodi ("ContemporaneaMente" festival), Rome (Controindicazioni), London (Free Radicals at the Red Rose), Music Unlimited Festival XIX (Wells Austria), San Francisco, Olimpia College, Portland, New York (Improvised and otherwise Festival 2003), Boston, Baltimore, Bennington College and many other places. Braida is one of the curators of the contemporary and improvised music festival "Contemporaneamente" in Lodi and he serves as teacher (piano, harmony and improvisation) at the musical institute"F. Gaffurio" in Lodi.
JACK WRIGHT – saxes
Over the past twenty-five years Jack Wright has been a bold saxophonist, as well as an influential musical personality. Either on tour or organizing the next one, he has played in virtually every venue available to experimental improvised music in the US. He toured in Europe extensively in the 1980's and began again on a regular basis in 2000; in Europe, he is mostly based in Paris.
In 1982 Wright began Spring Garden Music as a vehicle for organizing an improvisational music community, and as a label on which he and his partners record. As a musical explorer, his music passes through radical shifts of style and approach from one year to the next, yet always somehow identifiable as his own. These days he is playing mostly alto and soprano saxophones, in every possible direction, sometimes barely recognizable as those instruments. He lives in Easton Pennsylvania, which enables him to commute easily to NYC and Phila.
The Washington Post says, "In the rarefied, underground world of experimental free improvisation, saxophonist Jack Wright is king." And a German publication, Bad Alchemy, had this to say of his solo: "Wright does not make music, he embodies it, he transforms it with a naïveté; of another order. It grows into a sound river, he is part of the diaphragm through which the heterogeneous whispers."
Jack has over sixty partners around the US and in Europe with whom he plays on his travels and records. Some of his recent partners in Europe have been: Michel Doneda, soprano sax; Agnes Palier, vocalist; Olivier Toutlemond, percussion; Fabrizio Spera, drums; Alberto Braida, piano; Sebastien Cirotteau, trumpet; Marlene Jobstl, butoh dancer; Pascal Battus, table guitar; Jean-Philippe Gross, electronics; Sharif Sehnaoui, guitar; Christine Sehnaoui, alto sax; Stephane Rives, soprano sax; Jean-luc Guionnet, alto sax; David Chiesa, double bass; Jean Borde, double bass; Michael Griener percussion and Sabine Vogel flute of Berlin; Le Quan Ninh, percussion; Barre Philipps, double bass; and Phil Durrant, English laptop musician.
His most recent tours have been with Fabrizio Spera and Alberto Braida in Italy; with Agnes Palier and Olivier Toutlemond in France-Switzerland-Germany; a solo tour in Scandinavia; with Michael Johnsen, electronicist, in France, Holland, Belgium, etc., joined by Sebastien Cirotteau; with Michel Doneda and NYC percussionist Tatsuya Nakatani (From Between Trio) in Japan, France, and the US; with Wade Matthews, bass cl, flute, electronics, in the US; with Carol Genetti, and Jon Mueller (NomTom trio), in the US; Nate Wooley, trumpet, of NYC in Europe; cellist Bob Marsh of the Bay area; Michael Griener and Sabine Vogel of Berlin; Reuben Radding, NYC bassist; Phil Durrant, in the US; and with trumpet player Tom Djll from Oakland and soprano sax player Bhob Rainey on the West Coast.
MATT MITCHELL – piano
Since moving to Philadelphia in 1999, Matt Mitchell has pursued an interest in the intersections of both composed and improvised music and of 'classical', 'jazz', and electronic music, performing consistently throughout the United States and Europe. In addition to his solo activities he has been a member of the long standing Philadelphia-area groups Kaktus and Feigner, both of which groups have explored new areas of non-idiomatic group improvisation and released several acclaimed albums on Scrapple Records. Matt's most recent recording, the large-scale electroacoustic piece 'vapor squint, antique chromatic', was released on Scrapple in 2007 to uniformly positive reviews. In addition to being a current member of Tim Berne's Adobe Probe, he has performed with a number of musicians including Ralph Alessi, Ravi Coltrane, Brad Shepik, Shane Endsley, Drew Gress, Mark Helias, Tom Rainey, Jim Black, Ari Hoenig, Josh Roseman, and John Swana, as well as being a former member of the avant-rock band Thinking Plague. Matt is also a faculty member with the Brooklyn, NY based School for Improvisational Music [SIM].
MIKE SZEKELY – drums
Mike Szekely studied jazz as an undergraduate at the Hartt School of Music (Hartford) led by the late saxophonist Jackie McLean. In 1996, he studied percussion with drum master Milford Graves at Bennington College. Mike has for the past few years been involved with many wonderful musicians and various groups contributing to the burgeoning improvisational and experimental music scenes in Philadelphia, including Equis Equis Equis, The Scriptors (with Engle and Bryan Rogers), and the Dan Blacksberg Trio. He also plays drums with singer-songwriter Courtney Parker, whose music spans a range of jazz, pop, and folk styles. Since 1993, Michael has co-led various intermittent projects with New York-based saxophonist Allen Livermore, resulting in two recordings: Feet Music's "Assertions & sketches" (Chroma Independent Media, 1995) and the ALMS Trio's "Advocates" (Eighth Nerve Records, 2005). Mike has also collaborated on projects and concerts with Anthony Braxton, Ed Mann, Stephen Haynes, Taylor Ho Bynum, Toshi Makihara, and Jack Wright. He received his doctorate from Temple University and continues to teach and write on philosophy, especially in aesthetics and the philosophy of music.
MATT ENGLE – bass
Matt Engle grew up ten minutes outside of Philadelphia in South Jersey. He has since resided in Philadelphia where he has continued to be a consistently active and sought-after bassist in the local music scene. Matt studied with Kevin McConnell and Tony Marino while attending The University of the Arts. He has had an integral role in the longstanding Philadelphia-based improvisational outfit Shot x Shot, as both a performer and composer. In addition to his work with Shot x Shot, Matt is a regular member of the nationally and internationally acclaimed group, Sonic Liberation Front, which combines Afro-Cuban and free jazz influences. He has also collaborated in recent years with saxophonist Seth Meicht (trio and quartet) and as a member of The Scriptors (with Szekely and Bryan Rogers).
LARRY TOFT – trombone
Trombonist Larry Toft performs frequently around the Delaware Valley. Being located in Philadelphia gives him the opportunity to perform a wide range of musical styles such as jazz, classical, salsa, reggae, Balkan, and funk. The avant-garde has always inspired Toft's music and he works it into his performances whenever possible. He is a regular member of Bobby Zankel's Warriors of the Wonderful Sound as well as numerous other local big bands including the Phil Giordano Orchestra, and the Lars Halle Jazz Orchestra. He has performed with salsa legends Johnny Pacheco of the Fania All-Stars, Lalo Rodriguez, Michael Stewart, and Johnny Rivera. A Graduate of Temple University, he studied with former Philadelphia Orchestra's trombonist Tyrone Breuninger and jazz with Don Collins and Luis Bonilla of the Village Vanguard Orchestra.
DAVID FISHKIN – saxophone
David Fishkin was born in Philadelphia. At the age of seven, he heard a street-corner saxophonist playing the theme to the "Pink Panther." At that moment, David knew that he wanted to play the saxophone. He studied music at Oberlin College, and during a semester spent in Philadelphia, David studied with Odean Pope. Since then, David has experimented with amplifying his instrument; his setup has been described as an "amplified saxophone earthquake." David plays in Gun Muffs, a power duo with the drummer Eli Litwin. David is also a saxophone teacher, and he has arranged music for an ensemble made up of his students. Currently, David is writing a puppet musical, which will premiere this fall in the Philadelphia Fringe Festival.
DAWN WEBSTER – trumpet
Dawn Webster is one of Philadelphia's rising young talents. A multi-instrumentalist, Dawn has performed in a wide range of genres from the ancient to post-modern. Ms. Webster can currently be heard performing on horn, euphonium, flute, recorders, cornetto, and trumpet, her main instrument. Ms. Webster worked with David Bilger and Peter Bond during her formal studies in classical trumpet. A summer workshop with avant-garde soloist Markus Stockhausen sparked her interests in new music and free improvisation, while her time as an employee in the university music library and world music classes sparked her later interests in the music of the East.
Current projects include Eastern European groups Galata Ensemble and the West Philadelphia Orchestra, classical/pop brass ensemble Rodney Mack Philadelphia Big Brass, as well as solo appearances as a recitalist and on Philadelphia's Soundprints, Cybersounds, and SciFi Philly new music series. She has appeared with many local orchestras including the Haddonfield, Lancaster, and Reading Symphony Orchestras, and with Piffaro, the Renaissance Band. She is currently adjunct faculty at Temple University in addition to teaching throughout the greater Philadelphia area.
---