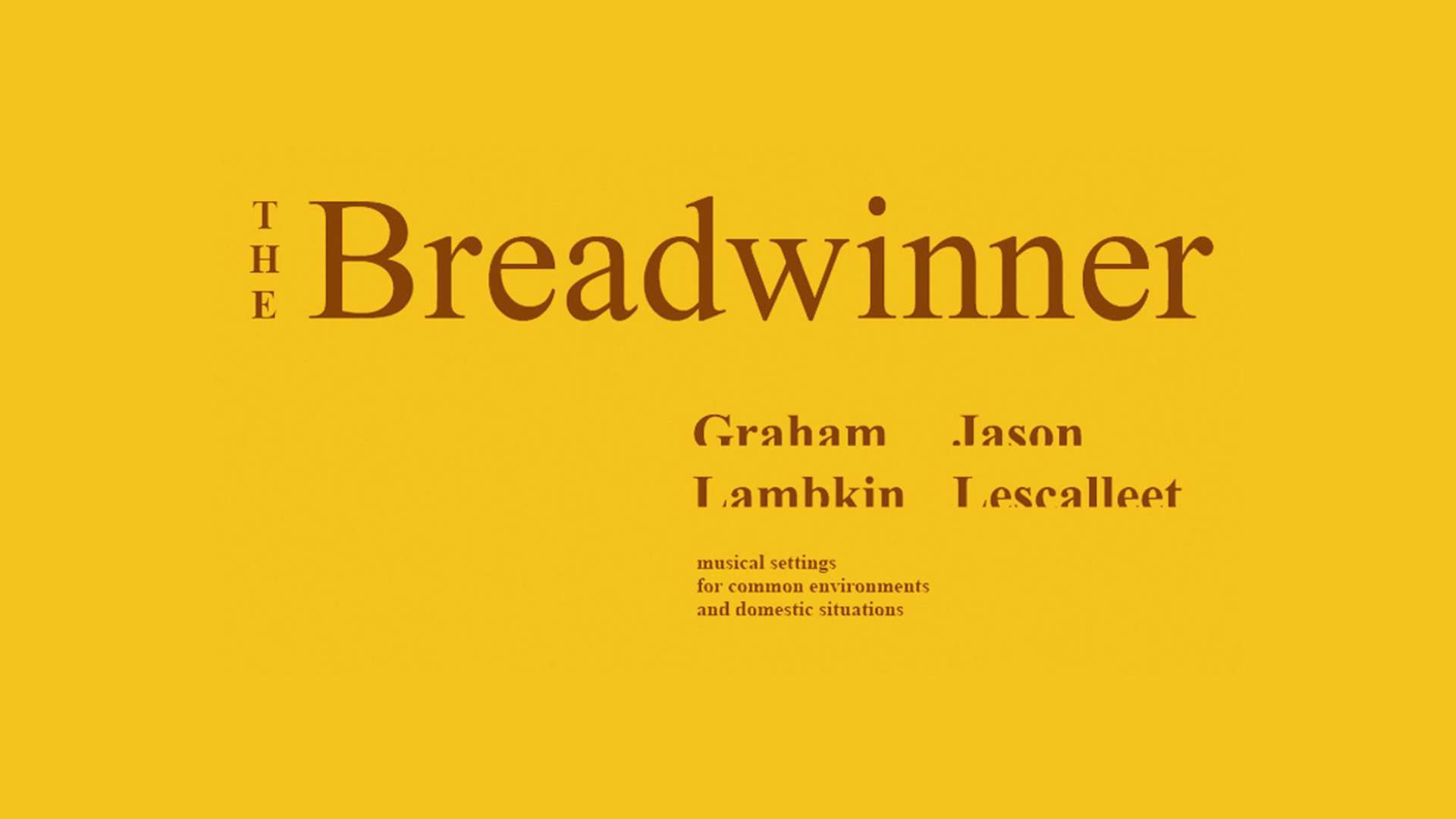 THE BREADWINNER
Lambkin / Lescalleet, Nmperign, Weyes Bluhd
---
Sunday - 8:00pm (ET)
April 5, 2009
The Rotunda
Free
Graham Lambkin and Jason Lescalleet are both highly respected artists, with small but intensely hardcore followings. Since 2001, they've been gradually moving closer towards realizing a collaborative project, and The Breadwinner is the results of two years of recording, reworking and polishing.
Lambkin first entered the public consciousness at 19 when he formed his band The Shadow Ring, in Folkestone, a small town in Kent, England. The band was memorable and built an rabidly passionate fan base because of its sui generis approach, blending elements of folk, noise, cracked electronics, and surrealist poetry, while radically changing the overall formula with each release. A decade of increasingly skewed and inspired work culminated in 2003's I'm Some Songs, constructed long distance as Lambkin had relocated to the US in 1998. Over the last few years, Lambkin has primarily worked under his own name, most notably with 2007's brilliant Salmon Run, a precursor to The Breadwinner.
Lescalleet has gradually and painstakingly built a compelling discography over the past decade. He uses reel-to-reel tape decks to explore the textures of low fidelity analog sounds and the natural phenomena of old tape and obsolete technology. He is one of a growing list of master producer/musicians, whose skill lies as much in reworking, assembling and mastering the material available as in creating it (or helping create it) in the first place. He has worked with such wide-ranging artists as Ron Lessard, Joe Colley and Phill Niblock, and has released a string of superb solo discs in Mattresslessness (Cut), Electronic Music (RRR) and The Pilgrim (Glistening Examples). This is his second release for Erstwhile, after 2001's Forlorn Green (w/Greg Kelley), and his third is already in preparation, a duo with Bhob Rainey, planned for release in early 2009.
The material for The Breadwinner was recorded at Lambkin's house in upstate NY, over two recording sessions. The duo treated the entire building and its surrounding grounds as a studio, welcoming in outside sounds, which were later kept or eliminated as they felt appropriate. The subtitle on the front cover is "musical settings for common environments and domestic situations,"  layering numerous submerged fragments to find beauty in everyday life.
Jason Lescalleet's influence was palpably present long before the average Joe knew how many L's were in his last name (or could successfully google it). He spun tape loops with nmperign from the get-go, frequently signified the endings of his characteristically foundation-shaking performances by hurling a nearly indestructible, hundred-pound Peavy amp across the stage, and provided the bulk of the "disaster" in legendary drummer Laurence Cook's "Disaster Unit 2000". But as the smoke cleared and the Peavy met its demise in a white-walled room, it became apparent to an awful lot of people that Lescalleet was making some amazing music; beautifully constructed symphonies of decay born of an intimacy with items and ideas lesser minds might discard: tape machines, lo-bit samplers, the tedium of everyday life. His ability to evoke powerfully complex emotional experiences from such muck made a collaboration with Graham Lambkin practically inevitable.
Composer Walter Marchetti once made a statement to the effect that he was seeking to reach the "bottom" of music. Some more diligent attention to this task might lead him to the music of Graham Lambkin. Already marking out a glorious bottom with his former band, The Shadow Ring, Lambkin has pursued a music so removed from prescribed aesthetics that one is flooded by the beauty it seems to ruthlessly avoid. He puts the mundane to tape and carves out its horror, its sweetness, and its unsettling ambivalence. Shrouded in a disarming naïveté, the music leaves the listener ill-prepared for its very adult take on being-in-the-world. We are fortunate that humor can be so black, that we may surrender happily and willingly to an experience not many artists are willing or capable of delivering.
This event is made possible with support from the Philadelphia Cultural Fund and the Rotunda, with additional support from Washington College.
---