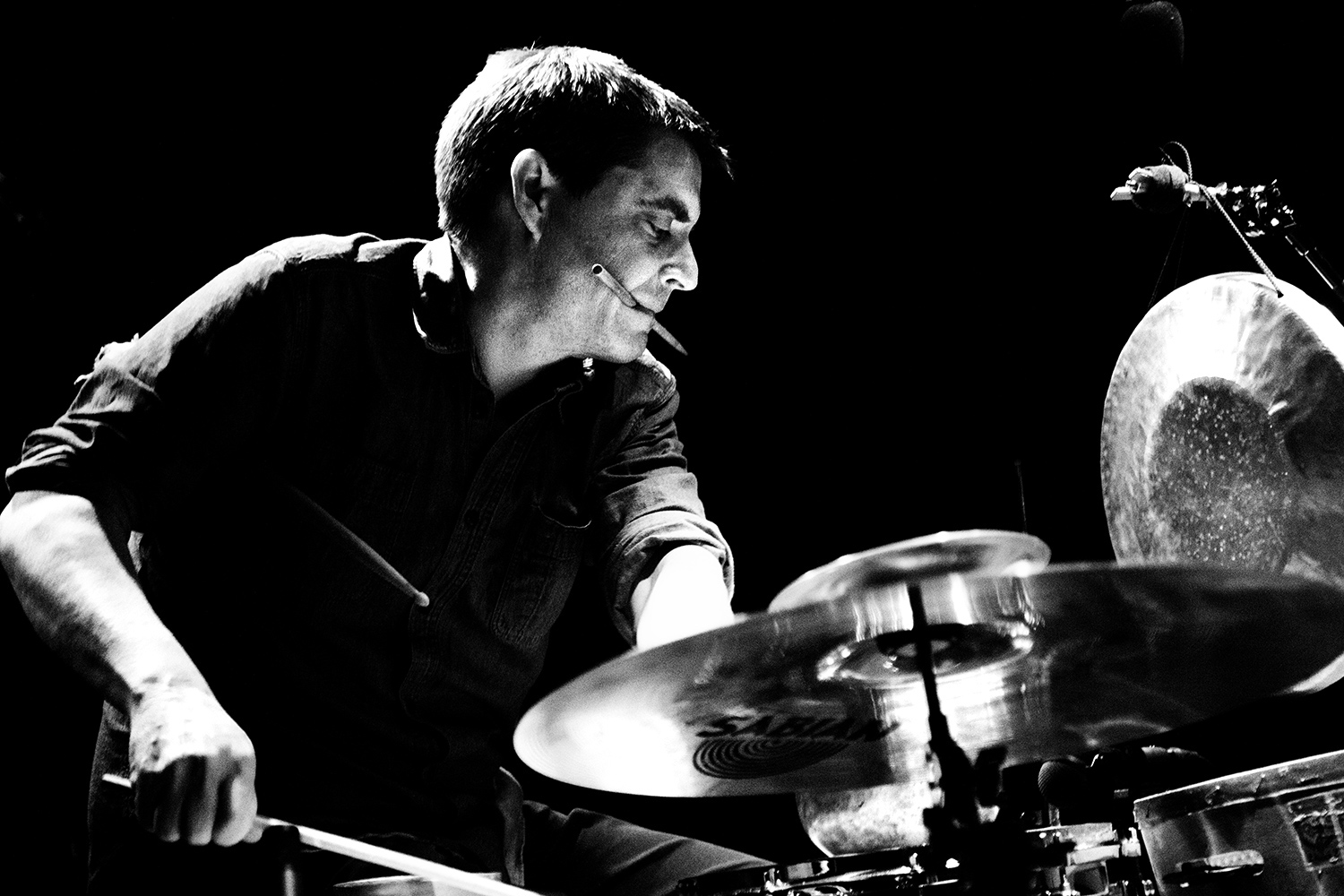 WILL GUTHRIE /NEWTON ARMSTRONG / HOWARD STELZER
---
Saturday - 8:00pm (ET)
May 10, 2008
Gershman Y, Borowsky Gallery
Get Tickets
Australian drummer/percussionist Will Guthrie uses home-made instruments, amplified found and junk, microphones & electronics alongside more conventional drums and cymbals. Originally a drummer he has worked in many different settings of music: live performance, improvisation, studio composition. In Australia and France he organizes concerts and also runs the experimental improvised CD label and mailorder service; ANTBOY MUSIC. Regular collaborators past and present include Matthew Earle, Adam Sussmann, Ferran Fages, Jean-Philippe Gross, Greg Kingston, Helmut Schaefer, Julien Ottavi, Manu Leduc, Keith Rowe, Jerome Noetinger, Sebastien Coste, Jean-Luc Guionnet, Robbie Avenaim, Erell Latimier, Jim Denley, Ren Walters, Clayton Thomas, Mark Simmonds, Snuff Puppetts. Will currently lives in Nantes, France.
Newton Armstrong "I'm a composer and performer. I'm also a teacher, writer, hacker, and occasional builder of electronic musical instruments. I'm interested in how we listen, how we make sense of sound, and how we negotiate issues such as listening and sense-making when we decide to push sound about in time and space. I've found that other people have very different notions and experiences of time and space, and that these differences are part of what makes other people fascinating. This has led me to work with all sorts of musicians, writers, dancers, choreographers, scientists, engineers, philosophers, and film, video, and installation artists. Sometimes I think that art is only about asking questions. But it's not just a matter of asking profound or beautiful questions, it's a matter of asking the right questions. Or maybe it's that the right questions are always and inevitably profound and beautiful. I don't know, but there are some important questions still waiting to be asked."
Howard Stelzer has been active as a composer and performer of electronic music since 1992. His visceral improvised music utilizes the qualities inherent to cassette tape and tape players; namely hiss, the roll of tape across play heads, the crackle of dirt caught inside old players, play speed altered manually by pressure from fingers applied to the tape's reels. Stelzer's work tends to employ space and silence as well as gritty low-fidelity noise, and is almost always centered on the physicality of live performance. Stelzer is a member of the BSC, a large electro-acoustic orchestra led by sax player Bhob Rainey, and the group Skeletons Out, with Jay Sullivan. He also operates the Intransitive Recordings label for electro-acoustic and improvised music. and regularly hosts sound-art, electronic and improvised music concerts by visiting and regional artists in the Boston area, where he lives.
Baltimore 's Paul Neidhardt is one of the countries most astonishing new music percussionists. A trained, highly disciplined player with a flair for complex textural sound produced by friction, Neidhardt's approach to improvising covers the majority of the terrain explored by the explosive side of European free music and subtle textural players like Sean Meehan and Jason Kahn, while retaining a freshness and flexibility of purpose all his own. His background playing rock and African music adds a potential for propulsive intensity to his playing not usually found in players so skilled in the arts of minimalist reductionism. Despite recovering from injuries that limited his time playing in recent years, he is a highly in-demand player, working with groups like Trokeneis, Death in the Maze, and Multiphonic Choir, as well as frequent collaborations with Jack Wright. He is currently a member of the Red Room collective and High Zero Foundation.
Chandan Narayan (b.1975, Alameda, CA) plays the autoharp. His initial approach to the instrument was guided by complete naivety. Over the years he has refined his non-idiomatic techniques in the hopes of fooling the listener (and himself) with the autoharp as source of acoustic anomalies. He performs and records regularly with the all-acoustic Canadian power trio, Glass Plates (with Jeffrey Allport and Robert D. Pedersen) and the Philadelphia quintet, Benito Cereno. He has shared the stage and living room performing and recording alongside the likes of Kenny Roux, Tomas Korber, Gunter Muller, Jesse Kudler, Lee Hutzulak, Christine Sehnaoui, Angharad Davies, Chris Cogburn, Jonathan Sielaff, and Gust Burns among others. Chandan owns and operates the Simple Geometry (www.simplegeometry.org) label. Current releases include a trio with Angharad Davies (violin) and Jeffrey Allport and another by Benito Cereno.
---