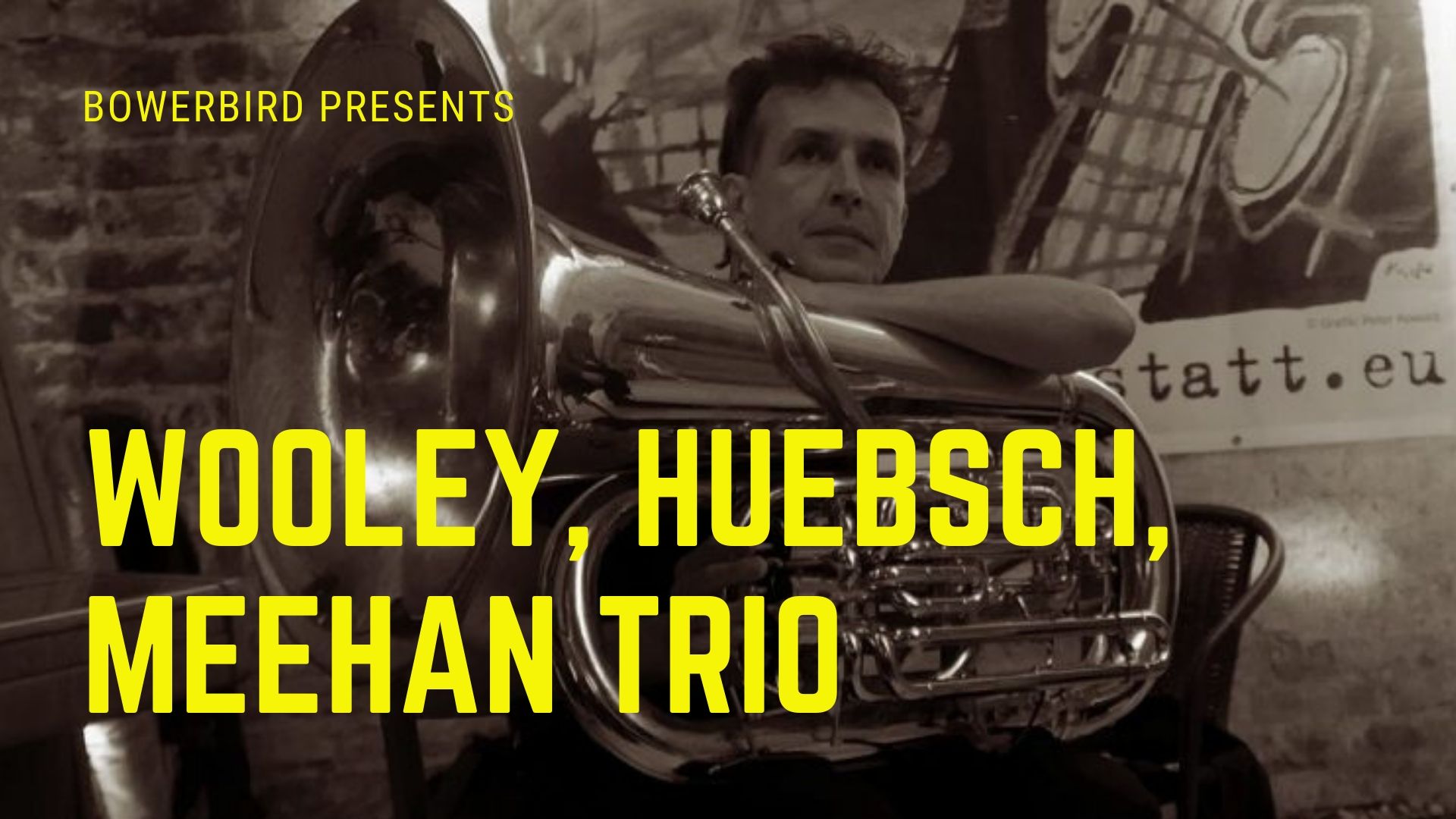 Wooley, Hübsch, Meehan Trio
with Tim Abro / Dan Cappechi and Matt Mitchell
---
Monday - 8:00pm (ET)
April 28, 2008
Gershman Y, Borowsky Gallery
$10
Born in 1966 in Freiburg, Carl Ludwig Hübsch began basic training in music at the age of five. He played clarinet in the local traditional band and at the same time started to play drums in Punk and Rockbands. Around 83 he exchanged the clarinet for a tuba. Lessons with W.Erhart from the local orchestra followed. He experimented with all kinds of music including a incredibly bad dance music trio and a New Orleans Sextet. The discovery of Jazz and Improvisation led to studies in Improvisation with M.A.Fataah. Received certification at the Pedagogic College in Freiburg in singing, theory, drums and electronic music. In Cologne studies of New Music with Johannes Fritsch and tuba with H. Gelhar. Since 1990 Carl Ludwig Hübsch has lived in Cologne where he finally awarded a livelong stipendium from and for himself. He composes and performs in concert halls, studios and theatres lending his talents to ensembles and orchestras. He's well known for his unique solo concerts. He now concentrates on Improvised Music and Composition. He also leads Workshops for tuba and improvisation.
Sean Meehan became musically active in the late '80s at the Amica Bunker series for improvised music, which was then housed at ABC No Rio in New York City. Meehan's interest in improvisation and collaboration has taken him around the world where he has performed solo and with many local artists including players of folk instruments, computer artists and avant-garde flower arrangers. Current performances generally find Meehan playing only the snare drum in a manner that sheds conventional usage and reconstructs the conception and function of the instrument. Meehan's published recordings document some of his collaborations including work with Sachiko M; Mamoru Fujieda and Michihiro Sato; Edwin Torres and Muigel Algarin; and Tamio Shiraishi.
Nate Wooley (b. 1974) was born in Clatskanie, Oregon. He began his professional career on trumpet with his father at the age of 13. After a brief stay in Denver, Nate moved to Jersey City in 2001. He has developed a highly personal style, mixing his knowledge of jazz and classical trumpet tradition and context with a very healthy bit of experimentation. His solo album, "Wrong Shape to be a Storyteller" on Creative Sources Recordings from last year was a culmination of this kind of thinking and was critically acclaimed as a benchmark for solo documents in the lowercase/reductionist tradition. His main thrust is still the trio, Blue Collar, whose sophomore cd "Lovely Hazel" on Public Eyesore was voted one of the top 10 jazz and improv cds by the Philadelphia CityPaper in 2005. Besides these projects, Nate does a great deal of work as a sideman with figures as diverse as John Butcher, Anthony Braxton, Paul Lytton, John Olsen of Wolf Eyes, David Grubbs, Daniel Levin, Stephen Gauci, and the Sound/Vision Orchestra.
Born in Worcester, MA in 1980, currently based in Philadelphia, Tim Albro received a BA in English at Wesleyan University. Since arriving in Philadelphia from Wesleyan, he has done ethnographic work on gospel music in West Philly, composed music for a dance ensemble, as well as participate in the vibrant improvised/creative music community growing in Philadelphia. This work as an improvising/creative musician includes performing on the 12-string electric guitar /w electronics, on the prepared guitar/electronics/radio in the duo HZL, and solo work with home built radio transmitter kits. Current research interests include: Sun Ra, Paolo Frere, and Elizabeth Cotten.
Born and raised in the Twin Cities of Minnesota (St. Paul and Mineapolis), Dan Capecchi moved to Philadelphia in the fall of 2002, where he became increasingly interested and active in the world of in improvised music. Dan has been fortunate to be involved in long term projects of Shot x Shot, Peter Robbins, Jeff Baumeister, and Toshi Makahara as well as short term engagements with Susie Ibarra and others. A percussionist, composer, and teacher, he currently lives in Philadelphia with his wife and sons.
Pianist, composer, and electronic musician Matt Mitchell was born in the Philadelphia area in 1975. After studying music at Indiana University and the Eastman School of Music, he settled back in Philadelphia in 1999. Since then he has pursued an interest in the intersections of both composed and improvised music and of 'classical', 'jazz', and electronic music, performing consistently throughout the United States and Europe. In addition to his solo activities he has been a member of the long standing Philadelphia-area groups Kaktus and Feigner, both of which groups have explored new areas of non-idiomatic group improvisation and released several acclaimed albums on Scrapple Records. His most recent recording, the large-scale electroacoustic piece 'vapor squint, antique chromatic', was released on Scrapple in 2007 to uniformly positive reviews. In addition to being a former member of the avant-rock band Thinking Plague, he has performed with a number of musicians including Ralph Alessi, Ravi Coltrane, Drew Gress, Mark Helias, Tom Rainey, Jim Black, Ari Hoenig, Brad Shepik, Josh Roseman, and John Swana.
---