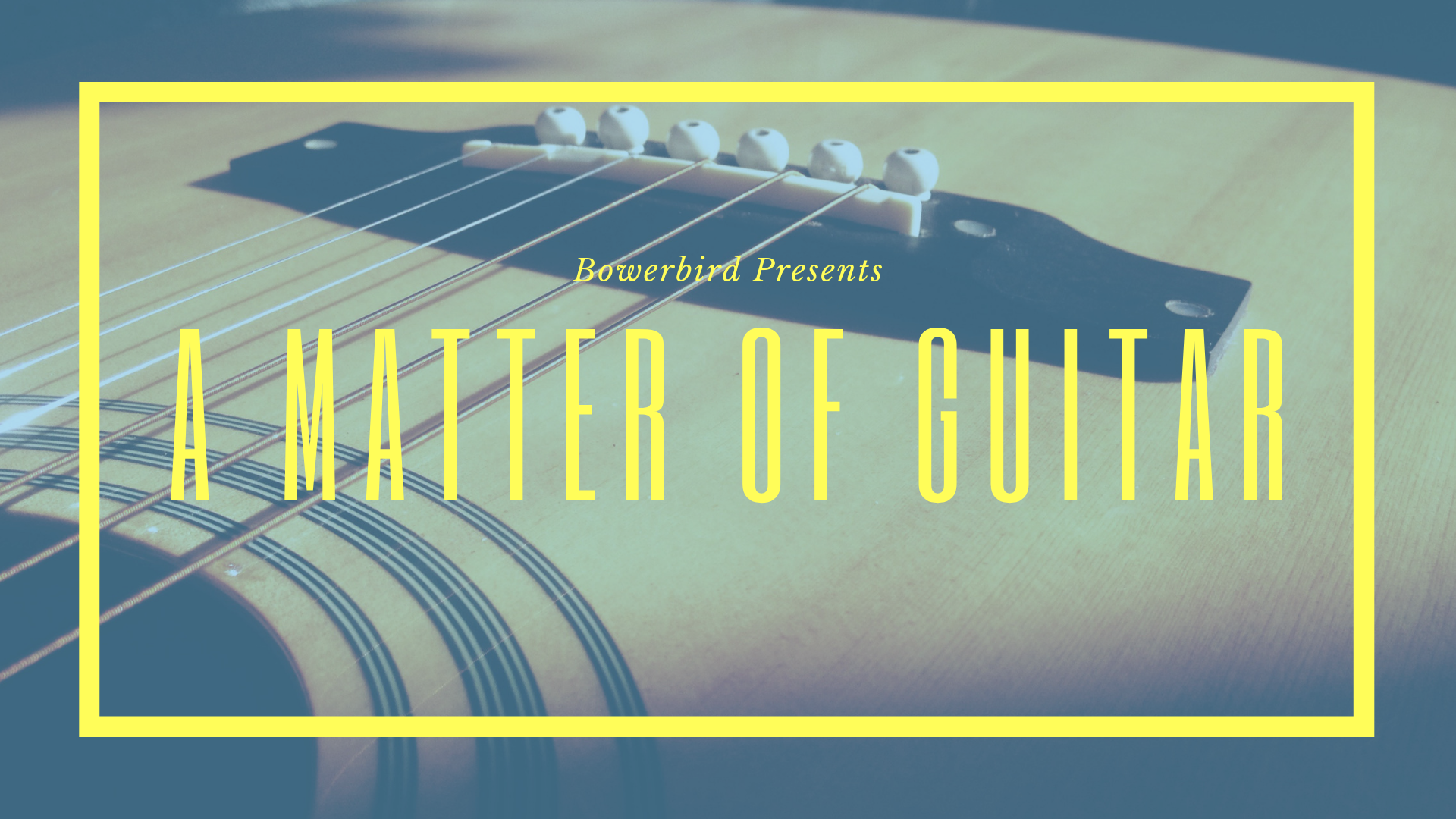 A Matter of Guitar
---
Sunday - 8:00pm (ET)
March 22, 2009
Plays and Players
$10
DAVID DANIELL, JACK ROSE, GLENN JONES, and ANDY GILES
presented with Plays and Players
The guitar is arguably today's most important vehicle for musical creativity. Despite the enormous amount of material that already exists, or perhaps because of it, there are a number of artists that continue to redefine and recast the boundaries and capabilities of the instrument. On this evening, four artists, Chicago's David, Boston's Glenn Jones, and Philadelphia's Jack Rose and Andy Giles, will share the musical realms that they have staked out. A noticeable departure from more dissonant offerings, the listeners here will be drawn into an immersive world of resonate sonorities and hypnotic melodies. As sensuous and beautiful as this music is, the complexity and genius in which it is created should not be diminished.
ABOUT THE ARTISTS
David Daniell – guitar, electronics
David Daniell is a composer and performer working in the intersections of acoustic and electronic instrumentation and of composition and improvisation. His music focuses on two primary areas of concern: perception and listening at the margins of audibility, through repetition, drone, and a gradual and lateral development of timbre; and the social narrative of musical forms, both in terms of improvisation and intuitive composition, as well as through the recontextualization and incorporation of sounds from and inspired by his rural heritage.
As a performer, Daniell utilizes acoustic, electric, and pedal steel guitar along with a variety of electronics. He has worked for over a decade as a member of the improvising blues-drone trio San Agustin, along with many other collaborators through the years, including Tim Barnes, Ateleia, Jeph Jerman, Thurston Moore, Sean Meehan, Loren Connors, Tomas Korber, Greg Davis, and most recently as lead guitarist in Jonathan Kane's live band, as head of both of Rhys Chatham's current ensembles, and in an ongoing duo with Douglas McCombs (of Brokeback, Tortoise, Eleventh Dream Day). Daniell's compositional work utilizes displaced and abstracted field recordings juxtaposed with manipulated acoustic instruments and sounds of purely electronic origin, with great attention to sonic detail and aural depth-of-field, as captured in two solo albums, 2002's sem (Antiopic) and 2006's Coastal (Xeric/Table of the Elements). Recent compositions have incorporated a variety of instruments in larger ensemble settings. One such work, Sunfish (for twelve to fifteen musicians), was performed at the Fugue State Festival in Chicago (June 2007) and the X Avant Festival in Toronto (September 2007).
Recent releases include two live solo recordings (Los Jacintos, a recording of a live electric guitar performance in Madrid in February 2008, and The Hideout, of an acoustic guitar and electronics performance in Chicago) released as part of Antiopic's Live Series, as well as a solo LP in Table of the Elements' Guitar Series Volume 4. Early 2009 will see the debut album of his duo with Douglas McCombs, to be released on the Chicago label Thrill Jockey.
Daniell has worked extensively with the record label Table of the Elements (including engineering John Fahey's 1998 Table of the Elements release Georgia Stomps, Atlanta Struts and Other Contemporary Dance Favorites), and as producer and artistic director of his own record label Antiopic since 2002. Antiopic's catalog includes Alvin Lucier, Joyce Hinterding, Tetuzi Akiyama, Oren Ambarchi, Ultra-Red, Lee Ranaldo, Jim O'Rourke, Eddie Prévost and Alan Licht among others, as well as 2003's critically-acclaimed Allegorical Power series of politically-charged web-only releases. Daniell has recently started working with video, including a collaboration with artist Robert Longo as producer of the DVD of Longo's 1979 Pictures For Music.
Jack Rose – guitar
Jack Rose has been going places lately, and the evidence is all over this splendid record. The names of six of its eight tunes refer to places, some easy to find on a map "Calais To Dover", some harder to pin down "Cross the North Fork". Another brings up the journey we all must eventually take "Flirtin with the Undertaker". The guitarist has toured like a demon in the year that preceded this recording, and it shows in the best possible ways. Every track is a first take, and each radiates the confidence of a man who knows he can just sit down and nail it, no problem. Rose has never sounded better; some credit must go to engineer Mike Chaffin for an exceptionally bright and present recording job, but more must go to the artist for the clarity, strength and purposefulness of his finger picking. He also forges ahead in his material, sometimes by turning back the clock. Working backwards is part of his MO .. remember that he recorded crumbling rock, acoustic trance, and full-on noise with Pelt for half a dozen years before he laid down his first finger-style performances. Kensington Blues includes a couple delightful ragtime tunes, his first compositions in that ancient but honorable style. It also features several winding, quasi-narrative fantasias, pieces that will lose you in the sheer gorgeousness of their sound without ever really getting lost; go ahead, try and stay rooted in this time and place whilst listening to "North Fork" or "Cathedral et Chartres" (forgive his French .. you'd do the same for Chic). If you do, you..ve got some serious karmic baggage weighing down your soul. "Now that I'm a Man Full Grown II", his latest Indian-style slide piece, picks up where Rose's side of the By The Fruits You Shall Know The Roots compilation left off. It accelerates slowly, affording plenty of time to appreciate his voluptuous tone on the lap steel before he builds to a thrilling breakneck climax and elegant denouement. Rose also travels to the mountain. He..s dedicated music to John Fahey, but here he finally records one of the man..s compositions. His version of "Sunflower River Blues" sounds regal, unflappable and complete in the way that, say, Rose's pleasant but somewhat hurried cover of Blind Willie Johnson's "Dark was the Night, Cold was the Ground" on his first album was not. Truly he is a man full grown, and this is one of the best albums in any genre to come out in 2005. Bill Meyer
Glenn Jones – guitar
"The best guitarist you never heard of." –The Boston Globe
A 30+-year devotee of the so-called "Takoma school," Jones has written extensively about two of the label's leading lights, steel-string acoustic guitar architects John Fahey (with whom he was friends for nearly 25 years), and Robbie Basho (Jones was friends with the guitarist until his untimely death in 1986, and hosted Basho's final tour of the East Coast).
Besides performing with both artists, Jones' band, Cul de Sac, collaborated on an album with John Fahey in 1996 (the Fahey-titled Epiphany of Glenn Jones). Jones also produced Fahey's posthumously issued 1968 live album, The Great Santa Barbara Oil Slick (Water) and a 1980 live recording by Robbie Basho, Bonn Ist Supreme (Bo' Weavil).
In 2004, Jones offered up the first of his own "new possibilities." This Is the Wind That Blows It Out, an album of acoustic 6- & 12-string guitar instrumentals, was released to rave reviews, and was followed by a month-long tour of Europe with guitarist extraordinaire, Jack Rose.
Against Which the Sea Continually Beats was issued in early 2007. Recorded on Martha's Vineyard, the island setting coaxed impeccable performances from the guitarist. The album's 11 tunes run the gamut from Delta to Appalachia, from bastard classical to cinematic soundscapes. Graceful, subtle, resonating with confidence and power, Against Which the Sea Continually Beats is a significant addition to the "guitar soli" cannon.
Glenn Jones and Jack Rose completed their first U.S. tour in September and October 2007, and Jones appears on Jack's recent Dr. Ragtime & Pals.
A Jack Rose / Glenn Jones DVD, featuring solo sets from each artist, and a pair of duets, is in the works, to be issued in 2009 for the Strange Attractors label.
In May / June Strange attractors will issue Jones' third album, Barbecue Bob in Fishtown.
Along with Jack Rose, Jones has performed with Peter Lang, Steffen Basho-Junghans, Cian Nugent, James Blackshaw, Paul Metzger, Peter Walker, Meg Baird, Harris Newman, Sean Smith, MV + EE, Dredd Foole, Tom Carter, and many others.
Andy Giles – guitar
A resident of Philadelphia for a few years now, Andy Giles remains elusive and difficult to categorize. His emotional lacerations are conveyed through electroacoustic caverns of reverb and prepared guitar. The compositions exhibit a uniquely darkened doom squall that draws influence from the likes of Gyorgy Ligeti and Giacinto Scelsi, while comparisons have made to the work of Loren Connors and recent Scott Walker.
---