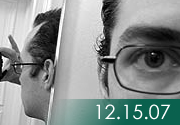 BERNHARD GAL / JESSE KUDLER / SCOTT ALLISON / PHILL SHELDON
---
Sunday - 7:00pm (ET)
July 12, 2015
University Of Pennsyvlania Music Building
The Austrian artist, composer and musicologist Bernhard Gal has become
internationally known as one of the most prolific sound artists of a
younger generation. During the past ten years Gal has created around
50 sound installations and media art projects, combining sound, light,
objects, spatial concepts and video projections into intense and often
site-specific interdisciplinary art works. He also composes music for
acoustic instruments and electro-acoustic music, as well as performing
live as a (laptop) musician.
Born in Vienna, Austria in 1971, Gal began to nurture his interest in
music and (sound) art around 1985. After studies at Vienna's
University of Music (Sound Engineering) and the University of Vienna
(Musicology), and a year-long residency in New York City in 1997ñ98,
he has focused on his compositional and artistic activities. He runs
the record label Gromoga Records and is director of the Austrian art
organization 'sp ce'. Together with Ernst Reitermaier, he curates the
Viennese Festival 'Shut up and Listen!'. Currently, Gal lives as a
freelance composer and artist in Vienna and Berlin where he also
teaches sound art at the University of Arts.
An important aspect of his work is the combination of music with other
art forms, in solo projects as well as in collaborations, e.g. since
1997 with the Japanese architect Yumi Kori ('audio-architectural
installations'). As a (laptop) musician, Gal performs in solo concerts
and has worked together with musicians such as Tung Chao-Ming, Kai
Fagaschinski and Jennifer Walshe.
Gal's work has been presented in concerts, sound installations,
exhibitions, and radio portraits in Europe, Asia, and the Americas and
performed by ensembles worldwide. He has been invited to numerous
international music and art festivals (including Wien Modern Vienna;
ICMC Berlin; MaerzMusik Berlin; Nuova Consonanza Rome; MATA Festival
New York; Soundfield Chicago; Mutek Montreal) and frequently gives
lectures and workshops.
For his music and art projects Gal has received numerous awards,
including the Karl Hofer Prize Berlin 2001, an Annual Grant from
SKE-Fonds Vienna 2002, a composer fellowship from the DAAD Artists in
Berlin Programme 2003, and the Austrian State Scholarship for
Composition 2004. Bernhard Gal's music has been made available on more
than 25 audio publications. In 2005, the German publishing house
Kehrer Verlag Heidelberg published the comprehensive catalogue book
'Installations', documenting Gal's intermedia installations since
1999.
JESSE KUDLER guitar, electronics, radio, tapes
SCOTT ALLISON laptop, electronics
Jesse Kudler, born 1979, improvises on guitar, synthesizer, tapes,
radios and electronics, and he makes music on the computer. He
attended public school until Wesleyan University, where he studied
music with Ron Kuivila, Alvin Lucier, and a little bit with Anthony
Braxton, among others. He eventually became active as an organizer
and performer in improvised, experimental, and electronic music,
forming a regular duo with fellow student Jonathan Zorn and leading
the large electronic improvising ensemble Phil Collins. Kudler has
also worked as a recording engineer for various projects.
In his various travels, Kudler has performed with Matt Bauder, Kyle
Bruckmann, Gene Coleman, James Coleman, Tim Feeney, Marcos Fernandes,
Brent Gutzeit, Horse Sinister, Bonnie Jones, Jason Kahn, Mazen
Kerbaj, Pauline Oliveros, Bhob Rainey, Vic Rawlings, Christine
Sehnaoui, Mike Shiflet, Jason Soliday, Howard Stelzer, Matt Weston,
Jason Zeh, Jack Wright, and many others. He has toured the United
States several times.
Current projects include: Benito Cereno (with Dustin Hurt, Chandan
Narayan, Tim Albro, and Ian Fraser); HZL, an electronics duo with Tim
Albro (and sometimes Dustin Hurt, as HZL BRD); Tweeter, a
treble-intensive noise duo with Alex Nagle; solo performance and
recording; and various ad hoc groupings.
http://www.white-flag.org
SCOTT ALLISON: Member of DC freeprov group Kohoutek – electronics,
contact mics, field recordings, treated speakers, turntable, six
string acoustic and electric (learning), hurdy gurdy (all badly played
with little virtuosity). Occasionally collaborate with like minded
people such as Ben Owen, Jeff Surak, Walter Gross, Andy Hayleck, Ilya
Monosov, Jeff Barsky, Tyler Higgins, Damian Taylor, Bonnie Jones, Paul
Pavlovich, Mpld, Ting Ting Jahe, Chris Jeely, Chris Grier, and
others… Live in a dirty little house with a tar covered back yard,
have some shitty carpets, a dead kombucha sponge on by the front door,
some old lamps, a few skulls, an old laptop held together w/tape and
currently no internet connection. Red Stripe and fine japanese beers.
PHILL SHELDON guitars
philadelphia
Phill Sheldon was born in the District of Columbia and he was a
transverse breech. He is a guitarist in the rock bands Burrs and also
Dog On The Loose. He also began a small cassette and CDR label called
DHW with his friend Caitlin Cunningham. Some of his favorite
influences are Armand Schaubroeck, Brainbombs, Matthew Bowers, and
Takehisa Kosugi. Phill Sheldon endeavors to play a sort of geriatric
rock that is diffuse and plodding enough to be appropriate to a mood
of excessive alcohol ingestion, isolation, and hand wringing. During
this evening Phill Sheldon and a small group will enact monotonous
homage to Phill Sheldon's favorite rock albums and alcohol drinks.
Phill Sheldon will contribute any profits from audience donations or
sale of merchandise recordings toward the Pennsylvania Department Of
Aging's emergency fund, a tax-exempt reserve that allots money to
impoverished Pennsylvania seniors at imminent risk of death or severe
injury.
---