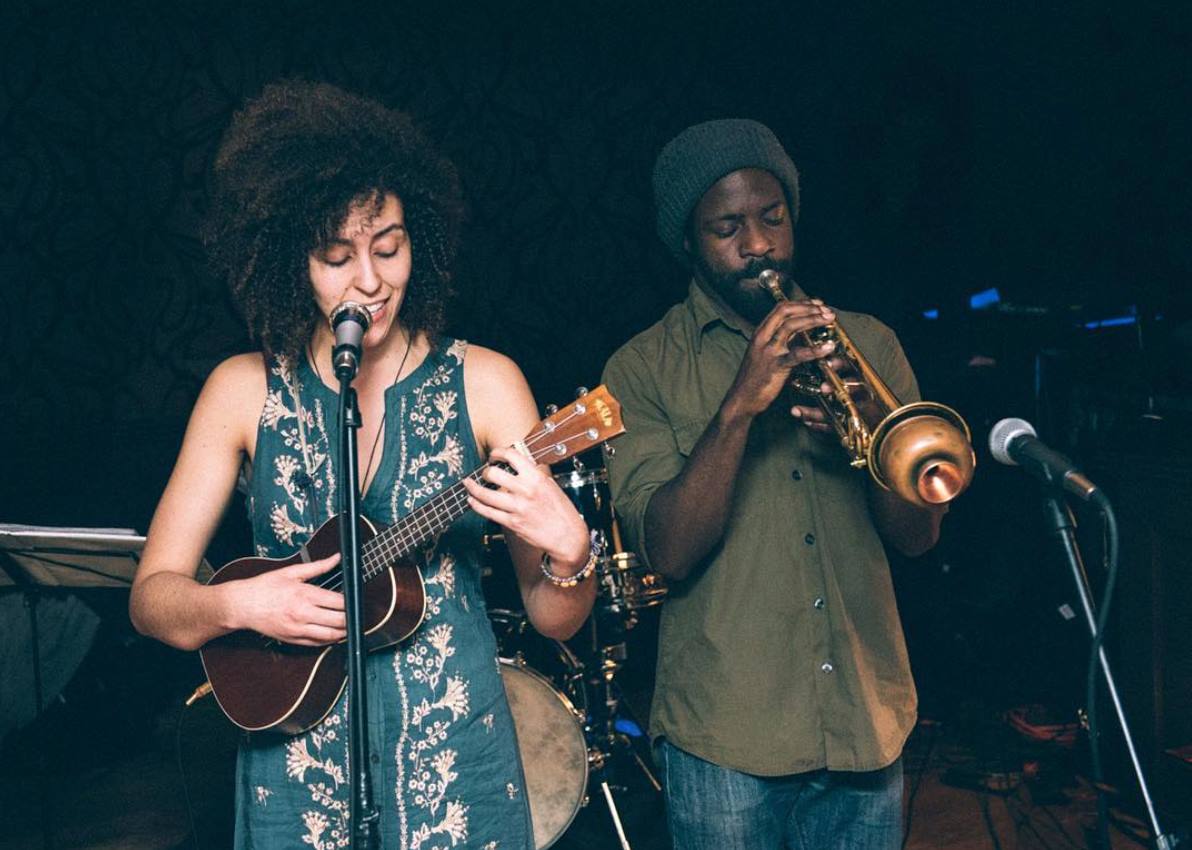 DDMS12: Vessna Scheff and Koofreh Umoren & JNPR
---
Sunday - 8:00pm (ET)
August 28, 2016
5th and Market St
$27
Bowerbird and Sebastian Petsu are pleased to welcome Vessna Scheff and Koofreh Umoren and JNPR to the Double Decker Music Series. Join us on Sunday, August 28th, at 8:00 p.m. (rain date, August 29th) for a unique and intimate mobile concert experience on an open-top double-decker bus. Before, between, and after the music, tour guide Sebastian Darkly Petsu will share dry wit and history about the City of Brotherly Love and Sisterly Affection.
ABOUT THE ARTISTS
Vessna Scheff and Koofreh Umoren – This commanding duo turns heads and pauses conversations for an inspiring and memorizing performance. Combining the delicate and tender tones of the ukulele with the soulful and nostalgic notes of the trumpet, their sound carries the listener through an unsuspecting combination of soul, folk, r&b and jazz in a refreshing approach to music making.
http://www.youtube.com/watch?v=q0XFuqVJgbA&feature=youtu.be
http://vessnascheff.bandcamp.com/album/echoes-ep-live-tin-angel
JNPR is the improv electronic project of duo Jeanne Lyons and Peter Christian. They create gradually-shifting landscapes of sound using small synthesizers, drum machines, and vocal loops.
http://youtu.be/rcFd8rbTpPI
http://youtu.be/vbUE_Kj1VXQ
EVENT DETAILS
Boarding begins at 7:45pm at the northeast corner of 5th and Market Streets by the Wells Fargo building.
THE BUS LEAVES AT 8PM SHARP. It's a mobile event, so you can't show up late or the venue will be gone! The event finishes up back where we started at 10pm.
As an incentive to show up on time, our sponsor Little Baby's Ice Cream, will be providing FREE ICE CREAM SANDWICHES for the first 15 guest on board. So get there early!
This event is 21+ and BYOB (but please, no glass, and remember there is no restroom on the bus).
$27 per person. Advance tickets only. There will be no walk-up sales. Only 30 seats are available and this event will sell out. (All previous Double Decker Music Series events have!) So please, don't sleep on it.
If it looks like rain, the event will be held the following day, Monday August 29th at 8pm. A message will be sent out by 5pm on the day of the event letting ticket-holders know about the rescheduling.
---