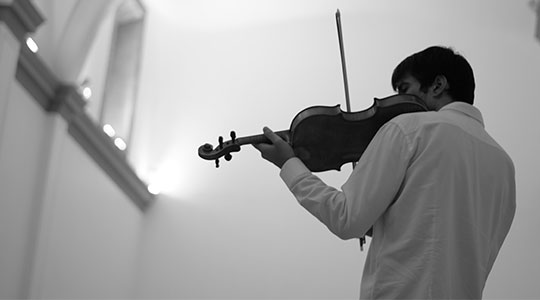 Emerging Voices
New music in an era of cultural globalization
---
Thursday - 8:00pm (ET)
December 11, 2008
Gershman Y, Borowsky Gallery
$10
Alexander Bruck and Jason Calloway perform new music from Latin America and the former Soviet Republics.
Never before has the exchange ideas and information proliferated so widely and easily. As the world continues to become more interconnected through shifting economies and the increasing reach of new technologies, countries that were once over shadowed by the cultural prominence of the United States, Japan, and Western Europe, are now emerging on the global stage.
Please join us as internationally renowned cellist Jason Calloway performs new works for solo cello from the former Soviet Republics Estonian, Latvia, Azerbaijan, Georgia, and Kazakhstan, and Mexico City based Alexander Bruck presents newly commission works for Viola and Electronics from Latin American countries Columbia, Argentina, and Mexico.
---