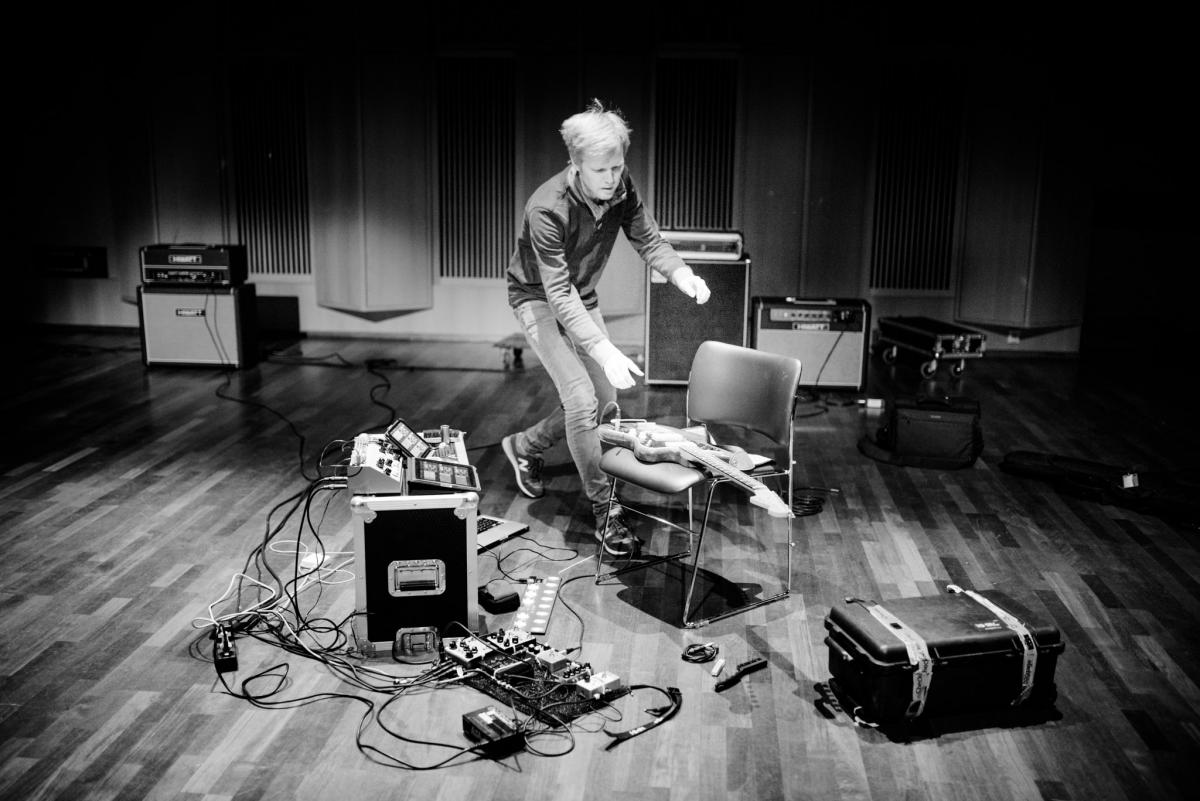 Nate Wooley / Ivar Grydeland
---
Monday - 8:00pm (ET)
February 2, 2009
The Rotunda
Free
Nate Wooley / Ivar Grydeland
Ben Hall / Chris Riggs
Bring It Inside with McOmber
Toshi Makihara
ABOUT THE ARTISTS
Guitarist Ivar Grydeland (b.Trondheim 1976) started his music education degree in the mid-nineties. Having a base as a free jazz artist, Grydeland has continually expanded his experimental style to include new sounds. This unique style set it's roots while Grydeland studied improvised chamber music at Norway's College of Music (2001-2003), together with percussionist Ingar Zach. Since, the musical style of Grydeland has burst the improvisational traditions, whether it is called free jazz, or intuitive music As a improvisational artist, Grydeland has had the change to play with countless groups, as well as being part of numerous recordings. This fluid approach to musical collaboration might be a condition for the boundary breaking genre this style of music represents.
As such, it is not surprising that Ivar Grydeland is a very adaptive musician. He takes pieces of his own surroundings and weaves them into his own unique style. This proves true, whether it be an adaptation to the sounds of Japanese artist Yumiko Tanaka with her traditional shamisen, or pianist Christian Wallumr's sober, repetitive sounds. Like many musicians, improvisers, and composers, Grydeland has developed an artistic practice which results in hybrid musical forms, working styles, and genre stretching cooperation. There doesn't appear to be a deliberate ideological drive behind this development, rather a continual search of music's communicative possibilities.
One of Grydelands distinguishing features is his work with prepared string instruments. With the use of various metal, plastic, rubber and wooden objects, Grydeland manipulates the strings, sound board, and skin of his instrument (one of his instruments is also a guitar-banjo: a guitar neck with a banjo body). He experiments with various tuning of the instrument with the use of various sympathetic strings to give his instrument new sounds. Here one sees influence from John Cages work with the prepared piano during the 1940s. However, where Cages has a prosaic desire to create a percussion instrument using a piano, Grydeland transforms his instrument into something unknown. In this way, Grydeland is able to develop a hybrid style which also includes the string instrument he works with. Using an instrument whose sound is well known, he has mutated and transformed his guitars sound to something unknown.
Traum is a guitar/percussion duo that often becomes a trio with the addition of 'cello. The guitar chair is now held by Chris Riggs. Traum has lp releases on Arbor-Built for Nothing, brokenresearch-Slab Pt. 2, and Music Fellowship which is a collaboration with Bark Haze [Thurston Moore + Andrew McGregor [Gown]]. Traum also has a variety of cd-r releases as well as a tape on Tapeworm entitled Cloudburst.
Ben Hall (Detroit/Percussion) has performed and/or recorded with Wolf Eyes, Corsano, Greg Kelley, Joe Morris, Thurston Moore, John Dierker, Kowald, Lambsbread, Zac Davis, Katt Hernandez, Kurt Heyl, Luca Tilli, Alberto Braida, Nino Locatelli, Hair Police, Bark Haze, John Voigt, Jeff Arnal, Sick Llama, Elliott Stevens, Joe Lijoi and Megan Schubert.
Detroit-based guitarist Christopher Riggs studied composition and performance at the Oberlin Conservatory of Music in Oberlin, OH under Derek Keller and Ross Feller.  His music is primarily interested in the vast wasteland between "free improvisation" and academic composition. While exploring this territory, Christopher sticks objects between the strings, bows springs placed on the neck, and drags magnets across the pickups of his instrument. Christopher has CDs out on Detroit's Broken Research, Mexico's Ruido Horrible, and a forthcoming cassette on Aaron Dilloway's(of Wolf Eyes fame) Hanson Records.  Since relocating to Detroit, he runs his own Holy Cheever Church Records mail order label and performs with the improvising ensembles Traum and Trauma around southeastern Michigan.
Toshi Makihara studied drums, percussion and improvisation with Sabu Toyozumi, a prominent percussionist in Tokyo. Since arriving in the United States, he has worked with various new music ensembles as well as with numerous dance and theater companies internationally. Makihara has provided original music to Arden Theater Company, Diversions Dance Company (Wales), Pennsylvania Ballet, ZeroMoving Dance Company, Merian Soto / Performance Practice and Leah Stein Dance Company, and has worked with musicians including Steve Beresford, Peter Brotzmann, John Butcher, Nels Cline, Eugene Chadbourne, Tom Cora, Amy Denio, Thurston Moore, William Parker and John Zorn. He has also collaborated with poets, visual artists, filmmakers and performance artists widely.
Since the fall of 2000, Makihara has been focusing on three separate performing styles: 1. New Jazz performances on a conventional drum-set, 2. music for theater and dance using a variety of percussion and discovered sound media, and 3. the experimental free improvisation using a simple setting consisting of one snare drum and one small cymbal.
Makihara's recordings include Grammy nominated "Another Shining Path" (1998 Drimala Records) in trio with Gary Hassay (alto saxophone) and William Parker (bass), and "Hurricane Floyd" (Spring 2000, Sublingual Records) in trio with Thurston Moore (guitar) and Wally Shoup (alto sax).
---