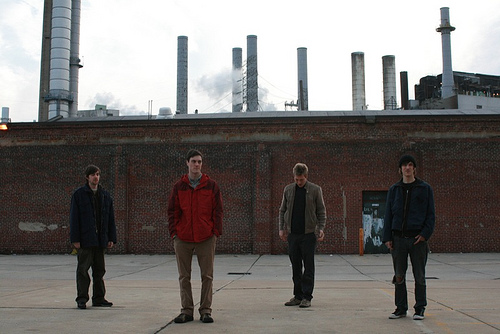 SHOT X SHOT
with special guest CHARLES COHEN
---
Friday - 8:00pm (ET)
December 5, 2008
Powell House Museum
$10
Shot x Shot is a Philadelphia quartet that has forged a distinctive sound through five years of steady collaboration. Their work is based in collective improvisational compositions that run the gamut from delicate to ruthless. The band was formed in 2004 while the members were students at The University of the Arts in Philadelphia. They began performing at local venues and gradually extended their range to include New York, Boston, Chicago, Montreal and other major cities. Shot × Shot has performed alongside Peter Brotzmann, Jeb Bishop, Chicago Luzern Exchange, Peter Evans, Jack Wright and Pete Robbins among others. In 2007, the band showcased at South by Southwest. Shot × Shot's self-titled live debut (High Two, 2006) was heralded in the pages of Downbeat, The Wire, Signal to Noise, All About Jazz-NY, and other publications. The Village Voice and All About Jazz-NY listed the album among the top debuts of 2006.
"…a true collaborative quartet, with each continuously listening, adjusting, leading and following. What is startling to realize is that even in the densest sections, when all four players are letting fly, each line can be heard as being in an almost contrapuntal relationship with the others. Let Nature Square is a remarkable achievement" -Budd Kopman, All About Jazz
THE ARTISTS
Tetuzi Akiyama plays the guitar with primitive and practical implications, by adding a desire of own to the instrument's characteristic nature in minimal and straight method. He delicately and sometime boldly controls the volume of the sound from micro to macro level, and tries to quantize his physical system.
Akiyama started playing electric guitar at the age of thirteen. Later, he also came to be very interested in free improvisation. He formed the improvised music band Madhar in 1987. He also started playing viola, and formed the Hikyo String Quintet in 1994. The band included Taku Sugimoto on cello. Later that year, Akiyama and Sugimoto launched their guitar duo, Akiyama-Sugimoto. They played a gig in New York in 1995, and in the Midwest (including Chicago, Ann Arbor and Detroit) in 1996. His latest band is Satanic Abandoned Rock'n'Roll Society with Utah Kawasaki, Atsuhiro Ito and Naoaki Miyamoto.
Since 1998, together with Sugimoto and Toshimaru Nakamura (no-input mixing board), he has been organizing an inspiring monthly concert series, The Improvisation Meeting at Bar Aoyama (renamed The Experimental Meeting in 1999) and Meeting at Off Site in 2000 until 2003.
Akiyama released his first solo album Relator (slub music) in 2001. Mixing feelings of country and blues with free improvisation, Akiyama began to perform solo with greater frequency playing both acoustic and electric guitars, turntables without records and other effects. Using a prepared resonator guitar with a Samurai sword, Akiyama recorded his second solo album Résophonie (a bruit secret, 2002) which can be described as sonic sculpture with guitar. In 2003, his third solo album Don't Forget to Boogie! was released. Performed in a minimal one chord Boogie/Rock/Blues style with vintage electric guitar tone, Akiyama sees this LP as a tribute to the electric guitar. A live album from 2005, Route 13 to the Gates of Hell: Live in Tokyo (headz) was selected in the 50 albums of the year by The Wire magazine. Pre-Existence, an album of acoustic guitar solos, was released on Locust Music in the winter of 2005. Recently Akiyama started releasing an "official bootleg series" with the labels Esquilo (Portugal) and Utech Records (Milwaukee).
Akiyama is a frequent guest at international music festivals and in recent years has performed at What is Music? (Australia, 2002), Alt Music (New Zealand, 2002 & 2004), Amplify (Tokyo, 2002 & New York, 2003), Musique Action (France, 2003 & 2005), Musiques Innovatrices (France, 2003), Uchiage (Berlin & Vienna, 2004), Instal (Glasgow, 2005), Suoni Per Il Popolo (Montreal, 2006), Vancouver International Jazz Festival (Vancouver, 2006), Festival Densités (France, 2006) and Moment (Stockholm, 2006), South By Southwest (Austin, 2007), Sonic Protest (Paris, 2007), Courtisane Festival (Gent, 2007), Musik Triennale 2007/Klangtransfer Festival (Cologne, 2007), Musiques du Rues (Besançon, 2007), Sonorités (Montpellier, 2007).
Jack Rose has been going places lately, and the evidence is all over this splendid record. The names of six of its eight tunes refer to places, some easy to find on a map "Calais To Dover", some harder to pin down "Cross the North Fork". Another brings up the journey we all must eventually take "Flirtin with the Undertaker". The guitarist has toured like a demon in the year that preceded this recording, and it shows in the best possible ways. Every track is a first take, and each radiates the confidence of a man who knows he can just sit down and nail it, no problem. Rose has never sounded better; some credit must go to engineer Mike Chaffin for an exceptionally bright and present recording job, but more must go to the artist for the clarity, strength and purposefulness of his finger picking. He also forges ahead in his material, sometimes by turning back the clock. Working backwards is part of his MO .. remember that he recorded crumbling rock, acoustic trance, and full-on noise with Pelt for half a dozen years before he laid down his first finger-style performances. Kensington Blues includes a couple delightful ragtime tunes, his first compositions in that ancient but honorable style. It also features several winding, quasi-narrative fantasias, pieces that will lose you in the sheer gorgeousness of their sound without ever really getting lost; go ahead, try and stay rooted in this time and place whilst listening to "North Fork" or "Cathedral et Chartres" (forgive his French .. you'd do the same for Chic). If you do, you've got some serious karmic baggage weighing down your soul. "Now that I'm a Man Full Grown II", his latest Indian-style slide piece, picks up where Rose's side of the By The Fruits You Shall Know The Roots compilation left off. It accelerates slowly, affording plenty of time to appreciate his voluptuous tone on the lap steel before he builds to a thrilling breakneck climax and elegant denouement. Rose also travels to the mountain. He's dedicated music to John Fahey, but here he finally records one of the man..s compositions. His version of "Sunflower River Blues" sounds regal, unflappable and complete in the way that, say, Rose's pleasant but somewhat hurried cover of Blind Willie Johnson's "Dark was the Night, Cold was the Ground" on his first album was not. Truly he is a man full grown, and this is one of the best albums in any genre to come out in 2005.
LITTLE OCEAN
Jake Anodide (acoustic guitar)
Eliot Klein (acoustic guitar)
Ben Remsen (acoustic guitar)
---