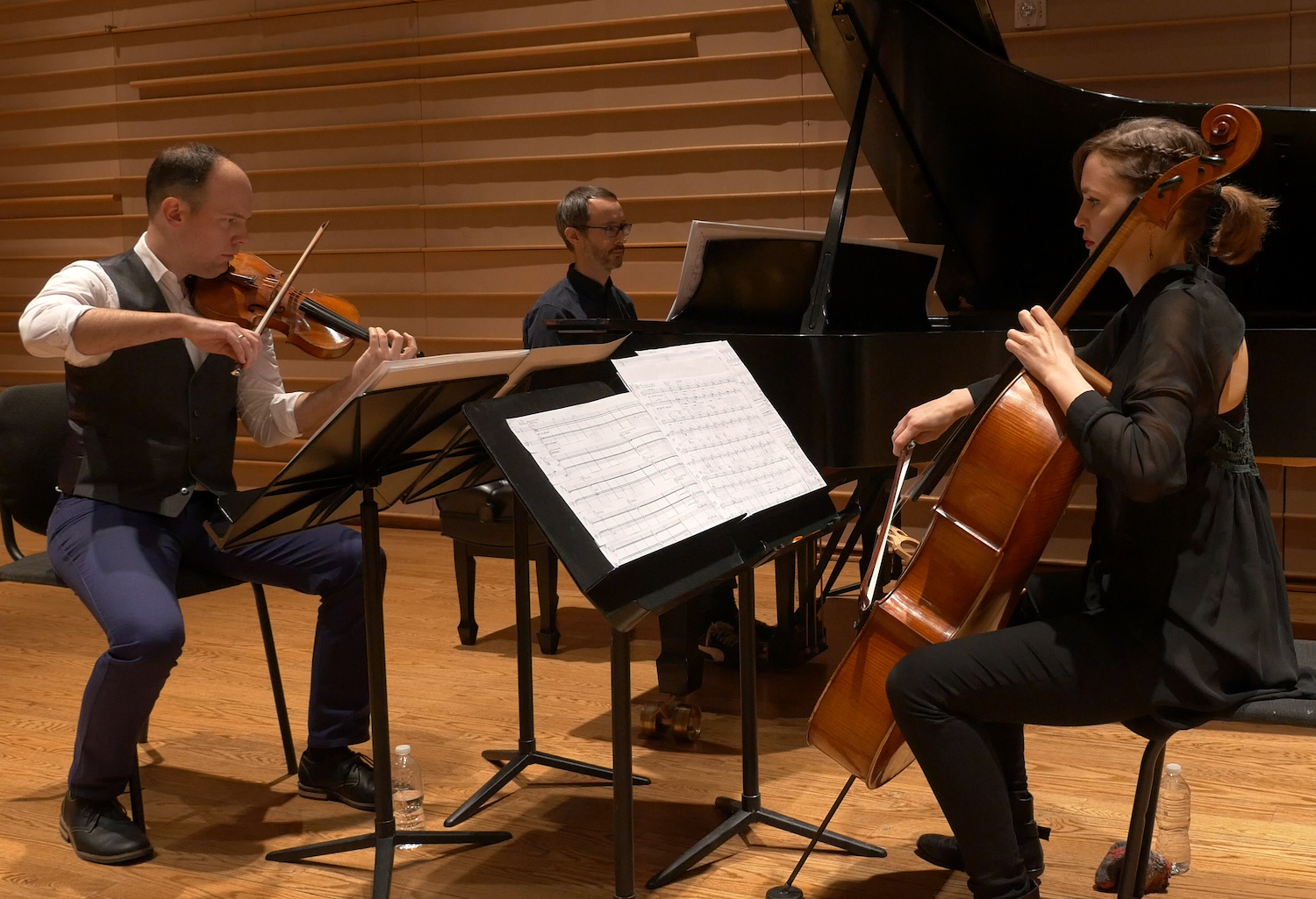 Eric Wubbels: if and only if
Modney, Roberts, Wubbels Trio
---
Wednesday - 8:00pm (ET)
September 18, 2019
University Lutheran
$12 – $20
Get Tickets
A new chamber formation brings together Josh Modney, Mariel Roberts, and Eric Wubbels, three of the leading musicians of the New York new music scene, whose playing draws on over a decade of experience playing together in the Wet Ink Ensemble and Mivos Quartet. Their debut program features if and only if , a new large-scale work by Eric Wubbels, written over an extended period of close collaboration with Modney and Roberts. if and only if combines a microscopic attention to tuning, acoustic beating, and instrumental vibration with an austerity and simplicity derived from Medieval music.
PROGRAM
if and only if (2018-19)
for violin, cello, and piano
by Eric Wubbels
I. endings
II. tombeau
III. Hz spectrum
IV. canon spiralis
V. antistrophe
VI. oxygen
VII. second per second
VIII. haven
PREVIEW IF AND ONLY IF
ABOUT THE ARTISTS
Josh Modney is a violinist devoted to creative music-making. A "new-music luminary," "superb violinist" (The New York Times), and "multitasking virtuoso" (The New Yorker) hailed for "jaw-dropping technical skill…" and as "one of today's most intrepid experimentalists" (Bandcamp Daily), Modney collaborates with a wide array of renowned ensembles and artists as part of a broad scene of adventurous music that thrives at the nexus of composition, improvisation, and interpretation. Modney is violinist and Executive Director of the Wet Ink Ensemble and a member of the International Contemporary Ensemble (ICE), and performed with the Mivos Quartet for eight years, a vital new-music string quartet he co-founded in 2008. Modney's fresh and versatile approach to the violin and uniquely dynamic performance practice has made him a highly sought-after collaborator. He has worked closely on new solos and duos with composers including Kate Soper, Alex Mincek, Eric Wubbels, Sam Pluta, Andrew Greenwald and Rick Burkhardt, as well as projects with major figures including Kaija Saariaho, Mathias Spahlinger, Helmut Lachenmann, George Lewis, Pauline Oliveros, Christian Wolff, and Peter Ablinger.
American cellist Mariel Roberts is widely recognized not just for her "virtuosic" performances, but as a "fearless explorer" (Chicago Reader) in her field. Her ravenous appetite for collaboration and experimentation as an interpreter, improvisor, and composer have helped create a body of work which bridges avant-garde, contemporary, jazz, classical, and traditional music. Roberts is widely recognized for her "technical and interpretive mastery" (I care if you listen) and for performances which seethe with "excruciating intensity" (The Whole Note). Roberts has appeared as a soloist and chamber musician across four continents, most notably as a member of the Mivos Quartet, Wet Ink Ensemble, International Contemporary Ensemble (ICE), Bang on a Can All Stars, and Ensemble Signal. She performs regularly on major stages for new music such as the Lincoln Center Festival (NYC), Wien Modern (Austria), Lucerne Festival (Switzerland), Cervantino Festival (Mexico), Klang Festival (Denmark), Shanghai New Music Week (China), Darmstadt Internationalen Ferienkurse für Neue Musik (Germany), and Aldeburgh Music Festival (UK). Roberts has been featured as a chamber musician on recordings for Innova, Albany Records, New World Records, New Amsterdam, Carrier Records, New Focus, and Urtext Records. Roberts' compositions have been performed at venues such as Merkin Hall and Miller Theater in New York City. Roberts has released two solo albums of new works commissioned for her. The first, "Nonextraneous Sounds" (2012), was noted for it's "technical flair and exquisite sensitivity" (Composers Forum). 2017's "Cartography" solidified Roberts' position as "one of the most adventurous figures on New York's new music scene—one with a thorough grounding in classical tradition but a ravenous appetite for and tireless discipline in new work." (Bandcamp).
Eric Wubbels is a composer and pianist, and a Co-Director of the Wet Ink Ensemble. His music has been performed throughout Europe, Asia, Australia, and the U.S., by groups such as Wet Ink Ensemble, Mivos Quartet, yarn|wire, Splinter Reeds, Kupka's Piano (AUS), SCENATET (DK), Hong Kong New Music Ensemble, and featured on festivals including Huddersfield Festival (hcmf//), LA Phil Green Umbrella Series, Chicago Symphony MusicNOW, New York Philharmonic CONTACT, MATA Festival, and Zurich Tage für Neue Musik. Wubbels has been awarded grants and fellowships from the American Academy of Arts and Letters, NYSCA / New York Foundation for the Arts, Chamber Music America, ISSUE Project Room, MATA Festival, Barlow Endowment, and Jerome Foundation, and residencies at the MacDowell Colony (2011, 2016), Copland House, L'Abri (Geneva), Djerassi Resident Artists Program, and Civitella Ranieri Center (Italy). As a performer, he has given U.S. and world premieres of works by major figures such as Peter Ablinger, Richard Barrett, Beat Furrer, George Lewis, and Mathias Spahlinger, as well as vital young artists such as Rick Burkhardt, Francesco Filidei, Erin Gee, Bryn Harrison, Clara Iannotta, Darius Jones, Cat Lamb, Ingrid Laubrock, Charmaine Lee, Alex Mincek, Sam Pluta, Katharina Rosenberger, and Kate Soper. He has recorded for Carrier Records, hatART, Intakt, New Focus, Spektral (Vienna), quiet design, and Albany Records, among others, and has held teaching positions at Amherst College and Oberlin Conservatory.
---