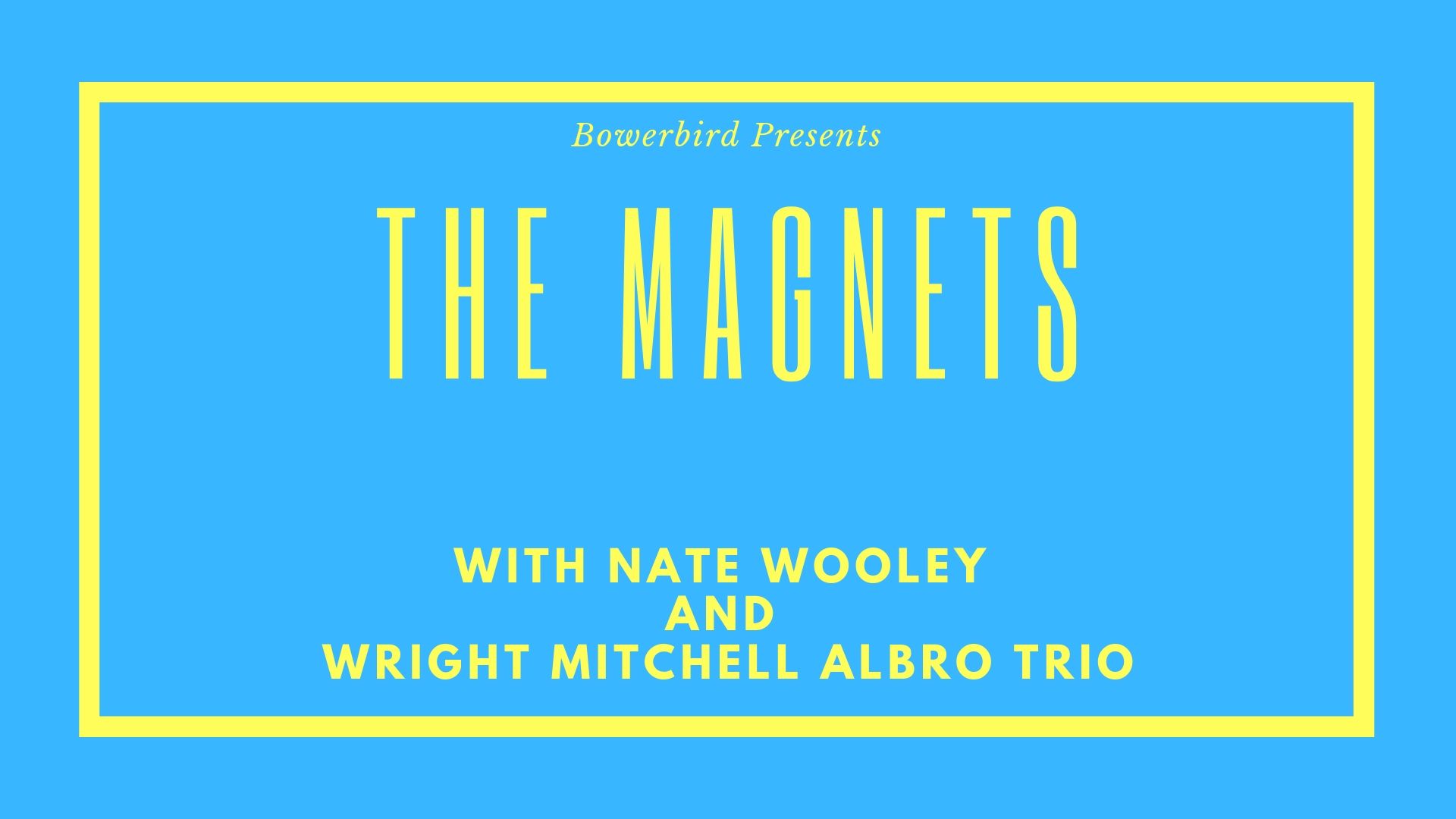 THE MAGNETS
---
Sunday - 8:00pm (ET)
February 8, 2009
Plays and Players
$10
THE MAGNETS
featuring Annette Krebs, Anthea Caddy, and Magda Mayas
NATE WOOLEY
WRIGHT MITCHELL ALBRO TRIO
ABOUT THE ARTISTS
THE MAGNETS
Annette Krebs – prepared guitar, objects, electronics
Anthea Caddy – cello
Magda Mayas – piano
"Spanning the genres of chamber music, noise, music concrete and improv abstracted by precise temporal shifts, accelerations and disruptions the magnets adhere to a highly articulate sound world. often finding themselves traversing through a myriad of sonic and musical dialects the exploration of texture, space and instrument is something the trio is continually pursuing. having developed their own specific idiosyncratic languages on their respective instruments, the entwining of these languages is both succinct and elusive generating a peculiar and surreal mapping of the electronic and acoustic relationship. having toured internationally in various groupings and projects they have been published on well known experimental labels such as fringes, cajid, cdr, absinth, creative sources, natnat, grob records, charizma, slub music and others.
Annette Krebs is teaching us to listen again and again to this what we were assuming to know since a long time ago. Even the most common sound we are motivated to listen to in new ways. Her music is floating lithely in the mystical space between live and art, where Robert Rauschenberg was once speaking about. Annette Krebs has a very charismatic personality, every time again good for a surprise in music. Anthea Caddy exploits unconventional surroundings to bring out the most hidden colours of her instrument, which she's able to transform into creatures that growl, howl and moan while looking for a far corner of their short lifespan to affirm their unpredictably menacing attitude. Massimo Ricci, Touching Extremes. Magda Mayas has an ingenious way of using both the inside and keyboard of the piano to create sparse, tiny fragments of motion that are compatible with multiple layers of the musical context… she is definitely a leading light of the next generation of improvisors…" – Michael Anton Parker, Downtown Music Gallery.
Nate Wooley grew up in a fishing and lumber town in Oregon. He began playing trumpet professionally at age 13 with his father's big band, but quickly began adding "outside" influences to his knowledge of jazz. After a brief and painful stint in Denver, Nate moved to Jersey City where he is in demand as a collaborator with such diverse improvisors/composers as Tony Malaby, Steve Beresford, Paul Lytton, Anthony Braxton, Wolf Eyes, Akron/Family, and David Grubbs. His own solo trumpet work has been described as "exquisitely hostile" by Massimo Ricci of Touching Extremes Magazine (Italy).
Jack Wright. After teaching at Temple University in the 1960s and leaving academia in the early 1970s to engage in radical politics and community organizing, by the late 1970s Wright directed his energies into music. He is one of a very small group of musicians in North America that has played improvised music exclusively since the 1970s. Through years of near constant touring, often performing for audiences in cities and towns where improvised music had never before been heard, he came to be regarded as something of an underground legend. He has deliberately eschewed the conventions and socio-aesthetic limitations of musical careerism to pursue his own vision. Although his de-professionalized approach sets him apart from most musicians at his level of accomplishment, his art has always grown, expanded, and synthesized new information. He is unquestionably an original and virtuosic saxophonist, a master improviser who is deeply lyrical, with humor never far away.
Today Wright tours frequently in Europe and North America (and in Japan in 2006), making new musical and human connections, bringing European musicians to the U.S. and bringing musicians everywhere together. His inspiration has provided crucial impetus to hundreds of musicians and has even motivated several people to establish music venues in order to present him and other improvisers (e.g. Baltimore's High Zero festival). His vast list of collaborators includes some "name" luminaries (William Parker, Axel Dorner, Michel Doneda, Andrea Neumann, Denman Maroney, Bhob Rainey to name a few) but more significant are the many obscure greats he has played with. He has made over 40 recordings (many published on his own Spring Garden label), performed in over 20 countries, and written extensively and insightfully about music and society for journals such as Improjazz (France) and Signal to Noise (US), as well as his own website.
Pianist, composer, and electronic musician Matt Mitchell was born in the Philadelphia area in 1975. After studying music at Indiana University and the Eastman School of Music, he settled back in Philadelphia in 1999. Since then he has pursued an interest in the intersections of both composed and improvised music and of 'classical', 'jazz', and electronic music, performing consistently throughout the United States and Europe. In addition to his solo activities he has been a member of the long standing Philadelphia-area groups Kaktus and Feigner, both of which groups have explored new areas of non-idiomatic group improvisation and released several acclaimed albums on Scrapple Records. His most recent recording, the large-scale electroacoustic piece 'vapor squint, antique chromatic', was released on Scrapple in 2007 to uniformly positive reviews. In addition to being a current member of Tim Berne's Adobe Probe, he has performed with a number of musicians including Ralph Alessi, Ravi Coltrane, Brad Shepik, Shane Endsley, Drew Gress, Mark Helias, Tom Rainey, Jim Black, Ari Hoenig, Josh Roseman, and John Swana, as well as being a former member of the avant-rock band Thinking Plague. He is also a faculty member with the Brooklyn, NY based School for Improvisational Music [SIM].
---