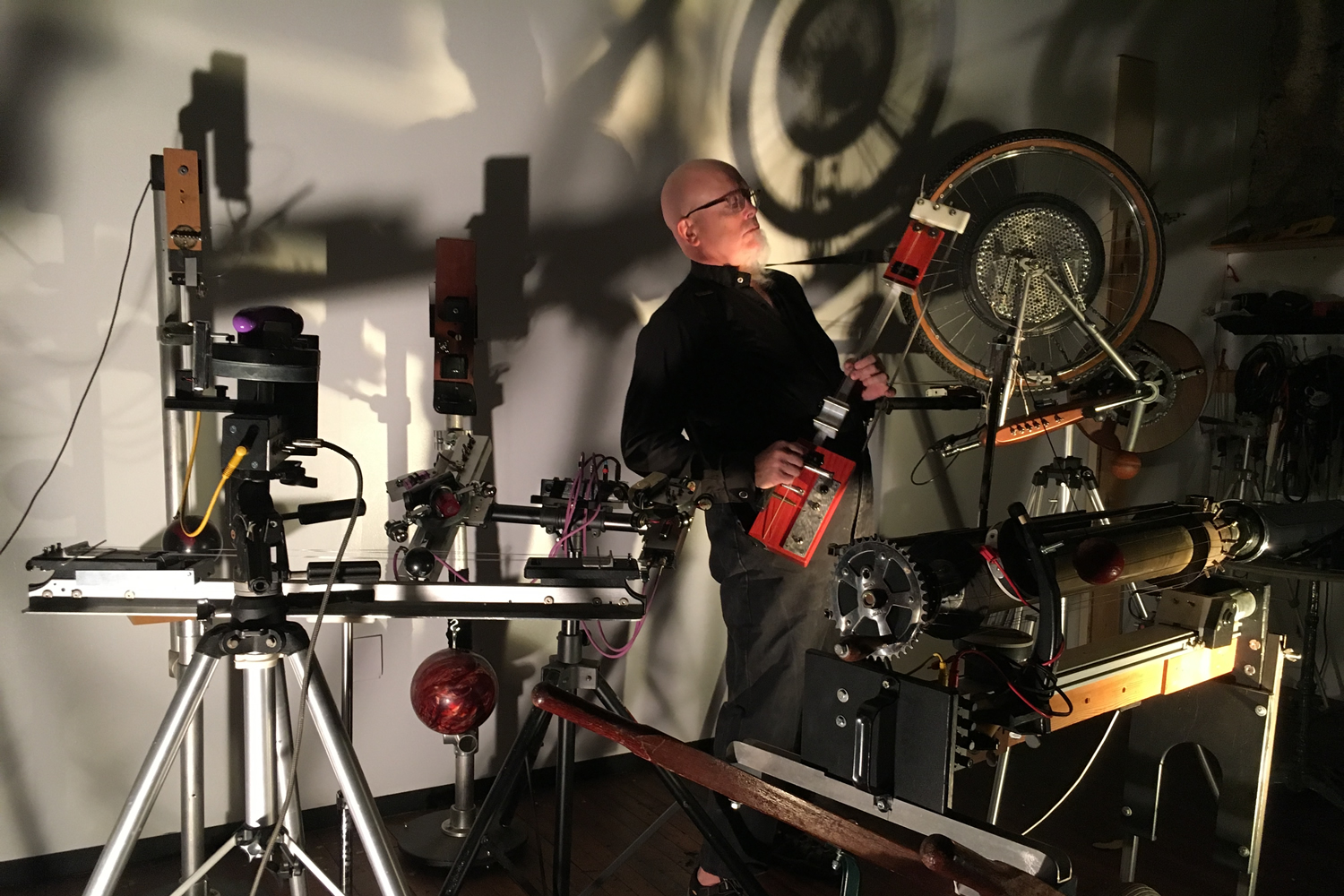 Neil Feather: Sound Mechanic
with Arcana & Shizuka Duo
---
Friday - 8:00pm (ET)
November 15, 2019
The Rotunda
Free
Bowerbird is pleased to present "Neil Feather: Sound Mechanic" an evening dedicated to the sonic contraptions of Neil Feather, inventor of such fantastical instruments as "The Wiggler", "The Nondo," "Thunderwheels," "Magnapooters," "Apex Roto-Zither," and the "Thumbsnake." The night will feature a performance of a work-in-progress chamber concerto composed for Feather's instruments alongside the Arcana New Music Ensemble by Philadelphia and New Zealand based composer Rosie Langabeer, with whom Feather collaborates closely in the duo Two To Tutu Too. This will be followed by an improvised set featuring many of Feather's creations. Opening the evening will be Hannah Rose Nicholas and Samuel Kelder's Shizuka Duo, performing new works for two violas.
---
PROGRAM
Shizuka Duo
Hannah Rose Nicholas & Samuel Kelder, violas
Rosie Langabeer: IDIOSYNCROPHILIA (work in progress)
Arcana New Music Ensemble
Violin – Russell Kotcher
Viola – Hannah Nicholas
Cello – Eric Coyne
Double bass – Josh Machiz
Trombone – RJ McGhee
Trombone – Dan Blacksberg
Bassoon – Dominic Panunto
Percussion 1 – Andy Thierauf
Percussion 2 – Alyssa Resh
Feather Instruments: Ashley Tini
Feather Instruments: Julius Masri
Feather Instruments: Neil Feather
Neil Feather and friends.
---
ABOUT THE ARTISTS
Since 1970, Neil Feather has been developing esoteric acoustic and engineering strategies to invent, design, and build a constantly developing collection of experimental musical instruments. Using an assortment of mechanical items, from strings and springs to motors and magnets, Feather's inventions are works of art that are just as appropriately viewed in a gallery as they are on stage. His live performances on these instruments are naturally unique and serve as both sonically intriguing recitals as well as visually compelling demonstrations of his devices. A founding member of Baltimore's Red Room Collective and the High Zero Foundation as well as a 2016 Guggenheim fellow, Feather was a part of the Bowerbird creative team that helped bring Mauricio Kagel's Zwei Mann Orchester to life in 2018.
Rosie Langabeer is an award-winning composer, pianist, and band leader from Aotearoa New Zealand. With an output as eclectic as ranging from composing for string quartet, to ballet music, to free improvisation, to solo piano concerts and much much more, her wonderfully honest voice will make you want to cry and then sprinkle in some robot-bird-monsters. The New York Times has praised her surrealism and time-bending abilities, which she earned through collaborations with local heavyweights BalletX and Pig Iron Theatre Company, and her current projects include a public interactive audio visual installation for Sight/Sound: Revealing the Rail Park created with artist Erik Ruin; and a new ballet score made in collaboration with Tara Middleton for BalletX's 2019 fall season this December at The Wilma Theater.
Shizuka Duo is comprised of violists Samuel Kelder and Hannah Rose Nicholas. The two founded Shizuka during the debut of the Barnes Ensemble in Philadelphia (2017), a contemporary music residency with the JACK Quartet. They are alumni of the Lucerne Festival Academy (2015-19), where they were featured as soloists and chamber musicians. Shizuka Duo gave its debut at MISE-EN_PLACE Bushwick in September 2018. They have since performed at Cloud Club (Boston), Spectrum (NYC), Berklee College of Music, Tufts University, and Boston University. The duo has premiered over eight new works, written for them by faculty and alumni composers of Berklee, Tufts, Boston Conservatory, Mannes, New England Conservatory, and the University of Pennsylvania. Sam and Hannah both play on instruments made by Hiroshi Iizuka. "Shizuka," is the Japanese word for quiet and calm, and the name of a heroine in Japanese folklore known for her beauty and her dance.
---
NEIL FEATHER
---