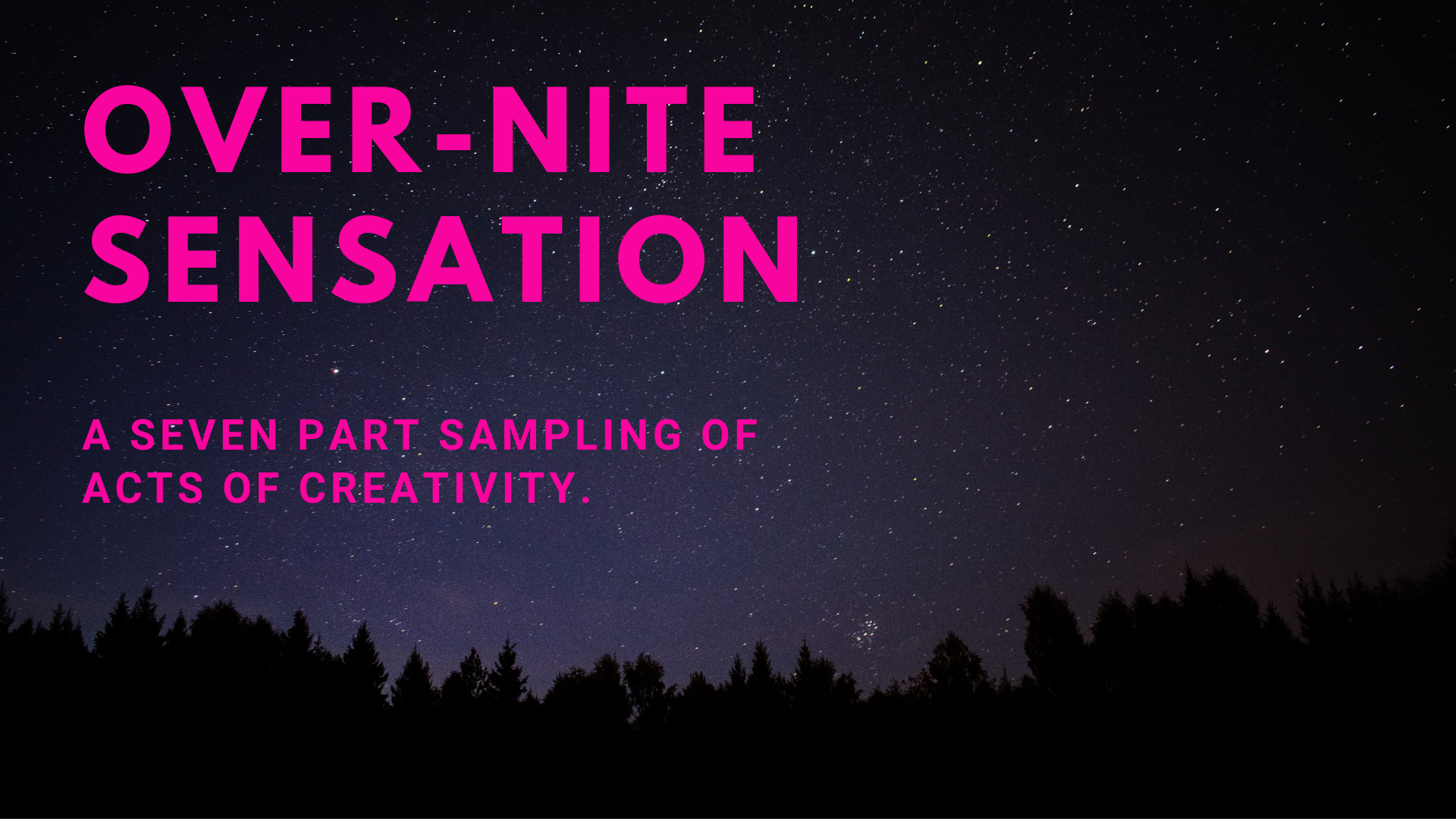 Over-Nite Sensation
A seven part sampling of acts of creativity.
---
Thursday - 8:00pm (ET)
June 25, 2009
Plays and Players
$10
For over three years Bowerbird has stood under the banner of "experimental" and championed the multitude of perspectives that umbrella encompasses. OVER-NITE SENSATION offers a unique opportunity, for the seasoned and the uninitiated alike, to sample a broad array of artistic inclinations, all in one night. Artists from Philadelphia and far beyond will beguile the audience with free jazz, electro-acoustic improvisation, free improv, inter-media video and sound works, dance, euphoric drones, and psychedelic compositions.
1. Jon Mueller / Jim Schoenecker / David Bailey – hailing from Milwaukee, WI, our northern neighbors provide pummeling frequencies to unveil complex rhythms
2. Nicole Bindler – moves through sounds of silence expressing the inexpressible
3. Bonnie Lander / Kate Porter – lovely sounds of strings and voice imported from Baltimore
4. Jesse Kudler – resonant small sounds and an awareness of the spaces containing them
5. John Phillips – an orchestra of sound and video at the intersection of technology and art
6. Troy Herion / Sean Mattio – quivering crescendos and ecstatic climaxes
7. David Fishkin – full frontal sax jams with an added kick from the low end
(order subject to change and further obfuscation)
Important notes: Set durations will be generally between 10 – 20 minutes, making for a quicker, but not exhausting parade of performances. Quig's Pub, the Plays and Players on-premise speakeasy, will be offering adult beverages and other libations throughout the night. Revelry will abound.
ABOUT THE ARTISTS
PHYSICAL CHANGES
Enter Jon Mueller's mammoth new solo percussion work, Physical Changes. If his previous solo effort Metals was about pummeling rhythms and frequencies, Physical Changes drives the whole idea into oblivion, as the sounds here are something to be felt as much as heard. Joined by the intense propulsion of James Plotkin (Khanate, Khlyst, Phantomsmasher), the textural chaos of Fred Lonberg-Holm (Wilco, Peter Brotzmann Tentet, Ken Vandermark's Territory Band), the computer meltdown of Marcus Schmickler (Pluramon), the surreal precision of Dan Burke (Illusion of Safety), the glorious flight of Jim Schoenecker (Collections of Colonies of Bees) and the stunning landscape film work of David Dinnell, Physical Changes takes the idea of "heavy rhythm" and spreads it out over an elaborate, all-inclusive three format (LP/CD/DVD) release that reveals how complex and diverse heavy rhythm can actually be. From the pounding, raw country minimalism of "Nothing Changes," to the brutally intense onslaught of "Things Will Not Stay the Way They Are," Mueller takes the fundamental concepts of rhythm and percussion, those primal devices, and turns them into an entirely new experience that's heard, seen, and felt. Come experience it for yourself.
Jon Mueller has been an active drummer and percussionist since the mid-80s. Whether utilizing bombastic minimalism, dense interplay, or electroacoustic practices, his approach focuses on a physical dialog between situation and material. He has performed throughout the U.S., Japan, and Europe, works regularly with the group Collections of Colonies of Bees, and has performed or recorded with members of the groups Swans, Wilco, Bon Iver, Rhys Chatham's Guitar Trio, and many others.
NICOLE BINDLER
Nicole Bindler, (b.1977), choreographer, improviser, educator and bodyworker, is an experimental dance artist whose work ranges from personal and political commentaries to abstract explorations of form. Her dances are always site-specific, seeking to activate and enliven all performance spaces, whether they are theaters, studios, homes, places of business or the outdoors. Her movement vocabulary is inspired by her studies of new dance, dance-theater, butoh, contact improvisation, yoga, body-mind centering, feldenkrais and martial arts. She has choreographed over fifteen original dance works and has performed over 100 improvised dances in cities throughout the U.S., Canada, Argentina and in Berlin, Tokyo and Beirut. Some notable venues include, Links Hall, Williamsburg Art neXus, The Joyce Soho, The Somerville Theater, The Creative Alliance, The Theater Project, The Kennedy Center. In August 2004, her solo "Places I've Never/Been" was performed in Quito, Ecuador by dancer, Stephanie Sherman. Bindler has performed in The High Zero Festival, The Transmodern Age Festival, The Shawinigan Street Theater Festival, The Imagine Festival of Arts, Issues and Ideas, The Philadelphia Live Arts Festival, the D.C. Improvisation Festival, Fireside Festival (Seattle), the Performance Mix Festival and the nEW Festival. Her work has been supported by Philadelphia Dance Projects, Foundation for Contemporary Arts and Dance Advance.
Bindler has performed in the work of Linda Diamond, Heather Azano-Brown, Brenda Divelbliss, Jennifer Hicks, Debra Bluth, Ju-Yeon Ryu, Leah Stein, PIMA Group, Liza Clark, Willi Dorner, Zaitoun Dance Troupe, Katsura Kan and has collaborated with dancers Hana van der Kolk, Lailye Weidman, Alli Ross, Joe Burgio, Teresa Czepiel, Jessica Newman, Melisa Putz, John Luna, Emily Sweeney, Alissa Cardone, Ayako Kato and Asimina Chremos. She has worked with many experimental musicians including Bhob Rainey, Greg Kelley, Jonathan Vincent, Vic Rawlings, Mike Bullock, John Berndt, Katt Hernandez, Chris Cooper, Kyle Bruckmann, Ernst Karel, Axel Dorner, Andrea Neumann, Annette Krebs, Dan Breen, Andy Hayleck, Kristen Toedtman, Audrey Chen, Le Quan Ninh, Carol Genetti, Susan Alcorn, Sean Meehan, Kate Porter, Helena Espvall, Leonel Kaplan, Leandro Barzabal, Tim Feeney, Dustin Hurt, Jack Wright, James Ilgenfritz, Tim Albro, Gene Coleman, Raed Yassin, Christine Sehnaoui, Mazen Kerbaj, Sharif Sehnaoui, The Signal Quintet, Ko Ishikawa, Kazuhisa Uchihashi, Ryuko Mizutani, Bill Horist, Gregory Reynolds and Reuben Radding among others, and with visual artists, Janene Higgins, Walter Wright, Paul Santoleri and Bilwa.
JESSE KUDLER
Jesse Kudler, born 1979, improvises on cheap consumer devices: a no-name electric guitar, hand-held cassette recorders, radios and transmitters, various small junk, and pedals/electronics. He uses a computer to assemble his recorded music. Kudler attended public school until Wesleyan University, where he studied music with Ron Kuivila, Alvin Lucier, and a little bit with Anthony Braxton, among others. In his various travels, Kudler has performed with Matt Bauder, Kyle Bruckmann, Gene Coleman, James Coleman, Tim Feeney, Marcos Fernandes, Margarida Garcia, Brent Gutzeit, Horse Sinister, Bonnie Jones, Newton, Pauline Oliveros, Bhob Rainey, Vic Rawlings, Christine Sehnaoui, Mike Shiflet, Jason Soliday, Howard Stelzer, Barry Weisblat, Ellen Weller, Matt Weston, Jack Wright, Jason Zeh, and many others. He has toured the United States several times. Jesse Kudler lives in Philadelphia. Current projects include: Benito Cereno (with Dustin Hurt, Chandan Narayan, Tim Albro, and Ian Fraser); HZL, an electronics duo with Tim Albro; Tweeter, a treble-intensive noise trio with Alex Nagle and Eli Litwin; solo performance and recording; and various ad hoc groupings.
---