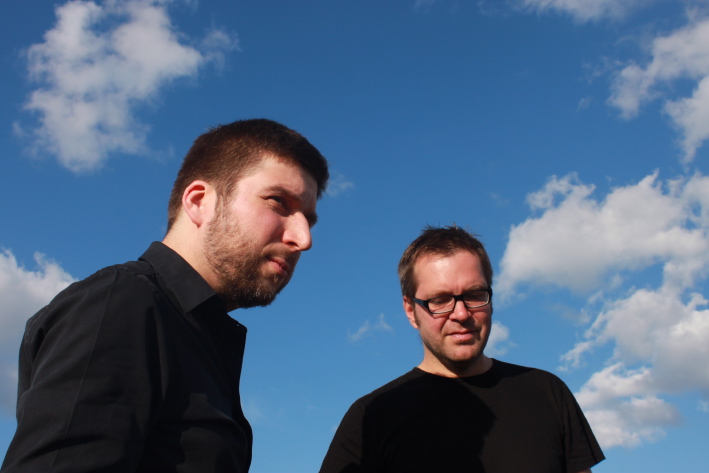 SONIC MIRRORS
---
Wednesday - 8:00pm (ET)
March 4, 2009
The Rotunda
Free
Bowerbird presents SONIC MIRRORS featuring music by The International Nothing, Lopass Mates, and Ko Koed.
For as much as the duo format highlights the creative boundaries of its individual artists, duos featuring two of the same instrument push these frontiers even further. Hidden beneath a veneer of sameness, the minute and nuanced details of sound and structure rise to the foreground.
Perhaps the most sensuous example of this can be found in Kai Fagaschinski and Michael Thieke's Berlin-based clarinet duo International Nothing. As Brian Olewnick notes in his Bagatellen review of their recently release CD, "Fagaschinski seems very preoccupied with the reinvestigation of more "traditional" clarinet sonorities and he and Thieke do so with a vengeance here. The first sounds you hear, on "Einfache Freuden", are the paired reeds, one full and burred, one breathier, tracing long lines in closely spaced pitches, splintering out into adjacent areas, recombining a bit later. It's a lovely effect, slightly reminiscent of Alvin Lucier's experiments with sine waves and pitched percussion though there's no tinge of the laboratory here."
A similar exploration of interweaving sonorities is the Philadelphia based accordion duo of Alban Bailly and Dustin Hurt called Ko Koed. Named for a small town in Bailly's native France, Ko Koed is almost completely devoid of the instrument's idiomatic heritage, and instead explores the rich and enigmatic characteristics of dense and complex harmonies, and the dancing acoustic phenomenon that occur in its overtones.
Translating this idea of a matched duo to the name of an instrument designer rather than an exact instrument will significantly broaden the sonic palette. However, when that designer is Don Buchla, creator of Charles Cohen's Buchla Music Easel, as well as the Buchla 200 Modular Analog Synthesizer, the Easel's "mothership", here piloted by Christian Mirande, the musical explorations become no less interesting.
ABOUT THE ARTISTS
THE INTERNATIONAL NOTHING (Berlin)
Kai Fagaschinski – clarinet, composition
Michael Thieke – clarinet, composition
Kai Fagaschinski (Los Glissandinos, The Magic I.D., etc.) and Michael Thieke (Unununium, The Magic I.D., etc.) are members of Berlin's vibrant echtzeitmusik scene. The International Nothing (*2000) is their hardest working project of the last years. They are working exclusively on compositions (no improv), where both instruments melt into one sound, which sometimes sounds like more than two instruments through the extended use of multiphonics and difference tones. Their pieces have a delicate and slowed down quality and celebrate a unique and timeless beauty. They will present a collection of pieces developted between 2003 and 2009.
LOPASS MATES
Charles Cohen – buchla music easel
Christian Mirande – buchla 200
Lopass Mates is a collaborative improvisation featuring Charles Cohen playing the Buchla Music Easel, an integrated performance analog synthesizer made in 1976, and Christian Mirande playing the Buchla 200 Modular Analog Synthesizer, a studio instrument from the same era. The Buchla 200 is the Mother Ship of the Music Easel. It only appears in public once a decade. For this improvisational performance it will be piloted by Mr Mirande, an aficionado of Sharks, Coral, Century Series Fighter Planes, and Electro-Acoustic Music. Charles Cohen has been doing electronic music performance since 1971, specializing in collaborative, cross disciplinary projects with theater, dance, music, and media artists, and is singularly interested in live performance and improvisation
KO KOED
Alban Bailly – accordion
Dustin Hurt – accordion
Ko Koed is an accordion duo of Alban Bailly and Dustin Hurt. Exploring the possibilities of this instrument, these two improvisers coax surprising and unheard sound from their amazing squeeze boxes. By using a very large pitch and textures register, they create music that ranges from intimately quiet to violently striking. They are going to create some irresistible tension that would, almost, make you wish you were one of the reeds of their accordions. KO KOED's experimentation is a celebration of the bittersweet taste.
The International Nothing is kindly supported by Goethe-Institut San Fransisco and Kulturverwaltung des Landes Berlin. This event is made possible with the support of the Rotunda.
---